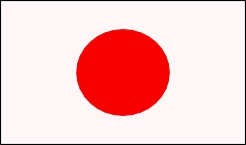 World Heritage Sites in Japan
---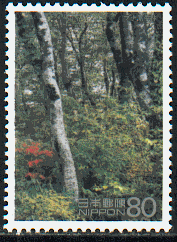 Shirakami-Sanchi beech forest
(40.47 N 140.13 E) --
satellite image
Situated in the mountains of northern Honshu, this trackless site includes the last virgin remains of the cool-temperate forest of Siebold's beech trees that once covered the hills and mountain slopes of northern Japan. The black bear, the serow and eighty-seven species of birds can be found in this forest.
---
Yakushima, an ancient cedar forest
(30.33 N 130.50 E) --
satellite image
---
Himeji-jo (Himeji Castle)
(34.83 N 134.67 E) --
satellite image
---
Buddhist monuments in the Horyu-ji area
(34.617 N 135.733 E) --
satellite image
---
Historic Monuments of Ancient Kyoto
(34.981 N 135.769 E) --
satellite image
---
Historic Villages of Shirakawa-go and Gokayama
(36.40 N 136.883 E) --
satellite image
---
Hiroshima Peace Memorial (Genbaku Dome)
(34.38 N 132.45 E) --
satellite image
The Hiroshima Peace Memorial (Genbaku Dome) was the only structure left standing in the area where the first atomic bomb exploded on August 6, 1945.
---
Itsukushima Shinto Shrine
(34.301 N 132.322 E) --
satellite image
The island of Itsukushima, in the Seto inland sea, has been a holy place of Shintoism since the 6th century.
---
Historic Monuments of Ancient Nara
(34.67 N 135.83 E) --
satellite image
---
Shrines and Temples of Nikko
(36.73 N 139.60 E) --
satellite image
---
Gusuku Sites and Related Properties of the Kingdom of Ryukyu
(26.20 N 127.68 E) -- satellite image
---
Sacred Sites and Pilgrimage Routes in the Kii Mountain Range (Kii-hanto)
(33.83 N 135.77 E) --
satellite image
The Kii Hanto (Peninsula) is a large mountainous area of Honshu Island that protrudes into the Pacific Ocean southeast of Osaka and due south of Nara and Kyoto. It includes Wakayama Prefecture and a large part of Nara Prefecture. The majority of the interior of the peninsula is ruggedly mountainous and served only by a few roads, but no rail lines. The three sacred sites: Yoshino and Omine, Kumano Sanzan, and Koyasan are linked by pilgrimage routes to the ancient capital cities of Nara and Kyoto. Each of the three sites contains shrines, dating as early as the 9th century and reflecting the fusion of Shinto and Buddhism.
---
Shiretoko Peninsula
(43.949 N 144.966 E) --
satellite image
Located in the northeast of Hokkaido, the northernmost island of Japan this site includes is an example of the interaction of a marine and terrestrial ecosystem and is home to some endangered and endemic species including the Blackistons Fish owl, the Viola kitamiana plant, the Stellers sea lion, and a number of salmonid species.
---
Iwami Ginzan Silver Mine
(35.113 N 132.435 E)
---
Hiraizumi
(39.001 N 141.108 E)

Temples, gardens, and Archaeological sites representing the Buddhist Pure Land comprises five sites, including the sacred Mount Kinkeisan. Pure Land Buddhism spread to Japan in the 8th century. It represented the pure land of Buddha that people aspire to after death, as well as peace of mind in this life.
---
Ogasawara Islands
(27.718 N 142.099 E)

The islands offer a variety of landscapes and are home to a wealth of fauna, including the Bonin Flying Fox, a critically endangered bat, and 195 endangered bird species
---
Fujisan
(35.362 N 138.728 E) --
Satellite image
---
Tomioka Silk Mill and Related Sites
(36.255 N 138.888 E)

Four sites north-west of Tokyo, that correspond to the different stages in the production of raw silk: a large raw silk reeling plant imported from France; an experimental farm for production of cocoons; a school for the dissemination of sericulture knowledge; and a cold-storage facility for silkworm eggs.
---
Sites of Meiji Industrial Revolution: Iron and Steel, Shipbuilding and Coal Mining
(34.430 N 131.412 E)

A series of 23 component parts, mostly in southwest Japan.
---
Architectural Work of Le Corbusier
Multiple sites in: Argentina, Belgium, France, Germany, India, Japan, and Switzerland (multiple sites)
Chosen from the work of Le Corbusier, the 17 sites comprising this transnational serial property are spread over seven countries and are a testimonial to the invention of a new architectural language that made a break with the past. They were built over a period of a half-century, in the course of what Le Corbusier described as "patient research".
---
Sacred Island of Okinoshima and Associated Sites in the Munakata Region
(34.245 N 130.105 E) -- satellite view
---
Hidden Christian sites in the Nagasaki Region
(32.802 N 128.904 E)

This site consists of ten villages, Hara Castle and a cathedral, built between the 16th and 19th centuries.
---
Mozu-Furuichi Kofun Group: Mounded Tombs of Ancient Japan
(34.562 N 135.609 E) -- satellite view
---
Amami-Oshima Island, Tokunoshima Island, Northern Okinawa Island, and Iriomote Island
(28.279 N 129.378 E) -- satellite view

These four islands of subtropical rainforests are located on a chain located in the southwest of Japan at the boundary of the East China Sea and Philippine Sea. Entirely uninhabited by humans, the site has high biodiversity value with a very high percentage of endemic and endangered species, including the endangered Amami Rabbit (Pentalagus furnessi) and the endangered Ryukyu Long-haired Rat (Diplothrix legata) that have no living relatives anywhere in the world.
---
Jomon Prehistoric Sites
(40.830 N 140.737)

The property consists of 17 archaeological sites in the southern part of Hokkaido Island and northern Tohoku.
---
---
Back to the World Heritage List

Lynn Salmon <>{

Last updated: December 9, 2021