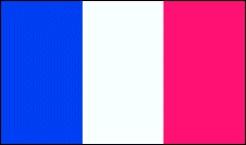 World Heritage Sites in France
---
Chartres Cathedral
(48.45 N 1.50 E)

The Cathedral of Notre Dame in Chartres was founded in the 11th century. The original building was destroyed by fire in 1194 and the current cathedral was built in the mid 13th century. Chartres Cathedral is an example of high Gothic architecture with unique stained glass, statuary, and Renaissance choir screens.
---
Mont-St. Michel and its Bay
(48.63 N 1.50 W)

The monastery was founded in 96 AD by 12 Benedictine monks, as a sanctuary dedicated to St. Michel. It is perched on a small granite islet well known for the dramatic tides that course into the bay.
---
Palace and Park of Versailles
(48.80 N 2.13 E)
---
Vézelay, Church and Hill
(47.47 N 3.72 E)

The fortified village of Vézelay is dominated by the abbey church of la Madeleine founded approximately 875 AD and is built mainly in the Romanesque style. The 3 door portal carved between 1125 and 1130 is an example of early Romanesque art. In 1146, the Second Crusade was preached here by Saint Bernard, and in 1217 the first Franciscan building in France was established on this site.
---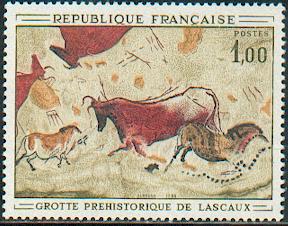 Decorated Grottoes of the Vézère Valley
(45.058 N 1.17 E)

There are 16 sites included in this listing which follows the course of the Vézère river. The first remains of Cro-Magnun Man were found here, and there are signs of continuous occupation for up to 100,000 years.
---
Amiens Cathedral
(49.90 N 2.30 E)

The cathedral is the largest in France. It is 133m (435ft) long and 65m (213ft) wide. Built in 3 levels, it reaches a height of 42m (138ft).
---
Cistercian Abbey of Fontenay
(47.65 N 4.40 E)

Founded in 1188, Fontenay developed into one of the most prosperous of the Cistercian monasteries. It became a royal abbey and had as many as 300 monks in the 14th century.
---
Palace and Park of Fontainebleau
(48.40 N 2.70 E)
---
Roman and Romanesque Monuments of Arles
(43.68 N 4.63 E)

Some of the earilier buildings in Arles date from the reign of Augustus (1st century BC). Eight of the buildings or monuments that are of importance are: 1. the arena; 2. the ancient theatre; 3. an underground gallery called the Crypto-Porticus; 4. the thermae of Constantine (heated baths); 5. a necropolis called the Alyscamps; 6. the church of St. Trophime; 7. Montmajour abbey; 8. misc. ruins including stonework from an old fortress.
---
Orange (Roman Theatre and the Triumphal Arch)
(44.13 N 4.80 E)

The ancient theatre of Orange is one of the best preserved of all the great Roman theatres. It was built between A.D. 10 and 25 during the reign of Augustus.
---
The Royal Saltworks of Arc-et-Senans
(47.05 N 5.07 E)

Created by Claude Nicolas Ledoux, construction began in 1775. Site has been extended to include the Great Saltworks of Salins-les-Bains.
---
Place Stanislas, Place de la Carrière, and Place d'Alliance, Nancy
(48.70 N 6.20 E)
---
Church of Saint-Savin-sur-Gartempe
(46.57 N 0.87 E)

A monastery was first founded on this site in 811 AD by Charlemagne. Construction of the abbey commenced around 200 years later. It was destroyed several times, until the Benedictine monks of St. Maur rebuilt it in 1640. There are several exceptional murals within this complex, notably those dating back to the 11th century which depict scenes from Genesis and Exodus.
---
Cape Girolata, Cape Porto and Scandola Natural Reserve, Corsica
(42.23-42.42 N 8.62-9.00 E)
---
Pont du Gard (Roman Aqueduct)
(43.93 N 4.53 E)

Located in Languedoc-Roussillon, this aqueduct was built around 20 BC to supply water to the town of Nimes.
---
Strasbourg, Grande Ile
(48.55 N 7.67 E)
---
Paris, Banks of the Seine
(48.83 N 2.35 E)

The section of the Seine in this listing is based on the age-old distinction between Paris upstream and Paris downstream; upstream is the port and the center of commercial river traffic, downstream, the area encompassed by this listing, is the heart of aristocratic Paris. The area is bounded by Pont de Sully and Pont d'léna and includes Ile de la Cité and Ile Saint-Louis.
---
Cathedral of Notre-Dame, former Abbey of Saint-Remi and Tau Palace, of Reims
(49.28 N 4.03 E)
---
Bourges Cathedral
(47.08 N 2.38 E)
---
Historic Center of Avignon
(43.93 N 4.80 E)
---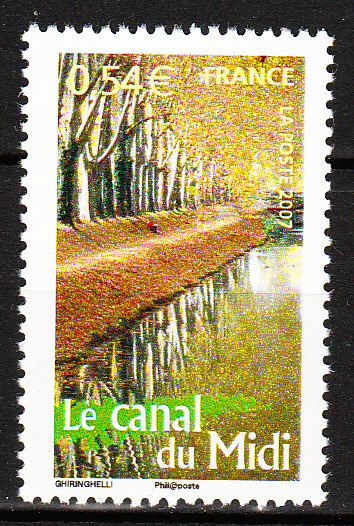 Le Canal du Midi
(43.611 N 1.416 E)

Connects the Mediterranean Sea to the Garonne River & thus to the Bay of Biscay.
---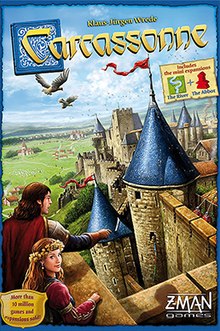 Historic Fortified City of Carcassonne
(43.22 N 2.35 E)
---
Pyrenees - Mount Perdu
(42.52 N 0.12 W)

Spanning the borders of France and Spain, this mountain landscape is centered around the peak of Mount Perdu (3,352m).
---
Routes of Santiago de Compostela in France
---
Historic Site of Lyons
(45.75 N 4.85 E)
---
Jurisdiction of Saint-Emilion
(44.83 N 0.07 W)

The area is an exceptional landscape devoted entirely to wine-growing, with many fine historic monuments in its towns and villages.
---

Belfries of Belgium and France
The 32 belfries in Flanders and Wallonia in Belgium are imposing bell-towers of medieval origin, generally attached to the town hall and occasionally to a church. In addition to their outstanding artistic value, the belfries are potent symbols of the transition from feudalism to a mercantile urban society. The site was extended to inclued 23 belfries in the north of France plus the belfry of Gembloux in Belgium in 2005.
---
The Loire Valley between Maine and Sully-sur-Loire
(47.35 N 0.75 W)

The Château and Estate of Chambord, inscribed on the WHL in 1981, is part of the Loire Valley -- (47.62 N 1.53 E).
---
Provins, Town of Medieval Fairs
(48.57 N 3.30 E)
---
Le Havre, the City Rebuilt by Auguste Perret
(49.489 N 0.115 E)
---
Bordeaux, Port de la Lune
(44.839 N 0.567 W)

Famous for its wine, this port city in south-west France has more protected buildings than any other French city, except Paris.
---
Fortifications of Vauban
(50.283 N 2.759 E) --
satellite image
---
Lagoons of New Caledonia: Reef Diversity and Associated Ecosystems
(multiple locations)

The site includes six marine clusters that represent the main diversity of coral reefs and associated ecosystems in the French Pacific Ocean archipelago of New Caledonia.
---
Episcopal City of Albi
(43.928 N 2.143 E)
---
Pitons, cirques and remparts of Reunion Island
(21.099 S 55.480 E)
---
Prehistoric Pile Dwellings Around the Alps
( multiple locations)

Joint listing with Austria, France, Germany, Italy, Slovenia, and Switzerland. This property includes 111 small individual sites with the remains of prehistoric pile-dwelling (or stilt house) settlements in and around the Alps built from around 5000 to 500 B.C.
---
The Causses and the Cevennes
(44.220 N 3.473 E)

Villages and substantial stone farmhouses on deep terraces of the Causses reflect the organization of large abbeys from the 11th century. Mont Lozere, inside the property, is one of the last places where summer transhumance is still practiced.
---
Nord-Pas de Calais Mining Basin
(50.463 N 3.546 E)
---
Cave of Pont d'Arc
(44.387 N 4.416 E)

Known as Grotte Chauvet-Pont d'Arc, Ardeche, the property contains the earliest known figuarative drawings in the world, dating back to the Aurignacian period (30,000-32,000BC). Rock fall kept the site sealed until its discovery in 1994, helping to keep it in pristine condition.
---
Champagne Hillsides, Houses, and Cellars
(49.775 N 3.946 E)

The property is made up of: the historic vineyards of Hautvilliers, and Mareuil-sur-Ay, Saint-Nicaise Hill in Reims, and the Avenue de Champagne and Fort Chabrol in Epernay. These three components illustrate the entire champagne production process.
---
Climats, terroirs of Burgundy
(47.058 N 4.864 E)

This site is an example of grape cultivation and wine production developed since the High Middle Ages.
---
Architectural Work of Le Corbusier
Multiple sites in: Argentina, Belgium, France, Germany, India, Japan, and Switzerland (multiple sites)
Chosen from the work of Le Corbusier, the 17 sites comprising this transnational serial property are spread over seven countries and are a testimonial to the invention of a new architectural language that made a break with the past. They were built over a period of a half-century, in the course of what Le Corbusier described as "patient research".
---
Taputapuatea
(-16.836 S -151.358 W) --
satellite view
Located on Ra'iatea Island in French Polynesia, Taputapuatea is a ceremonial and funerary center or marae complex.
---
Chaine des Puys - Limagne fault tectonic arena
(45.779 N 2.965 E)
---
French Austral Lands and Seas
(49.380 S 69.353 E) -- satellite image

This 67 million ha area comprises the largest of the rare emerged land masses in the southern Indian Ocean: the Crozet Archipelago, the Kerguelen Islands, Saint-Paul and Amsterdam Islands as well as 60 small sub-Antarctic islands. It supports one of the highest concentrations of birds and marine mammals in the world including the largest population of King Penguins and Yellow-nosed albatrosses in the world.
---
Cordouan Lighthouse
(45.5863 N 1.1733 W) -- satellite image

Considered a masterpiece of maritime signally built in the 16th and 17th centuries. The Lighthouse of Cordouan is on a shallow rocky plateau at the mouth of the Gironde esturary in the Atlantic Ocean.
---
The Great Spa Towns of Europe
( multiple locations)

This joint listing comprises 11 towns, located in seven European countries. All of these towns developed around natural mineral water springs.
Austria: Baden bei Wien
Belgium: Spa
Czechia: Frantiskovy Lazne, Karlovy Vary, and Marianske Lazne
France: Vichy
Germany: Bad Ems, Baden-Baden, and Bad Kissingen
Italy: Montecatini Terme
UK: City of Bath
Vichy
---
Ancient and Primeval Beech Forests of the Carpathians
( multiple locations)

For more links see Joint listing with Slovakia.

Joint listing with Albania, Austria, Belgium, Bosnia and Herzegovina, Bulgaria, Croatia, Czechia, France, Germany, Italy, Macedonia, Poland, Romania, Slovakia, Slovenia, Spain, Switzerland, and Ukraine. These are the largest remaining virgin forests of the European beech (Fagus sylvatica). They also hold the largest and tallest beech specimens in the world. This site originally consisted of ten separate components along an 185 km axis from the Rakhiv Mountains and the Chornohirskyi Range in the Ukraine, west along the Polonynian Ridge, to the Bukovske Vrchy and Vihorlat Mountains in Slovakia. The listing was extended in 2011 to include 5 Ancient Beech forests in Germany, further extended in 2017 to include more forests in 10 countries, and further extended in 2021.
---
Nice, winter resort town of the Riviera
(43.7017 N 7.272 E)
---
---
Back to the World Heritage List

Lynn Salmon <>{

Last updated: August 13, 2021