World Heritage Sites in Germany
---
Aachen Cathedral
(50.7745 N 6.084 E)
---
Speyer Cathedral
(49.317 N 8.443 E)
---
Würzburg Residence, including the Court Gardens and Residence Square
(49.793 N 9.939 E) --
Satellite Image
---
Pilgrimage Church of Wies
(47.681 N 10.900 E)
---
The Castles of Augustusburg and Falkenlust Brühl
(50.825 N 6.909 E) --
Satellite Image
---
St. Mary's Cathedral and St. Michael's Church, Hildesheim
(52.153 N 9.944 E)
---
Roman Monuments, Cathedral and Liebfrauen-Church in Trier
(49.752 N 6.626 E)
---
Frontiers of the Roman Empire
The site consists of sections of the border line of the Roman Empire at its greatest extent in the 2nd century A.D., part of what is known as the "Roman Limes". All together, the Limes stretched over 5,000kms from the Atlantic coast of northern Britain, through Europe to the Black Sea, and from there to the Red Sea and across North Africa to the Atlantic coast. This is part of the trans-national listing including Hadrian's Wall
---
Hanseatic City of Lübeck
(53.867 N 10.692 E)
---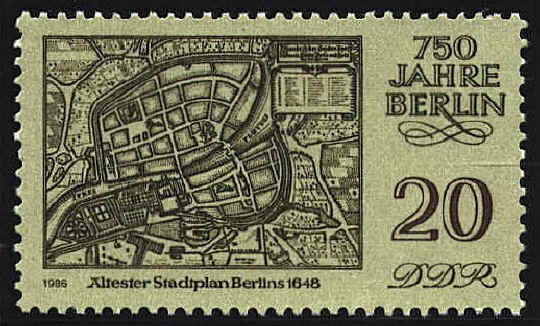 Palaces and Parks of Potsdam and Berlin
(52.40 N 13.03 E) and (52.50 N 13.42 E)
---
Abbey and Altenmünster of Lorsch
(49.654 N 8.569 E) --
Satellite Image
---
Mines of Rammelsberg and the historic town of Goslar
(51.890 N 10.421 E)
---
Town of Bamberg
(49.90 N 10.90 E)
---
Maulbronn Monastery Complex
(49.00 N 8.49 E)
---
The Collegiate Church, Castle, and Old Town of Quedlinburg
(51.790 N 11.145 E)
---
Völklingen Ironworks
(49.244 N 6.85 E)
---
Messel Pit Fossil Site, a fossil-rich quarry near Darmstadt
(49.917 N 8.754 E)

The site constitutes the sediment remains of an ancient lake bed lying on deposits of 270 to 290 million year Old Red Sandstone, with crystalline magmatic primary rocks emerging under some sediments. The Eocene period basin (50-60 million years ago, Tertiary Epoch, Cainozoic Era) of the Messel formation had been hollowed out by faults in the earth's crust.
---
The Bauhaus and its sites in Weimar, Dessau, and Bernau
(50.98 N 11.32 E) and (51.85 N 12.25 E)

Between 1919 and 1933, the Bauhaus School, based first in Weimar and then in Dessau, revolutionized the architectural and aesthetic concepts and practices inherited from the Renaissance. The buildings put up and decorated by the school's professors (Walter Gropius or Hannes Meyer, Laszlo Moholy-Nagy or Wassily Kandinsky) launched the Modern Movement which shaped much of architecture of the 20th century.
---
Cologne Cathedral
(50.93 N 6.98 E)
---
Martin Luther Memorials in Eisleben and Wittenberg
(51.52 N 11.53 E) and (51.87 N 12.65 E)
---
Classical Weimar
(50.977 N 11.329 E)
---
Museumsinsel (Museum Island)
(52.52 N 13.38 E)
---
Wartburg Castle
(50.967 N 10.307 E)
---
Garden Kingdom of Dessau-Worlitz
(51.843 N 12.421 E)
The Garden Kingdom of Dessau-Worlitz includes the palace and park of Mosigkau, the landscape garden of Gross-Kuehnau, the Georgium palace and the Georgen garden, the Luisium palace and park, the park and gardens of Worlitz, the palace and park of Oranienbaum.
---
Monastic Island of Reichenau
(47.699 N 9.061 E)
---
Zollverein Coal Mine Industrial Complex in Essen
(51.491 N 7.046 E)
---
Upper Middle Rhine Valley
(50.17 N 7.69 E)
---
Historic Centres of Stralsund and Wismar
(53.89 N 11.46 E) & (54.31 N 13.09 E)
---
*** De-listed *** Dresden Elbe Valley
(51.04 N 13.82 E)

Originally added to the list in 2004, this is the second site to be deleted from the world heritage list in 2009. According to Unesco the reason for deletion is the building of a four-lane bridge in the heart of the cultural landscape which meant that the property failed to keep its "outstanding universal value as inscribed."
---
Town Hall and Roland on the Marketplace of Bremen
(53.076 N 8.807 E)
---
Muskauer Park / Park Muzakowski
(51.579 N 14.726 E)

Landscaped park along the Neisse river on the border between Poland and Germany, it was created by Prince Hermann von Puckler-Muskau from 1815 to 1844.
---
Old town of Regensburg with Stadtamhof
(49.020 N 12.097 E)
---
Berlin Modernism Housing Estates
(multiple locations)

Six housing estates from 1910-1933. Bruno Taut, Martin Wagner and Walter Gropius were among the leading architects of these projects which exercised considerable influence on the development of housing around the world.
---
The Wadden Sea
(53.529 N 8.556 E)

Joint listing with The Netherlands and Denmark.
---
Primeval Beech Forests of the Carpathians
(49.086 N 22.536 E)

Joint listing with Slovakia and Ukraine and Albania, Austria, Belgium, Bulgaria, Croatia, Italy, Poland, Romania, Slovenia, Spain. These are the largest remaining virgin forests of the European beech (Fagus sylvatica). They also hold the largest and tallest beech specimens in the world. The listing was extended in 2011 to include 5 Ancient Beech forests in Germany and further extended in 2017 to include more forests in 10 countries.
---
Prehistoric Pile Dwellings Around the Alps
( multiple locations)

Joint listing with Austria, France, Germany, Italy, Slovenia, and Switzerland. This property includes 111 small individual sites with the remains of prehistoric pile-dwelling (or stilt house) settlements in and around the Alps built from around 5000 to 500 B.C.
---
Fagus Factory in Alfeld
(51.984 N 9.811 E)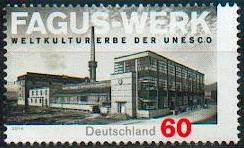 This landmark in the development of modern architecture began around 1910 to the design of Walter Gropius. With its groundbreaking vast expanses of glass panels and functionalist aesthetics, the complex foreshadowed the work of the Bauhaus school.
---
Margravial Opera House Bayreuth
(49.944 N 11.579 E)
---
Bergpark Wilhelmshohe
(51.316 N 9.393 E) --
Satellite image
The dramatic water displays were laid out by Landgrave Carl of Hesse-Kassel from 1689 on, to display his power as an absolute ruler.
---
Carolingian Westwork and Civitas Corvey
(51.778 N 9.410 E)

The Westwork is the only standing structure dating back to the Carolingian era (800s AD). It is located along the Weser River outside of Hoxter.
---
Speicherstadt and Kontorhaus District with Chilehaus
(53.545 N 9.999 E)

These are two densely built urban areas in the center of Hamburg.
---
Architectural Work of Le Corbusier
Multiple sites in: Argentina, Belgium, France, Germany, India, Japan, and Switzerland (multiple sites)
Chosen from the work of Le Corbusier, the 17 sites comprising this transnational serial property are spread over seven countries and are a testimonial to the invention of a new architectural language that made a break with the past. They were built over a period of a half-century, in the course of what Le Corbusier described as "patient research".
---
Caves and Ice Age Art in the Swabian Jura
( multiple locations)
---
Archaeological Border complex of Hedeby and the Danevirke
(54.462 N 9.454 E)

The Danevirke was a system of Danish fortifications across the neck of the Cimbrian peninsula initiated sometime before 500 AD in the Nordic Iron age and later expanded by the Vikings. Hedeby was an important trading settlement in the area.
---
Naumburg Cathedral
(51.155 N 11.804E)
---
Erzgebirge/Krusnohori Mining Region
(50.4065 N 12.837 E)

Joint listing with Czechia.
---
Water Management System of Augsburg
(48.365 N 10.902 E)
---
---
For more information see:
---
Back to the World Heritage List

Lynn Salmon <>{ Last updated: July 6, 2019