World Heritage Sites in Australia
Click on Australia map for larger view--------------->
Or see a map of all world heritage sites
---
Great Barrier Reef
(24.50-10.68 S 142.50-154.00 E) --
satellite image
The largest reef in the world measuring 2011 km in length and 72 km across at its widest point. Of the many hundreds of varieties of coral growing on the reef, the predominant varieties are "staghorn", "brain" and "table", which are all pretty aptly named.
---
Kakadu National Park
(13.00 S 132.50 E) --
satellite image
---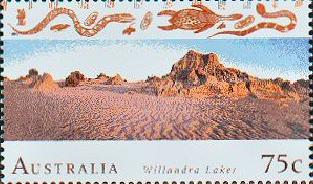 Willandra Lakes Region
(33.00 S 144.00 E) -- satellite image

The Willandra Lakes Region World Heritage Area encompasses all 19 lakes of the Willandra Lakes system. It includes much of Mungo National Park and a larger area of leasehold grazing country. Parts of Mungo National Park which were added to the park after the 1981 listing are not included in the World Heritage area.
---
Tasmanian Wilderness
(41.58-43.67 S 145.42-146.92 E) --
satellite image
The Tasmanian Wilderness World Heritage Area covers approximately 20% of Tasmania. Much of the area is still pristine wilderness and contains plants and animals found no where else in the world.
The Overland Track is a spectacular 80km walk which traverses rainforest, button grass plains, and Tasmania's high country. It connects the two eponymous features in the Cradle Mountain-Lake St Clair National Park. Other serious bushwalking tracks include the South Coast Track and the route to Frenchman's Cap.
It is possible to take a leisurely boat trip along the Gordon River and view the surrounding rainforest. The dominant trees are Myrtle, Sassafras, Leatherwood and the Huon Pine. The Huon pine (Lagarostrobus franklinii) is the second longest lived organism in the world after the Californian bristlecone pine, reaching ages in excess of 3000 years.
Marakoopa and King Solomons Caves are located in the northern part of the Tasmanian Wilderness World Heritage Area. The former is a "wet" cave with two distinct rivers. Inside can be found lots of cool formations in the shape of straws, curtains, rashers of bacon, lily pads, etc. There are also glow worms. King Solomons Cave is a "dry" cave. This does not mean it is dry, just that no river runs through it.
---
Lord Howe Island Group
(31.65 S 159.05 E)
---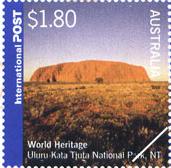 Uluru-Kata Tjuta National Park
(25.347 S 131.037 E) --
satellite image
---
Gondwana Rainforests of Australia
(28-37 S 150-154 E)

Formerly called the Australian Central Eastern Rainforest Reserves, this World Heritage Listing is composed of seven separate groups of rainforest sites located on the east coast. The great diversity of microclimates within the rainforests supports a large range of plant and animal species. Over 350 trees and shrub species as well as a diverse animal population, including 37 species of bats, are found in the NSW rainforests.

The seven rainforest groups are:
Tweed Volcano Group
Washpool/Gibraltar Range Group
Iluka Nature Reserve
New England Group
Hastings Group
Barrington Tops National Park
Mount Dromedary Flora Reserve
Australia has one of the oldest landscapes on the planet. It includes 'living fossils' whose origins date back hundreds of millions of years. These biological treasures include a botanical dinosaur - the Wollemi Pine - recently discovered in the Blue Mountains of New South Wales.
---
Wet Tropics of Queensland
(15.65-19.28 S 144.97-146.45 E)

Australia's Wet Tropics is a band of tropical rainforest and associated vegetation that runs up the east coast from Townsville to Cooktown. In recognition of its scenic beauty and biological importance, this region was World Heritage listed in 1988.
---
Shark Bay, Western Australia
(24.73-27.27 S 112.82-114.28 E)
---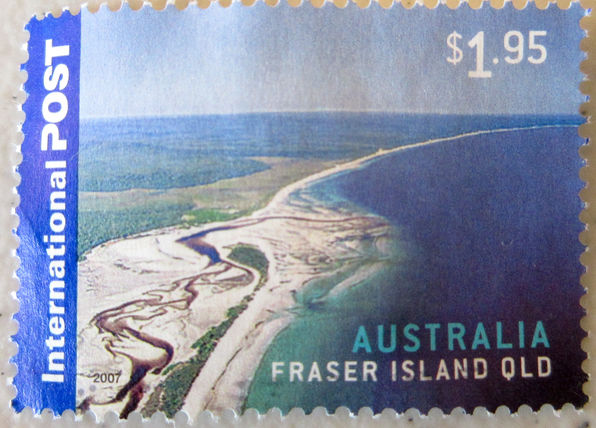 Fraser Island
(25.25 S 153.17 E) -- satellite image

Fraser Island, situated adjacent to Hervey Bay, Queensland is the largest sand island in the world. It was named after shipwreck victim Eliza Fraser. The island is known as K'gari to its Aboriginal people, the Butchulla. The island was formed during the ice age when the prevailing winds transported the vast quantities of sand from New South Wales and deposited it along the coast of Queensland. Multiple layers of sand deposits which make up the island's massive dune system provide a geological record of climatic and sea level changes over the past 700,000 years.
---
Riversleigh/Naracoorte Mammal Fossil Sites
(19.02 S 138.67 E)/(36.95 S 140.83 E)
---
Heard and McDonald Islands
---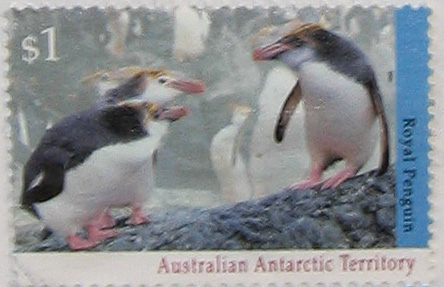 Macquarie Island
(54.50 S 158.93 E)

Macquarie Island is a small oceanic island in the Southern Ocean approximately halfway between Australia and the Antarctic continent. It is 34 km long x 5 km wide with a wide variety of wild life.
---
The Greater Blue Mountains Area
(33.70 S 150.00 E)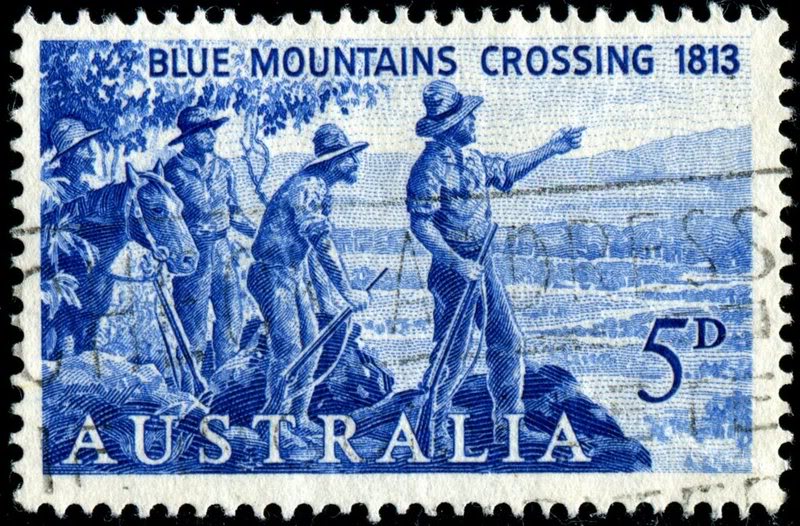 ---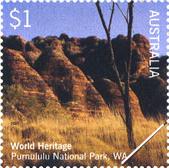 Purnululu National Park
(17.5 S 128.5 E)
---
Royal Exhibition Building and Carlton Gardens
(37.80 S 144.97 E)

Located in Melbourne, the Royal Exhibition building was built for the great international exhibitions of 1880 and 1888. Designed by Joseph Reed, the building is constructed of brick and timber, steel and slate. It combines elements from the Byzantine, Romanesque, Lombardic and Italian Renaissance styles.
---
Sydney Opera House
(33.857 S 151.215 E) -- satellite image
---
Australian Convict Sites
(33.378 S 150.994 E)

The property includes a selection of 11 penal sites, among the thousands established by the British Empire on Australian soil in the 18th and 19th centuries.
Old Government House and Domain (Parramatta)
Hyde Park Barracks (Sydney)
Cockatoo Island Convict Site (Sydney)
Old Great North Road (near Wiseman's Ferry)
Kingston and Arthur's Vale Historic Area (Norfolk Island)
Port Arthur Historic Site (Tasman Peninsula)
Cascades Female Factory (Hobart)
Darlington Probation Station (Maria Island)
Coal Mines Historic Site (via Premadeyna)
Brickendon-Woolmers Estates (near Longford)
Fremantle Prison (Western Australia)
---
Ningaloo Coast
(22.563 S 113.810 E) --
satellite image
The Ningaloo Coast is a 604,500 hectare marine and terrestrial property on the remote western coast of Australia. It includes one of the longest near-shore reefs in the world which is home to numerous marine species. The site also features subterranean water bodies with a substantial network of caves, conduits, and groundwater streams.
---
Budj Bim Cultural Landscape
(38.081 S 141.885 E)

Located within the Country of the Gunditjmara, an Aboriginal nation in the southwest of Australia, the property includes the Budj Bim Volcano and Tae Rak (Lake Condah), as well as the Kurtonitj component, characterized by wetland swamps, and Tyrendarra in the south, an area of rocky ridges and large marshes. The Budj Bim lava flows, which connect these three components, have enabled the Gunditjmara to develop one of the largest and oldest aquaculture networks in the world.
---
---
Back to the World Heritage List

Lynn Salmon <>{ Last updated: April 15, 2020