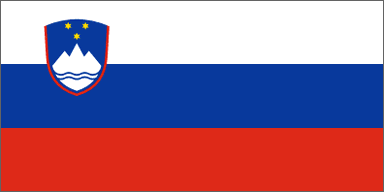 World Heritage Sites in Slovenia
---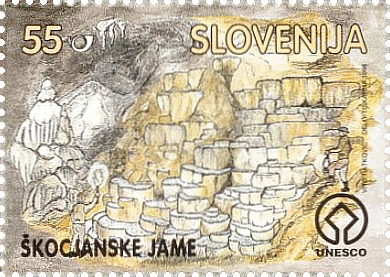 Skocjan Caves
(45.67 N 14.00 E)

These caves have been formed by the Reka river, the terrestrial section of which ends at the great Mahorcic Cave below Skocjan village. The caves represent a well preserved and unique example of karsitc (limestone) erosion and underground river galleries.
---
Prehistoric Pile Dwellings Around the Alps
( multiple locations)

Joint listing with Austria, France, Germany, Italy, Slovenia, and Switzerland. This property includes 111 small individual sites with the remains of prehistoric pile-dwelling (or stilt house) settlements in and around the Alps built from around 5000 to 500 B.C.
---
Heritage of Mercury Mining: Almaden and Idrija
(46.013 N 14.029 E)

The property includes the mining sites of Almaden (Spain), where mercury (quicksilver) has been extracted since antiquity, and Idrija (Slovenia), where mercury was first found in 1490 AD. Together they represent the two largest mercury mines in the world, operational until recent times.
---
Primeval Beech Forests of the Carpathians
( multiple locations)

For more links see Joint listing with Slovakia.

Joint listing with Albania, Austria, Belgium, Bosnia and Herzegovina, Bulgaria, Croatia, Czechia, France, Germany, Italy, Macedonia, Poland, Romania, Slovakia, Slovenia, Spain, Switzerland, and Ukraine. These are the largest remaining virgin forests of the European beech (Fagus sylvatica). They also hold the largest and tallest beech specimens in the world. This site originally consisted of ten separate components along an 185 km axis from the Rakhiv Mountains and the Chornohirskyi Range in the Ukraine, west along the Polonynian Ridge, to the Bukovske Vrchy and Vihorlat Mountains in Slovakia. The listing was extended in 2011 to include 5 Ancient Beech forests in Germany, further extended in 2017 to include more forests in 10 countries, and further extended in 2021.
---
Works of Joze Plecnik in Ljubljana
(46.043 N 14.502 E)
---
---
Back to the World Heritage List

Lynn Salmon <>{

Last Updated: July 29, 2021