World Heritage Sites in Serbia
---
Stari Ras and Sopocani Monastery
(43.12 N 20.42 E)
---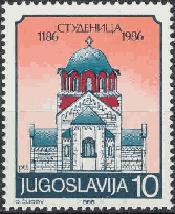 Studenica Monastery
(43.486 N 20.537 E)

Stevan Nemanja established the Studenica Monastery in the late 12th century shortly after abandoning his throne. It is the largest and richest of Serbia's Orthodox monasteries. It has two principal monuments: the Church of the Virgin and the Church of the King, both built of white marble.
---
---
Medieval Monuments in Kosovo
(42.55 N 20.27 E)

The Decani Monastery, the largest of the medieval Balkan churches, was built in the 14th century for the Serbian King Stefan Decanski. It is located at the foot of the Prokletije mountains, in the western part of the province of Kosovo and Metohija. This listing was extended in 2006 to include the Pec Monastery and the Church of Holy Apostles.
---
Gamzigrad-Romuliana, Palace of Galerius
(43.899 N 22.186 E)

Galerius was the adopted son of emperor Diocletian and Roman emperor 308-313. He is known to have been a bitter persecutor of the Christians. The fortified palace compound and memorial complex of Gamzigrad-Romuliana, Palace of Galerius, in the east of Serbia, was commissioned by Emperor Caius Valerius Galerius Maximianus, in the late 3rd and early 4th century. It was known as Felix Romuliana, named after the Emperor's mother.
---
Stecci Medieval Tombstones Graveyards
(Map of locations)
This property combines 28 sites, located in Bosnia and Herzegovina, western Serbia, western Montenegro and central and southern Croatia with distinctive medieval tombstones, or stecci mostly carved from limestone. The cemeteries date from the 12th to 16th centuries, and are laid out in rows, as was the common custom in Europe from the Middle Ages.
---
---
Back to the World Heritage List

Lynn Salmon <>{ Last updated: November 7, 2019