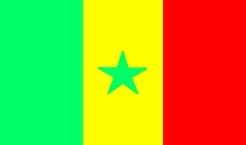 World Heritage Sites in Senegal
---
Island of Goree
(14.667 N 17.40 W)

The island of Goree lies off the coast of Senegal, opposite Dakar. From the 15th to the 19th century, it was the largest slave-trading centre on the African coast. Ruled in succession by the Portuguese, Dutch, English and French.
---
Djoudj National Bird Sanctuary
(16.50 N 16.17 W)
---
Niokolo-Koba National Park
(12.50-13.33 N 12.33-13.58 W)
---
Island of Saint-Louis
(16.028 N 16.504 W)
---
Stone Circles of Senegambia
(13.691 N 15.523 W)
---
Saloum Delta
(13.835 N 16.499 W)

The site is marked by 218 shellfish mounds, some of them several hundreds meters long, produced by its human inhabitants over the ages.
---
Bassari Country: Bassari, Fula and Bedik Cultural Landscapes
(12.593 N 12.846 W)

The Bassari, Fula and Bedik peoples settled from the 11th to the 19th centuries.
---
---
Back to the
World Heritage List
Lynn Salmon <>{
Last updated: February 20, 2021