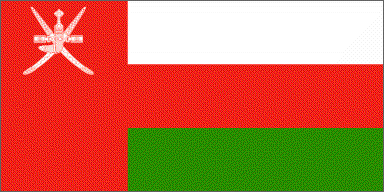 World Heritage Sites in Oman
---
Bahla Fort
(22.964 N 57.301 E) -- satellite image

Bahla, a town of historic importance, was often the capital between the 12th century and the early 17th century.
---
Archaeological Sites of Bat, Al-Khutm and Al-Ayn
(23.266 N 56.745 E) -- satellite image

Situated near a palm grove in the interior of the Sultanate of Oman this is one of the most complete collection of settlements and necropolises from the 3rd millennium B.C. in the world.
---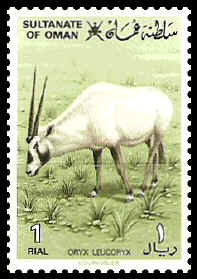 ***De-listed**** Arabian Oryx Sanctuary
(18.75-20.92 N 56.10-56-83 E)

Originally added to the list in 1994, this marks the first site to be deleted from the world heritage list in 2007. The main reason for the delisting is the decision by Oman to reduce the size of the site by 90%. Due to poaching and habitat degradation during the last 10 years, the population of Arabian Oryx has dropped from 450 to 65, with only a few breeding pairs.
---
The Land of Frankincense
(17.40 N 54.07 E)

The Land of Frankincense includes frankincense trees and the remains of a caravan oasis, which were crucial to the medieval incense trade.
Archaeological site of Shisr
Archaeological site and natural environment of Khor Rori
Archaeological site of al-Balid
Frankencense Park of Wadi Dawkah
---
Aflaj Irrigation System of Oman
(22.999 N 57.536 E) --
satellite image
The property includes five aflaj irrigation systems and represents some 3,000 such systems still in use in Oman. The origins of this system of irrigation may date back to 500 A.D., but archaeological evidence suggests that irrigation systems existed in this extremely arid area as early as 2,500 B.C. Aflaj, is the plural of falaj which, in classical Arabic means to divide into shares and equitable sharing of a scarce resources to ensure sustainability remains the hallmark of this irrigation system.
---
Ancient City of Qalhat
(22.695 N 59.378 E)

This 2nd-century settlement is one of the most ancient sites in Oman. It used to have a good port and was a major trading hub. Marco Polo visited when it was still a happening spot in the 13th century. Very little remains today besides the ruined tomb of Bibi Miriam.
---
---
Back to the World Heritage List

Lynn Salmon <>{ Last updated: October 18, 2019