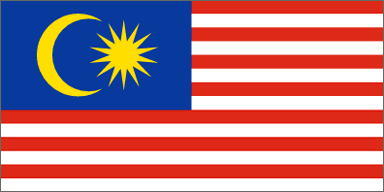 World Heritage Sites in Malaysia
---
The Gunung Mulu National Park
( 3.95 N 114.78 E) -- satellite image

Gunung Mulu National Park, on the island of Borneo in the State of Sarawak, is the most studied tropical karst area in the world. It contains seventeen vegetation zones, exhibiting some 3,500 species of vascular plants. Its palm species are exceptionally rich, with 109 species in twenty genera noted. The park is dominated by Gunung Mulu, a 2,377 m-high sandstone pinnacle.
---
Kinabalu Park
( 6.25 N 116.35 E) -- satellite image

Kinabalu Park, in the State of Sabah on the northern end of the island of Borneo, is dominated by Mount Kinabalu (4,095 m), the highest mountain between the Himalayas and New Guinea. It has a very wide range of habitats, from rich tropical lowland and hill rainforest to tropical mountain forest, sub-alpine forest and scrub on the higher elevations.
---
Melaka and George Town, historic cities of the Straits of Malacca
( 2.233 N 102.233 E) and ( 5.500 N 100.467 E)
---
Archaeological Heritage of the Lenggong Valley
( 5.0679 N 100.972 E)

This site contains one of the longest records of early man in a single locality, with four archaeological sites spanning close to 2 million years. Finds include Palaeolithic tools at Bukit Bunuh preserved after a meteorite strike 1.83 million b.p. and Perak Man, discovered within Gua Gunung Runtuh cave. Perak Man is South-East Asia's oldest and most complete human skeleton dated to 10,120 BP.
---
---
Back to the World Heritage List

Lynn Salmon <>{ Last updated: October 18, 2019