World Heritage Sites in Italy
---
Rock Drawings in Valcamonica near Brescia
(45.50-46.50 N 10.17-10.33 E)
---
Church and Dominican Convent of Santa Maria delle Grazie with "The Last Supper" by Leonardo da Vinci
(45.47 N 9.20 E)
---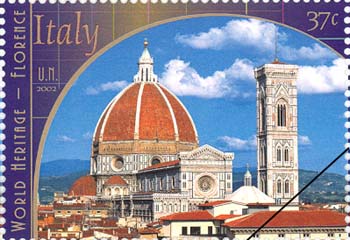 Historic Centre of Florence
(43.773 N 11.256 E) --
satellite image
---
Venice and its Lagoon
(45.434 N 12.339 E) --
satellite image
---
Piazza del Duomo, Pisa
(43.723 N 10.396 E) --
satellite image
Piazza del Duomo houses a group of world famous monuments which had a great influence on monumental art in Italy from the 11th to the 14th centuries. The four masterpieces of medieval architecture: the cathedral, the baptistry, the campanile (Leaning Tower) and the cemetery.
---
Historic Centre of San Gimignano
(43.47 N 11.40 E)
---
I Sassi di Matera
(40.67 N 16.62 E)
---
Vicenza, the City of Palladio and the Villas of the Veneto
(45.55 N 11.53 E)
---
Historic Center of Siena
(43.32 N 11.32 E)
---
Historic Center of Naples
(40.851 N 14.262 E)
---
Ferrara
(44.83 N 11.63 E)
---
Crespi d'Adda
---
Historic Centre of Rome, the properties of the Holy See in that city enjoyning extraterritorial rights, and San Paolo Fuori le Mura
(41.90 N 12.48 E)
---
Castel del Monte
(42.37 N 13.72 E)
---
The Trulli of Alberobello
(40.77 N 17.25 E)
---
Early Christian Monuments and Mosaics of Ravenna
(44.42 N 12.20 E)
---
Historic Centre of the City of Pienza
(43.07 N 11.68 E)
---
The 18th-Century Royal Palace at Caserta with the Park, the Aqueduct of Vanvitelli, and the San Leucio Complex
(41.07 N 14.33 E)

The Bourbon royal palace was built in Caserta in the 18th century. The palace served as headquarters of Allied command and was the site of surrender of the German Army in Italy in WW II.
---
Residences of the Royal House of Savoy, Turin
(45.04 N 7.40 E)
---
Botanical Garden (Orto Botanico), Padua
(45.42 N 11.88 E)

Dating back to 1545, the botanical garden in Padua is regarded as the most ancient university garden in the world.
---
Cathedral, Torre Civica and Piazza Grande, Modena
(44.65 N 10.92 E)
---
Archaeological Areas of Pompei, Herculaneum, and Torre Annunziata
(40.75 N 14.48 E)
---
Villa Romana del Casale
(37.37 N 14.33 E)

Was a Roman villa of the Late Empire; noted as one of the most important archaeological discoveries in Roman Sicily, famous for its mosaics.
---
Su Nuraxi di Barumini
(39.70 N 9.00 E)
---
Portovenere, Cinque Terre, and the Islands (Palmaria, Tino and Tinetto)
(44.05 N 9.83 E)
---
The Costiera Amalfitana
The Amalfi coast is an area of great physical beauty and natural diversity. It has been intensively settled by humans since the early Middle Ages and has a number of architectural and artistic works of great significance.
---
Archaeological Area of Agrigento
(37.32 N 13.57 E)

Founded by colonists from Gela ca. 580 BC, the town was destroyed by Carthage in 406 BC. The place was rebuilt by Timoleon, a leader of Syracuse. Also known as the scene of defeat of the Carthaginian general Hanno by Romans 262 BC.
---
Cilento and Vallo di Diano National Park
(40.30 N 15.25 E)

Includes the Archaeological sites of Paestum and Velia, and the Certosa di Padula.
---
Historic Centre of Urbino
(43.66 N 12.60 E)
---
Archaeological Area and the Patriarchal Basilica of Aquileia
(45.75 N 13.33 E)
---
Villa Adriana
(41.95 N 12.78 E)
---
Aeolian Islands
(38.488 N 14.946 E)
---
Assisi, the Basilica of San Francesco and Other Franciscan Sites
(43.05 N 12.65 E)
---
City of Verona
(45.43 N 10.98 E)
---
Villa d'Este, Tivoli
(41.97 N 12.80 E)
---
Late Baroque Towns of the Val di Noto (South-eastern Sicily)
Includes Caltagirone, Catania, Militello Val di Catania, Modica, Noto, Palazzolo Acreide, Ragusa, and Scicli.
---
Sacri Monti of Piedmont and Lombardy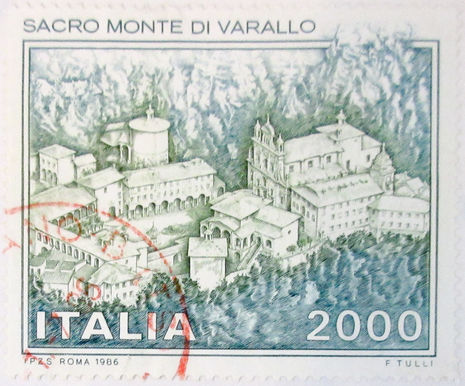 The nine Sacri Monti ("Sacred Mountains") of this region of northern Italy are groups of chapels and other architectural features created in the late 16th and 17th centuries and dedicated to different aspects of Christian belief.
The Nine Sacri Monti are:
The Sacro Monte or Nuova Gerusalemme (New Jerusalem) of Varallo Sesia (1486) (Comune of Varallo Sesia - Vercelli)
The Sacro Monte of Santa Maria Assunta, Serralunga di Crea (1589) (Comune of Ponzano Monferrato, Serralunga di Crea - Alessandria)
The Sacro Monte of San Francesco, Orta San Giulio (1590) (Comune of Orta San Giulio - Novara)
The Sacro Monte of the Rosary, Varese (1598) (Comune of Varese - Varese)
The Sacro Monte of the Blessed Virgin, Oropa (1617) (Comune of Biella - Biella)
The Sacro Monte of the Blessed Virgin of Succour, Ossuccio (1635) (Comune of Como - Como)
The Sacro Monte of the Holy Trinity, Ghiffa (1591) (Comune of Ghiffa - Verbania)
The Sacro Monte and Calvary, Domodossola (1657) (Comune of Domodossola - Verbania)
The Sacro Monte of Belmonte, Valperga (1712) (Comunes of Cuorgne, Pertusio, Prascorsano, Valperga - Torino)
---
Etruscan Necropolises
(Cerveteri: 41.98 N 12.10 E -- Tarquinia: 42.35 N 11.77 E)

Tarchon was the legendary founder of Tarquinia; reputedly the oldest Etruscan city in Italy. It was noted as the earliest settlement in Etruria of the Villanovans and came under Rome probably by late 4th century BC, gained Roman citizenship in 90 BC. The ancient site was abandoned in the 8th or 9th century CE, when modern Corneto (since 1922 known as Tarquinia) was founded nearby.

The necropolis near Cerveteri, known as Banditaccia, contains thousands of tombs organized in a city-like plan, with streets, small squares and neighbourhoods.
---
Val d'Orcia
(43.07 N 11.55 E)
---
Syracuse and the Rocky Necropolis of Pantalic
(37.059 N 15.293 E)
---
Genoa: Le Strade Nuove
(44.409 N 8.930 E)

Le Strade Nuove consists of the Via Garibaldi, Via Balbi and Via Cairoli. They are known for their aristocrat houses and the Palazzi dei Rolli.
---
Mantua and Sabbioneta
(45.159 N 10.794 E) and (44.998 N 10.490 E)
---
Rhaetian Railway in the Albula / Bernina Landscapes
Joint listing with Switzerland
---
The Dolomites
(46.613 N 12.163 E) --
satellite image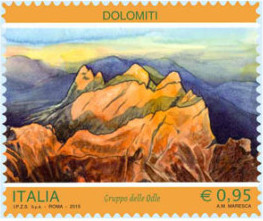 The Dolomites are a limestone mountain range forming part of the Alps. The designated site contains 9 different areas:
Pelmo-Croda da Lago
Marmolada
Pale di San Martino - San Lucano - Dolomiti Bellunesi - Vette Feltrine
Dolomiti Friulane / Dolomits Furlanis e d'Oltre Piave
Dolomiti Settentrionali / Nordliche Dolomiten
Puez-Odle / Puez-Geisler / Poz-Odles
Sciliar-Catinaccio / Schlern-Rosengarten - Latemar
Rio delle Foglie / Bletterbach
Dolomiti di Brenta
More info:
---
Prehistoric Pile Dwellings Around the Alps
( multiple locations)

Joint listing with Austria, France, Germany, Italy, Slovenia, and Switzerland. This property includes 111 small individual sites with the remains of prehistoric pile-dwelling (or stilt house) settlements in and around the Alps built from around 5000 to 500 B.C.
---
Longobards Places of the power (568-774 A.D.)
(46.094 N 13.433 E)

Includes seven groups of important buildings.
---
Medici Villas and Gardens in Tuscany
( multiple locations)

12 villas in Tuscany
---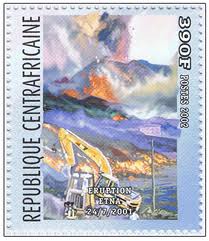 Mount Etna
(37.761 N 14.998 E)

Mount Etna is the highest Mediterranean island mountain and the most active stratovolcano in the world. The eruptive history of the volcano can be traced back 500,000 years and at least 2,700 years of this activity has been documented.
---
Vineyard Landscape of Piedmont: Langhe-Roero and Monferrato
(44.609 N 7.963 E)

Five distinct wine-growing areas with outstanding landscapes and the Castle of Cavour.
---
Arab-Norman Palermo and the Cathedral Churches of Cefalu and Monreale
(38.111 N 13.353 E)

Nine structures on the northern coast of Sicily.
---
Primeval Beech Forests of the Carpathians
( multiple locations)

For more links see Joint listing with Slovakia.

Joint listing with Albania, Austria, Belgium, Bosnia and Herzegovina, Bulgaria, Croatia, Czechia, France, Germany, Italy, Macedonia, Poland, Romania, Slovakia, Slovenia, Spain, Switzerland, and Ukraine. These are the largest remaining virgin forests of the European beech (Fagus sylvatica). They also hold the largest and tallest beech specimens in the world. This site originally consisted of ten separate components along an 185 km axis from the Rakhiv Mountains and the Chornohirskyi Range in the Ukraine, west along the Polonynian Ridge, to the Bukovske Vrchy and Vihorlat Mountains in Slovakia. The listing was extended in 2011 to include 5 Ancient Beech forests in Germany, further extended in 2017 to include more forests in 10 countries, and further extended in 2021.
---
Venetian Works of Defence between 15th and 17th centuries
( multiple locations)

Joint listing with Croatia and Montenegro. This property consists of 15 components of defence works in Italy, Croatia and Montenegro, spanning more than 1,000 kilometres between the Lombard region of Italy and the eastern Adriatic Coast. The fortifications throughout the Stato da Terra protected the Republic of Venice from other European powers to the northwest and those of the Stato da Mar protected the sea routes and ports in the Adriatic Sea to the Levant.
---
Ivrea, industrial city of the 20th century
(45.457 N 7.869 E)
---
Le Colline del Prosecco di Conegliano e Valdobbiadene
(45.953 N 12.226 E)

Located in north-eastern Italy, the site includes part of the vinegrowing landscape of the Prosecco wine production area.
---
Padua's forteenth-century fresco cycles
(45.4118 N 11.8796 E)

The site is composed of eight building complexes within the historic walled city of Padua. These house a selection for fresco cycles painted between 1302 and 1397 by different artists for different types of patrons.
---
The Great Spa Towns of Europe
( multiple locations)

This joint listing comprises 11 towns, located in seven European countries. All of these towns developed around natural mineral water springs.
Austria: Baden bei Wien
Belgium: Spa
Czechia: Frantiskovy Lazne, Karlovy Vary, and Marianske Lazne
France: Vichy
Germany: Bad Ems, Baden-Baden, and Bad Kissingen
Italy: Montecatini Terme
UK: City of Bath
---
Porticoes of Bologna
(44.491 N 11.333 E)
---
---
Back to the World Heritage List

Lynn Salmon <>{

Last updated: August 13, 2021