World Heritage Sites in Iraq
---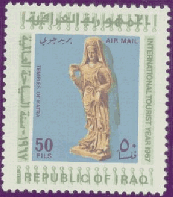 Hatra
(35.57 N 42.70 E) -- satellite image

The capital of the first Arab Kingdom, with its high, thick walls and towers, Hatra withstood invasions by the Romans in A.D. 116 and 198.
---
Ashur (Qal'at Sherqat)
(35.459 N 43.260 E) --
satellite image
Dating from the 3rd millennium BC, the ancient city of Ashur is located on the Tigris River in northern Mesopotamia. From the 14th to the 9th centuries BC it was the first capital of the Assyrian Empire. It also served as the religious capital of the Assyrians, associated with the god Ashur. The city was destroyed by the Babylonians, but revived during the Parthian period in the 1st and 2nd centuries AD.
---
Samarra Archaeological City
(34.341 N 43.824 E)
---
---
Back to the World Heritage List

Lynn Salmon <>{ Last Updated: October 19, 2012