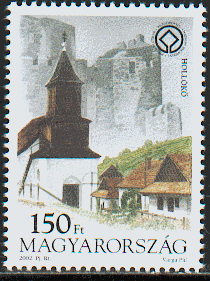 Old Village of Holloko
The village, which developed mainly during the 17th and 18th centuries, is a living example of rural life before the agricultural revolution of the 20th century.
---
Millenary Benedictine Abbey of Pannonhalma and its Natural Environment
(47.47 N 17.83 E)

The first Benedictine monks settled here in 996 and went on to convert the Hungarians They founded the country's first school and, in 1055, wrote the first document in Hungarian.
---
Caves of the Aggtelek and Slovak Karst
---
Inluding the Ungvari Wine Cellar, Rakoczi Wine Cellar, Koporosi Cellars, Gomboshegyi Cellars, Oremus Cellars, and Tolcsva Wine Museum Cellars.