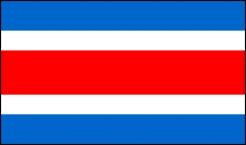 World Heritage Sites in Costa Rica
---
Talamanca Range-La Amistad Reserves/La Amistad National Park
(8.73-10.03 N 82.72-83.73 W)
---
Cocos Island National Park
(5.53 N 86.98 W) --
satellite image
Located 550 km off the Pacific coast of Costa Rica, this is the only island in the tropical eastern Pacific with a tropical rainforest. The underwater world of the national park has become famous as one of the best places in the world to view large pelagic species such as sharks, rays, tuna and dolphins.
---
Area de Conservacion Guanacaste
(10.85 N 85.62 W) --
satellite image
---
Precolumbian Chiefdom Settlements with Stone Spheres of the Diquis
(8.911 N 83.478 W)

Four archaeological sites in the Diquis Delta in southern Costa Rica from the period AD 500-1500. They include a collection of mysterious stone spheres.
---
---
Back to the World Heritage List

Lynn Garry Salmon <>{

Last updated: May 6, 2021