Pumpkin Pie Recipe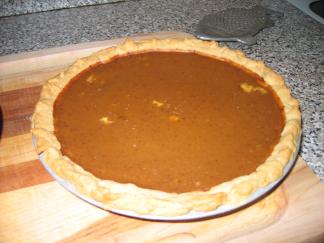 1 pie shell
2 cups cooked pumpkin
1/4 cup firmly packed brown sugar
1/2 cup white sugar
1/4 tsp nutmeg
1/2 tsp cloves, powdered
1 tsp cinnamon
1/2 tsp salt
1 1/2 cups evaporated milk (usually 1 can)
2 eggs
Cook the pumpkin. Cut it in half and remove the seeds and strings. Place the pieces shell side up and bake at 325oF for approximately 1 hour until it is tender and begins to fall apart. Scrape out the pulp and puree it in a food processor.
Prepare 1 uncooked pie shell and put it in the bottom of a pie tin. Crimp the sides as high as possible to hold in the liquid pie filling while baking.
Mix pumpkin, sugar and spices until well blended.
Add eggs and milk and mix well.
Pour filling into the shell. Bake the pie for 15 minutes at 425oF, then reduce the heat to 350 oF and bake for 45 minutes longer or until an inserted knife comes out clean.
Note: doubling the recipe can make 3 pies.
---
---
Lynn Salmon <>{