Red Bay Basque Whaling Station World Heritage
by Lynn & John Salmon <>{
Red Bay Basque Whaling Station is an outstanding example of the tradition of whale hunting established by the Basques in the 16th century. During the 1980s, archaeologists uncovered the remains of many structures where the Basques had lived and worked. These are the earliest, most complete and best preserved Basque whaling site found anywhere in the world.
We were able to snag one of the 5 accommodations at the Whaler's Station which put us right at the World Heritage Site. We stayed in The Strand House, which looks like a plain box on the outside but is lovely inside with an upstairs loft, a small kitchen area, living space downstairs, and panoramic views of the bay.
On our first afternoon we spotted some Labrador Ducks while doing the Boney Shore walk and looking for a geocache. The ducks were probably a group of 37 juvenile eiders. We also saw 5 other ducks, one lighter colored with a roundish head that we couldn't identify.
We celebrated palindrome day 8-18-18 with a more extensive visit to the Red Bay World Heritage Site and some world heritage geocaches (there are 5 or 6 geocaches at the site).
We enjoyed the exhibits at the Red Bay Interpretive center, and then took the 11am ferry across to saddle island. We loved our walk around the island and spent two hours over there. We were alone for the first hour, and the people who came on a second ferry didn't stay as it began to rain. We enjoyed some fresh picked bakeapples on our walk, and saw a couple more Labrador Ducks, likely Northern Pintails.
After lunch of fish n chips at Whalers, we drove out to look for a geocache at the Pinware River Estuary area. We discovered an unmarked road along the Pinware River and took a scenic drive. The river in this section was very pretty, and we didn't get stuck in any quicksand along the way.
Two nights was the perfect amount of time to spend at Whalers, only one would of made the visit too rushed, more and we'd run out of things to do. Plus, Whalers, was the only food establishment in town. They had hearty fish chowders, and desserts including bakeapple crumble and partridgeberry pie, but we were running out of things to try. And the breakfast didn't start until 8:30am, but we figured out how to make microwave poached eggs and bacon so we could get up and out early.


Photos from Red Bay (August, 2018)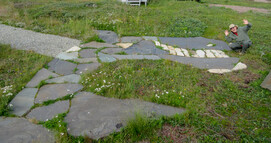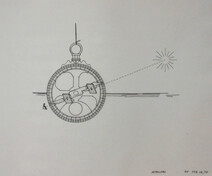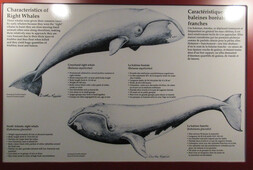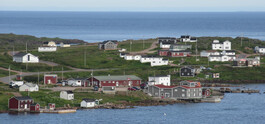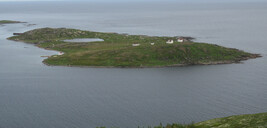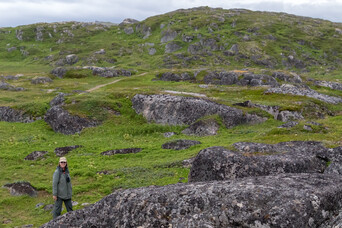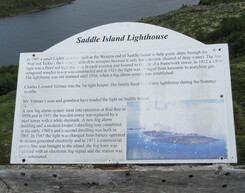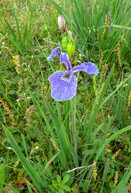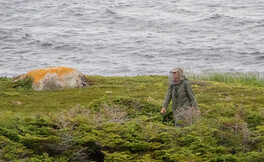 ---
Return to our Around Newfoundland: Puffins, but no Labrador Ducks adventure.
Lynn & John Salmon <>{