World Heritage Gros Morne National Park
by Lynn & John Salmon <>{
The variety of geologic features in Gros Morne illustrate some of the world's best examples of plate tectonics. It's an area of exceptional natural beauty with jaw-dropping fjords, verdant forests, and windswept shores.
Anadromous Atlantic salmon and arctic char are found in park waters, and so were we. We reserved a morning Tablelands boat tour along the Trout River Pond for the first day of our visit. With a handful of other passengers, our guides, Charlotte and Alex, whisked us out in a zodiac. It was raining, and the waterfalls were running heavier than the guides had ever seen. Lots of fog made the place look moody and atmospheric.
We stopped and got out of the boat once to look at the "moho" transition between mantle-rock to crustal rock. On the trip back, we took the "Serpentine loop" which afforded views of serpentine rock in situ. In nicer weather, this trip could be fabulous, but in the rain we mostly kept ourselves tucked in against the spray. Despite rain pants and gore-tex jackets, we were both pretty soaked.
Stopping at an earth geocache in the Tablelands: GC4GDDQ we learned more about geology by looking at peridotite and serpentine.
We spent two nights at Bonnie Bay Cottages, located just outside the park in Wiltondale. It was a comfortable space with a full kitchen, and would have been perfect except for the massive rainstorm and lightning that knocked out power on the second day.
The rain put a damper on our activities, but we still managed to find our 6500 milestone cache at Salmon Point. We visited the Green Point geologic divide and attempted to figure out stuff about the Cambrian-Ordovician Boundary for another earth geocache: GC4FD7W


Photos from Gros Morne NP (August, 2018)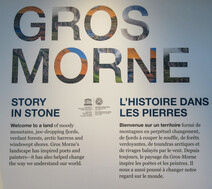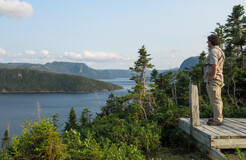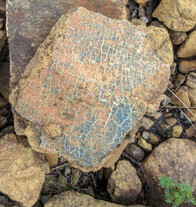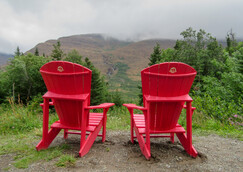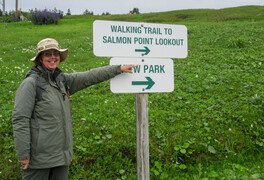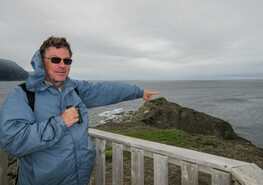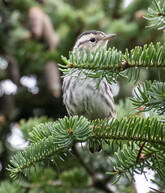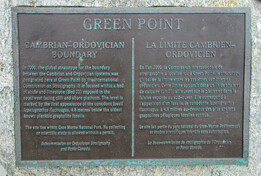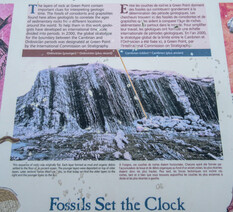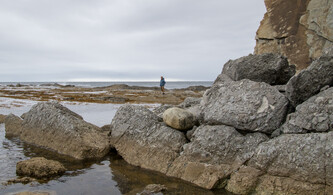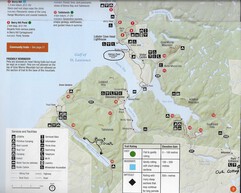 ---
Return to our Around Newfoundland: Puffins, but no Labrador Ducks adventure.
Lynn & John Salmon <>{