June was a perfect time to visit, with mild weather and mostly clear skies. We had a full itinerary, often getting out at dawn to hike, snorkel, kayak, cruise, and interact with nature. In addition to Galapagos tortoises, iguanas, sea lions, and lizards, we saw 54 bird species in the Galapagos, adding 39 species to our bird list.
We arrived at Baltra airport and took a bus to the boat dock. Here, pangas shuttled us to the Samba, our home for the next two weeks. We barely set foot on deck before returning to the pangas for our first wet landing on the gorgeous white sand beach of Mosquera Islet.
The first bird we see after landing is the familiar yellow warbler. We see our first mess of marine iguanas, sea lions, frigatebirds, lava herons, a wandering tattler, and, of course, some boobies! We were especially pleased to add the blue-footed booby as the 1000th bird to our bird list.
---
We navigated overnight to Isla Genovesa, a small island in the Northeast of the archipelago, north of the equator. We anchored in Darwin Bay, a flooded volcanic caldera. The day begins bright and early with a 6am wet landing. We walked among dense clusters of fearless nesting red-footed boobies, nazca boobies, and great frigatebirds. We saw the first of many Galapagos mockingbirds.
After breakfast on the Samba it was time for our first snorkel experience in Darwin Bay. It went off without a hitch thanks to expert guidance from Juan and Captain Jose.
The afternoon took us up Prince Philip's Steps to a wedge-rumped storm petrel colony. We spotted several short-eared owls who hang-out here and hunt the storm petrels. This group of owls on this island is unique for hunting during the day.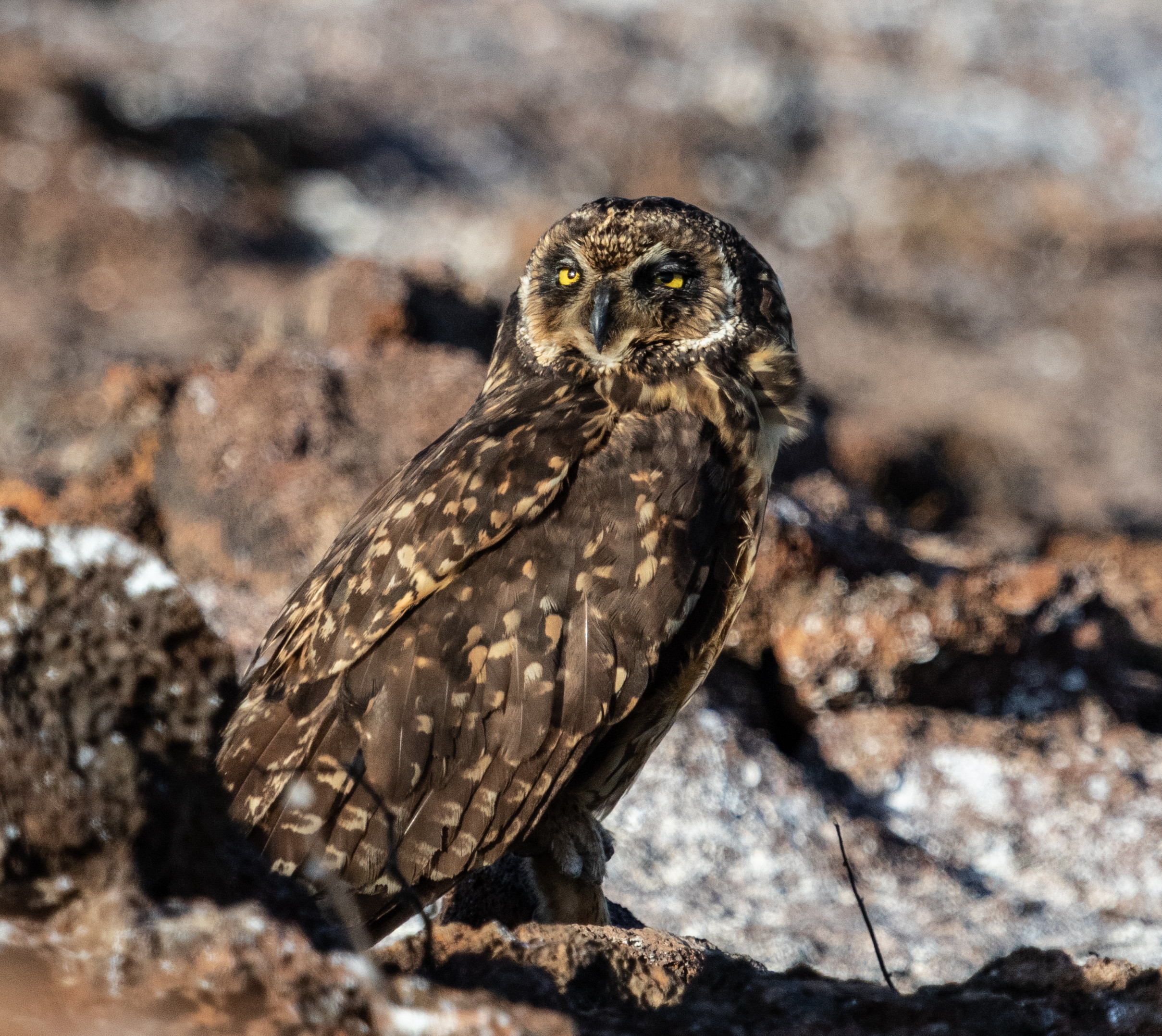 ---
This morning found us snorkeling at 6:30am around Punta Espejo. The seas were a bit rough, but visibility was good in the cold water. Our first shark sighting was a white-tip reef shark, but there were also hammerheads and a whale shark that John snorkeled with.
After breakfast, we did a second snorkel at Black Beach (Playa Negra). We had to land and make a short walk across the lava to reach an idyllic lagoon full for friendly fur seals who seemed to want to play with us in the water.
After lunch we did one of the longer navigations of the trip to get to Isla Isabela.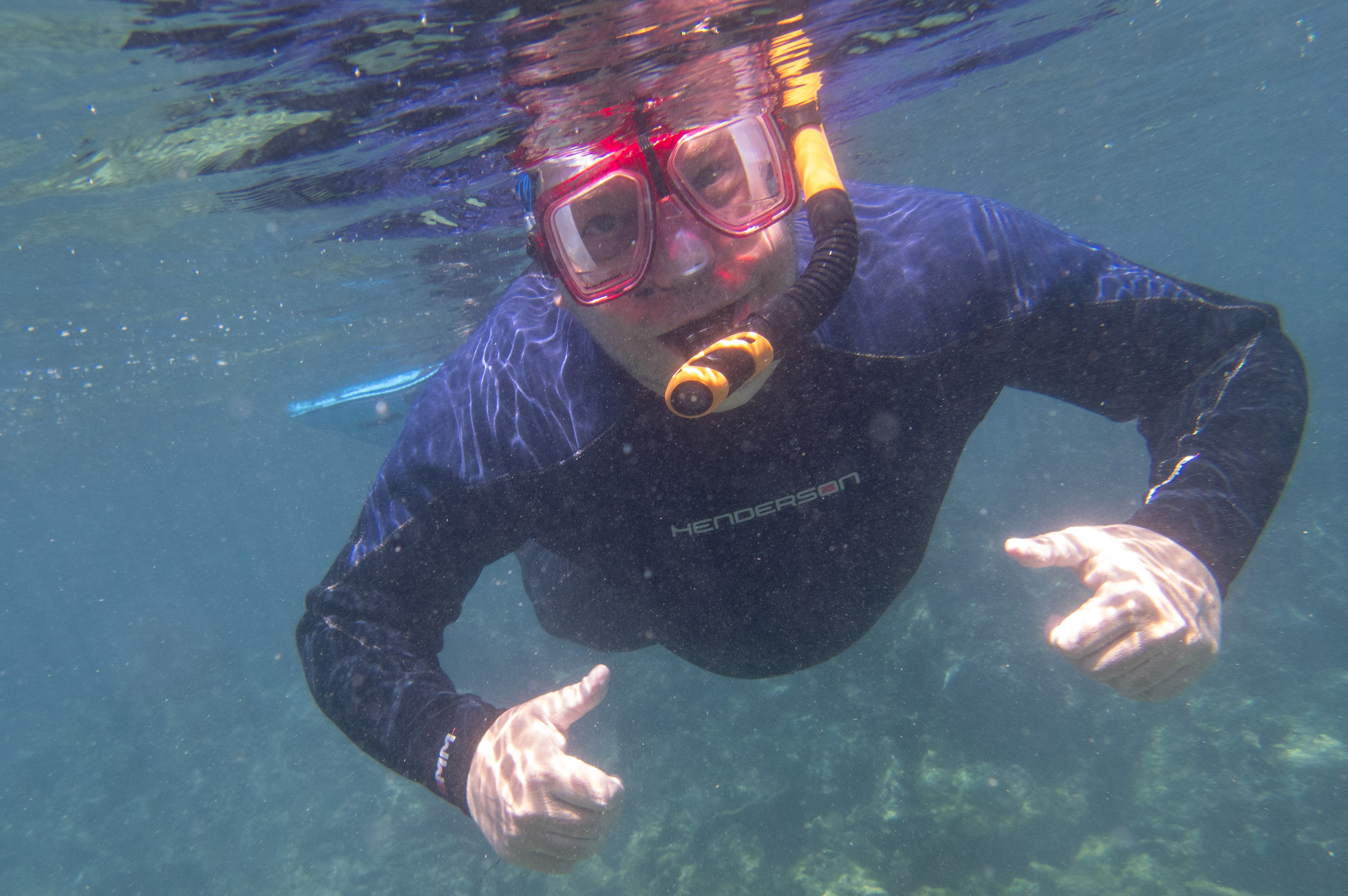 ---
Isabela is the largest island in the Galapagos, and is shaped like a seahorse. We began the day at the northern tip of the island with our earliest wake-up yet for a 5:45am kayak outing. We got our first look at a Galapagos penguin while still in the Northern hemisphere! We also watched sea lions herding tuna from the kayaks.
After breakfast we made a wet landing on Punta Albermarle, home to a flightless cormorant colony. Lynn located eleven lovely lady lava lizards lying lazily largely on the lava.
After lunch we headed south, crossing the equator. We paused near the chin of the seahorse and snorkeled around Punta Vicente Roca. After the snorkel, we covered some of the same area in a zodiac ride seeing Brown Noddys, sea turtles, and more.
Back aboard the Samba, John saw the "green flash" at sunset. After dinner, we did a night panga ride looking for whales. We heard whales all around us, but didn't see them in the dark. We had spotted a blue whale earlier in the day.
---
Our morning featured a 6am dry landing at Espinoza Point on Fernandina Island. It is the youngest of the Galapagos Islands and one of the world's most pristine sites because no known introduced animals have become established here. The dawn landing was early enough to watch marine iguanas swimming out to feed. There were also piles of iguanas sunbathing (a group of iguanas is called a mess).
Here, we saw the Galapagos hawk for the first time, more flightless cormorants, and groups of diving boobies. We also spotted our first whimbrel - hard to believe this was a life bird for us, since they can be found back home. As we walked along the lava rock we noticed lava cactus (Brachycereus nesioticus) growing directly out of the lava.
Breakfast was followed by a 9:30am snorkel and a lovely panga ride by the mangroves at Tagus Cove just across the Canal Bolivar which separates Fernandina and Isabela Islands.
In the afternoon, we made a wet landing at Urbina Bay. Here we spotted our first Galapagos Tortoise and our first Land Iguana. We also had the opportunity to compare small, medium, and large ground finches.
Often referred to as Darwin's Finches, there are 17 species in the islands. Known to school children all over the world studying evolution, the small changes amongst the species of Galapagos Finches famously helped Darwin to begin to formulate his theory of natural selection. The key factor that makes each species different is the shape and size of their beaks - each having developed to specialize in a different kind of food source, ranging from nuts and seeds to insects and cactus pulp.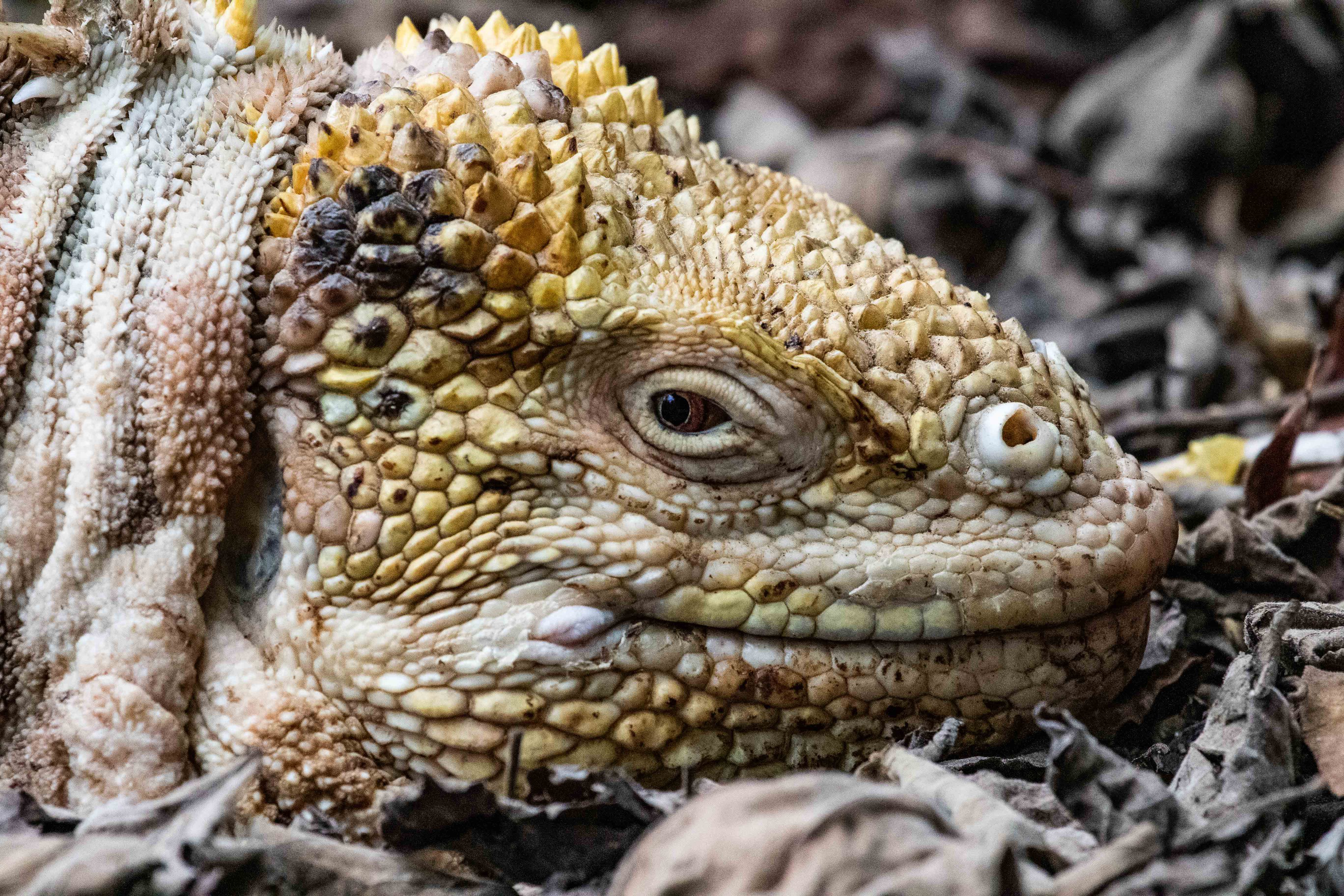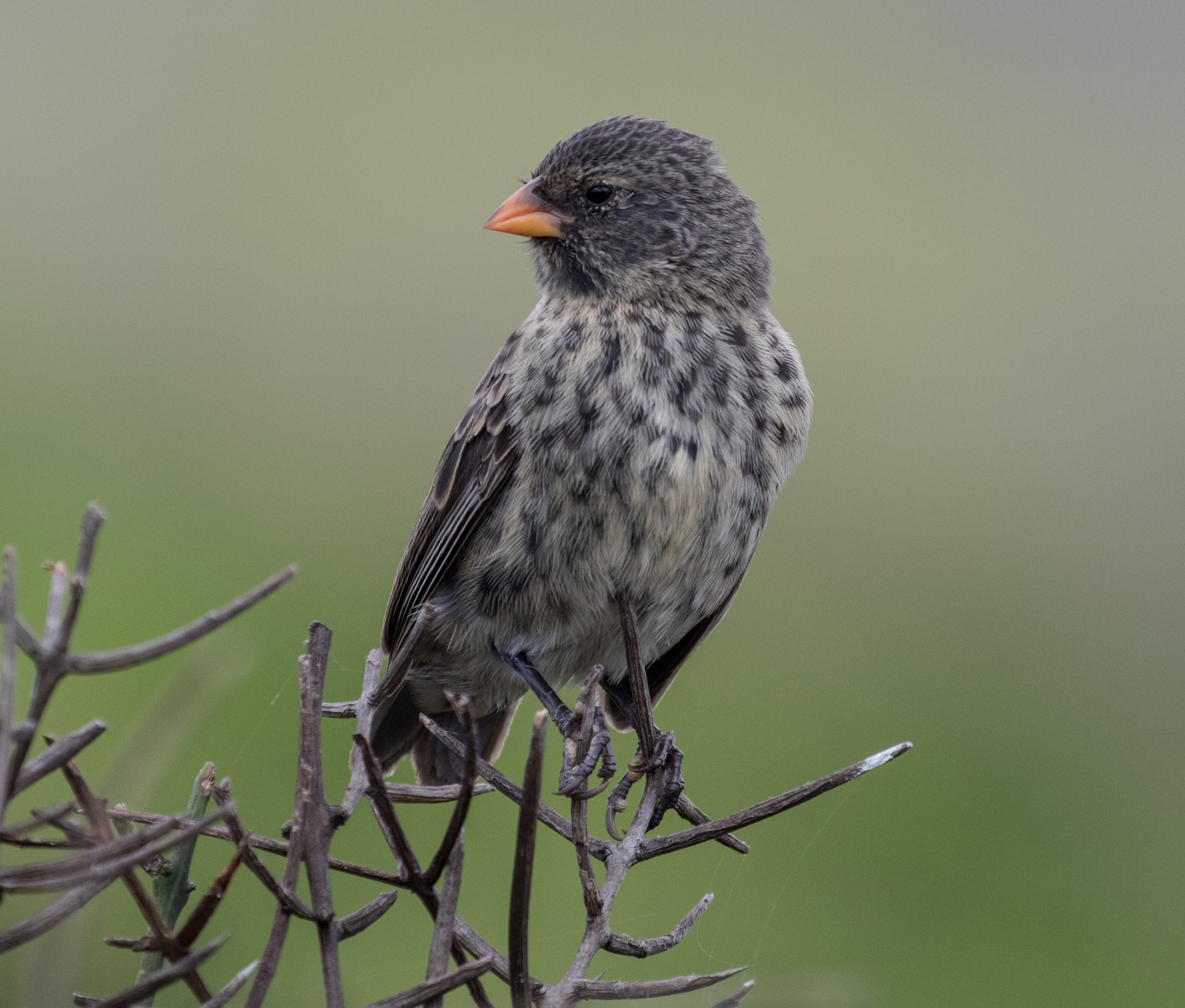 ---
We did a morning kayak in Elizabeth Bay and navigated through narrow channels in the green mangroves on Isabela. One loud sea lion looked like he might try and jump into the kayak. We then headed back across the canal to snorkel at Punta Mangle before lunch.
Afternoon brought us back to Isabela for a dry landing at Punta Moreno (Dark Point). We hiked 2 miles over rough lava to experience this stark landscape. The area is dotted with sparkling lagoons where we see flamingos and get our first look at the white-cheeked pintail duck. Look for it as an upcoming Duck of the Month in the Ardsley Curling Club Newsletter!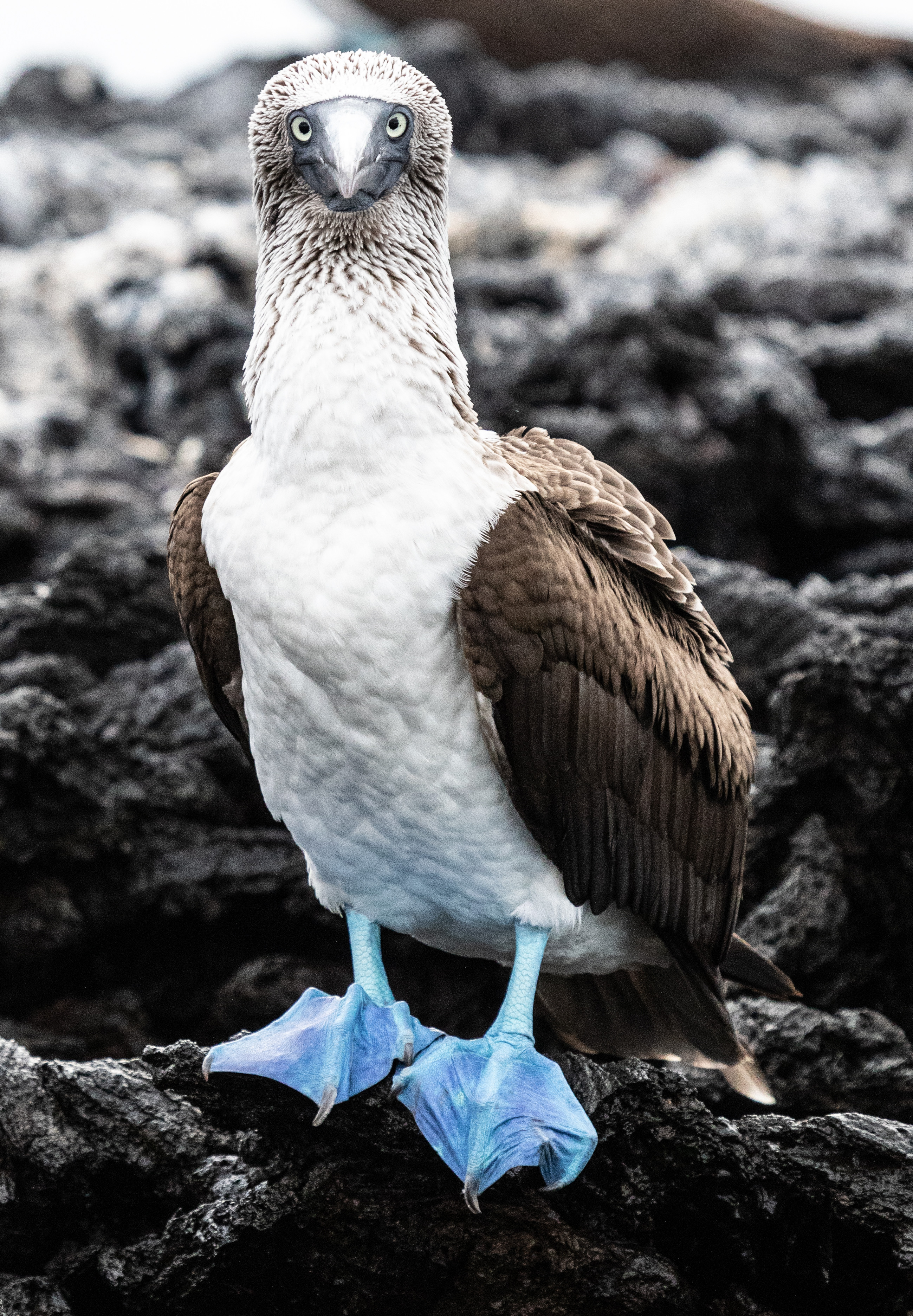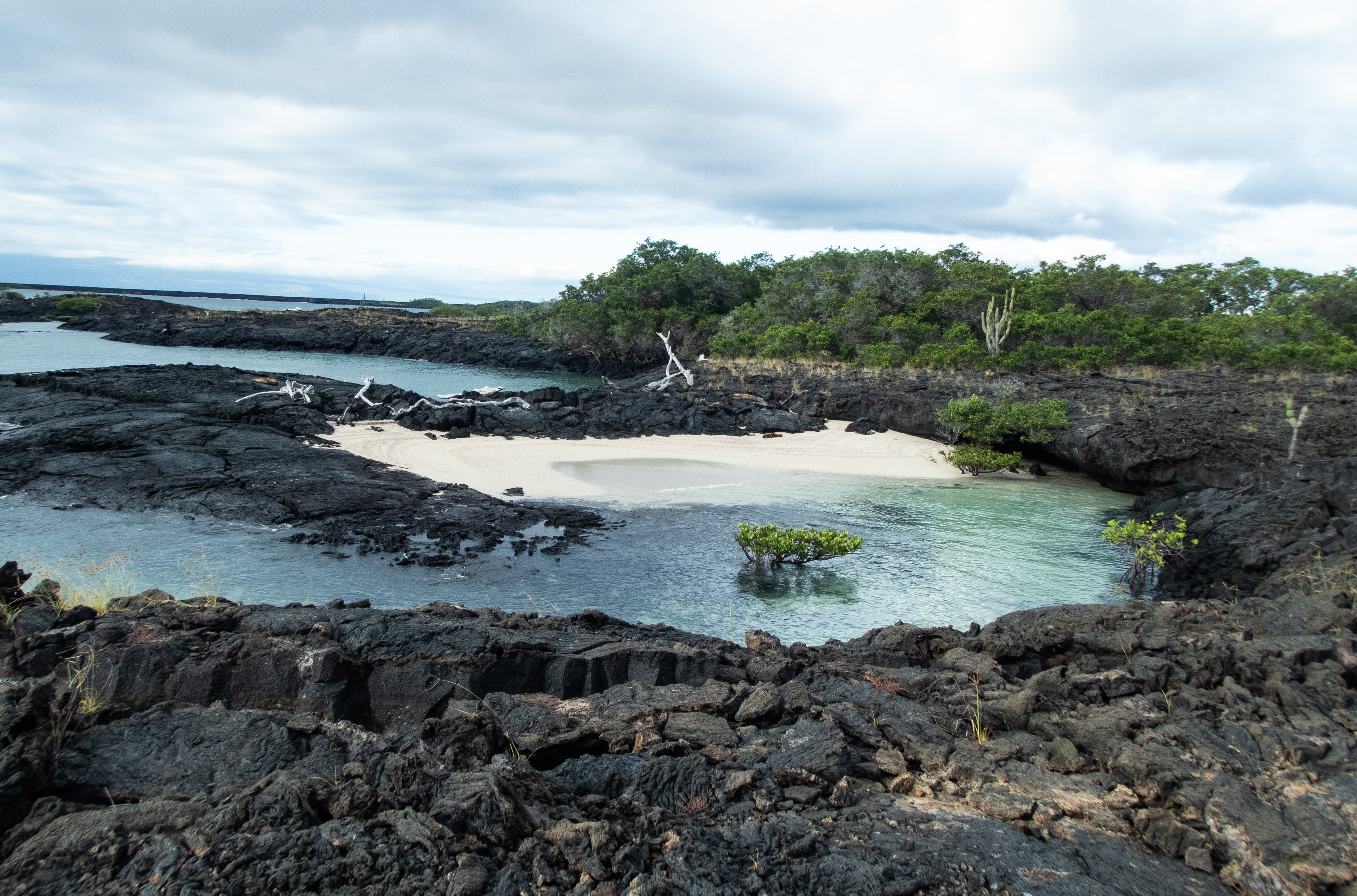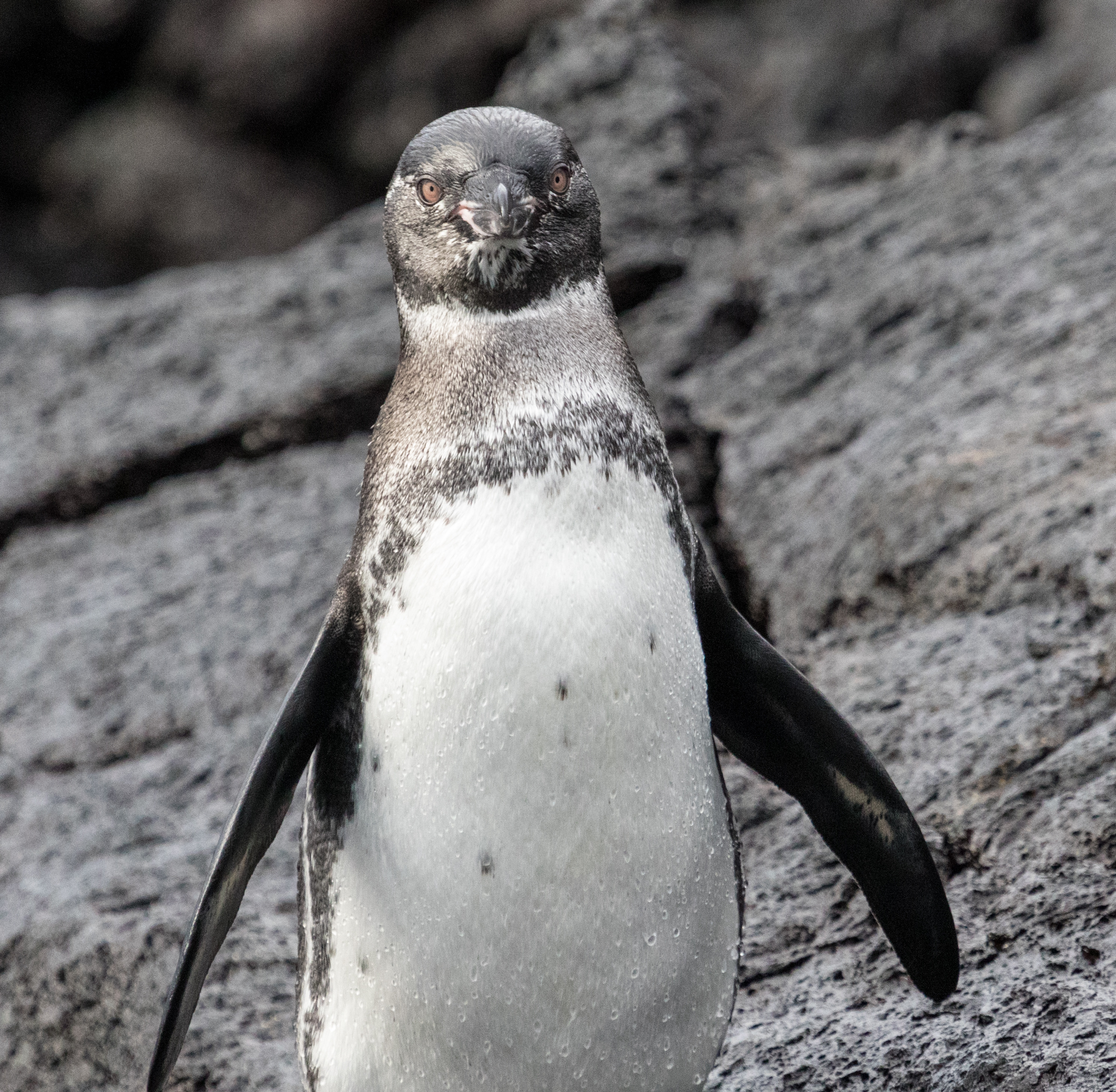 ---
Our morning walk was in the highlands of Floreana after a chiva (small open-sided bus) ride up to Asilo de la Paz. It was a rainy, wet morning - one of the few on our trip. The drizzle did not bother the giant tortoises living in the highlands. But most of our group huddled in a cave and learned about the intriguing human history on Floreana that includes pirate caves, interesting settlers, and a possible murder mystery.
A mid-day snorkel was at Devil's crown where we saw a hawk billed turtle, red starfish, and a diving booby that splashed down near us. The remainder of the afternoon was spent navigating to Santa Cruz Island where we anchored for a quiet dinner in Academy Bay.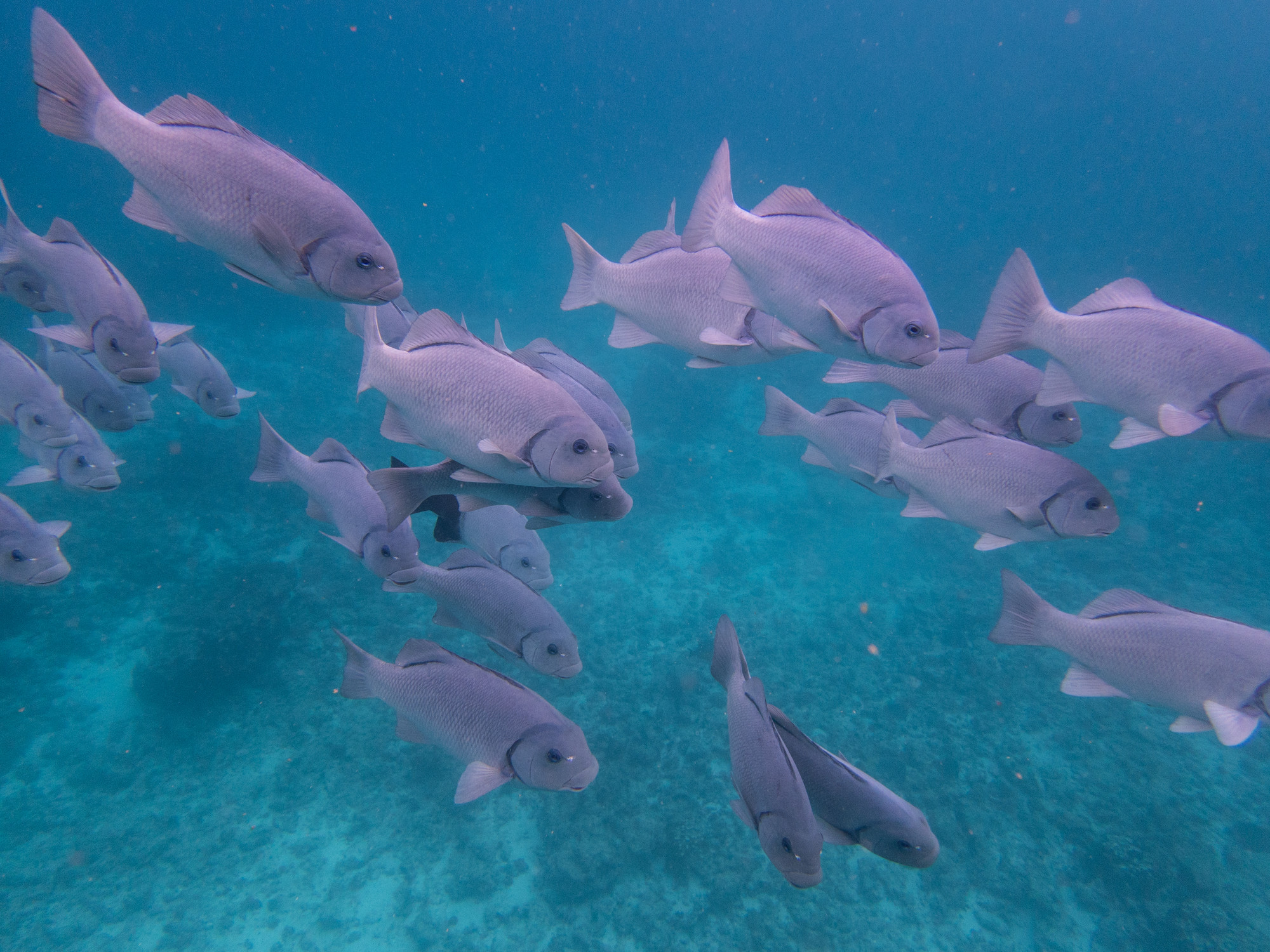 ---
We spent the morning at El Chato Ranch in the Santa Cruz highlands. After exploring a large lava tube, we had ample time to explore the reserve and look at many giant Galapagos tortoises. Also in the highlands, we visited "Los Gemelos" twin crater sinkholes and looked for endemic species. We found a warbler finch, but not the tool-using woodpecker finch. The scalesia trees in the forest here evolved and are now the world's tallest daisy.
We returned to the bustling small town of Puerto Ayora and lunched at La Garrapata (the tick) restaurant. In the afternoon, we visited the Charles Darwin Research Station and saw the oldest live Galapagos tortoise, Diego. Diego is at least 113 years old. He was collected in early 1900's by the California Academy of Science and spent time in the San Diego Zoo before being returned to the Galapagos in 1976.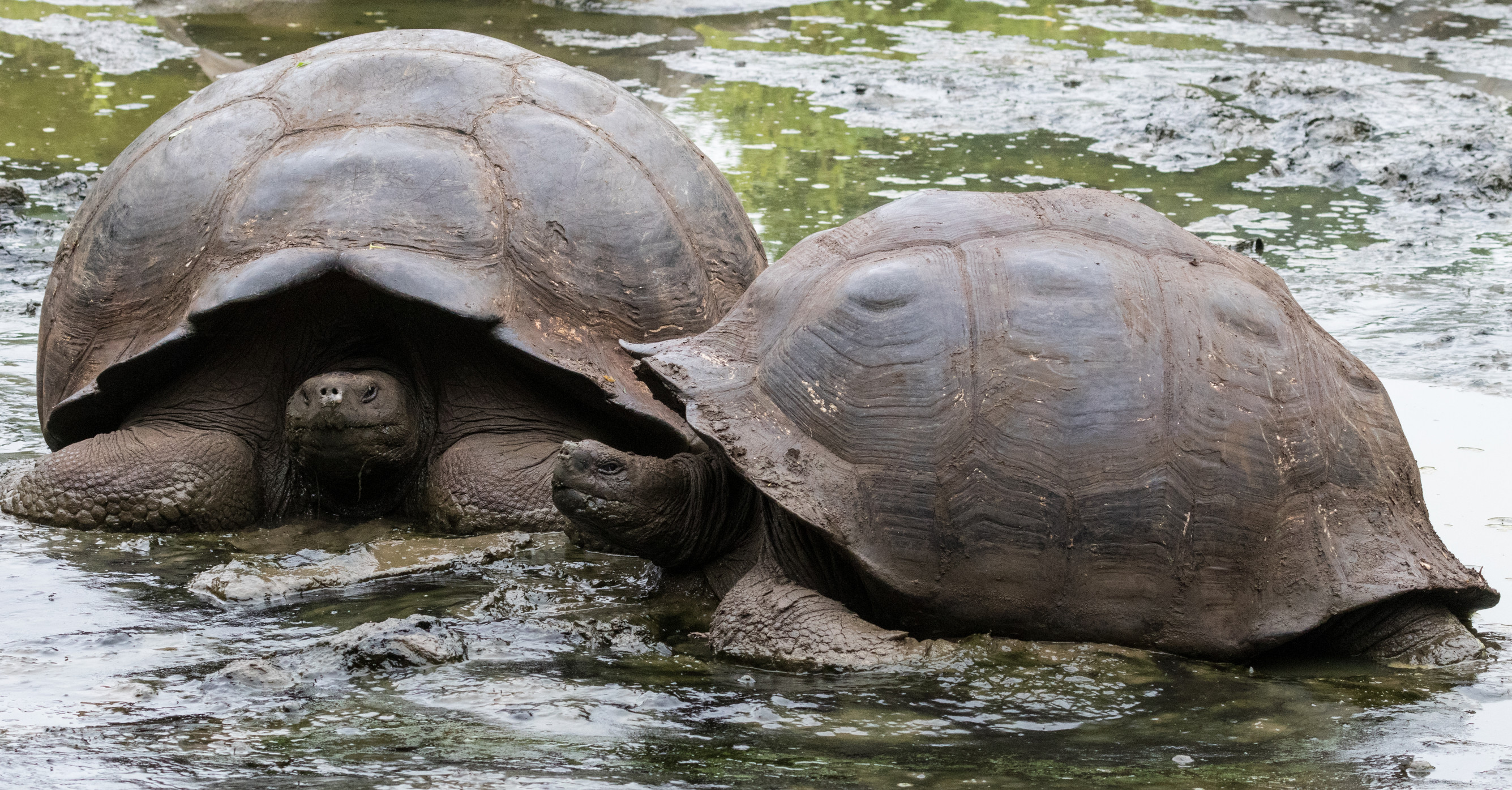 ---
Return to Floreana. Morning brings a 6am wet landing on a shimmering green beach at Cormorant Point. After a short walk, we arrive at a lagoon with baby bingos (aka flamingos) and other shorebirds.
After breakfast, we panga ride around Champion Island where we spot 4 Floreana mockingbirds. These birds are critically endangered and number only in the 100s.
We skip the after lunch snorkel, but head out for a 3pm kayak trip and get out for a hike up to the Baroness's lookout By now we've seen the documentary, The Galapagos Affair, one evening aboard ship and we're fueled with intrigue about Dore, Doctor Ritter, the Wittmers, and what happened to the Baroness. Our guide, Juan knows more from talking to descendants he's grown up with in the islands and he teases us with bits of gossip.
One last activity before dinner is a visit to Post Office Bay to exchange postcards. The Post Office barrel is a long-standing whalers' tradition where visitors drop off a letter or postcard in the large barrel and take one to hand deliver back home. We leave 2 postcards, one addressed to home, and another to John's work address in NYC. We take the two closest ones available, one to Riverside, CT and another to Stony Brook, NY. We delivered the CT one on July 28 and enjoyed swapping stories with the recipients about their time in the islands. And, we made the trek to LI to deliver the second post card on August 24 and again found the recipients at home and had a nice chat with them.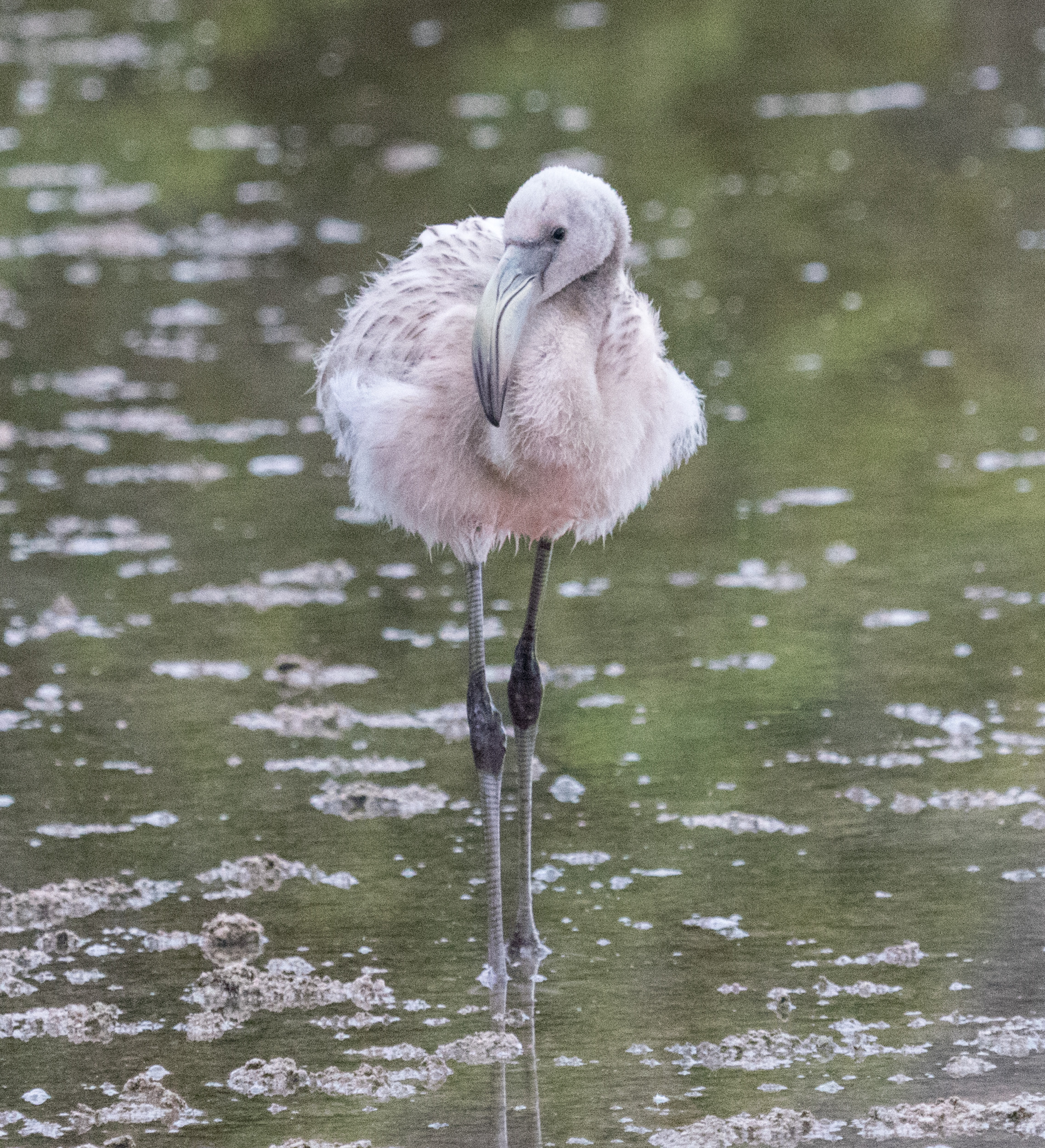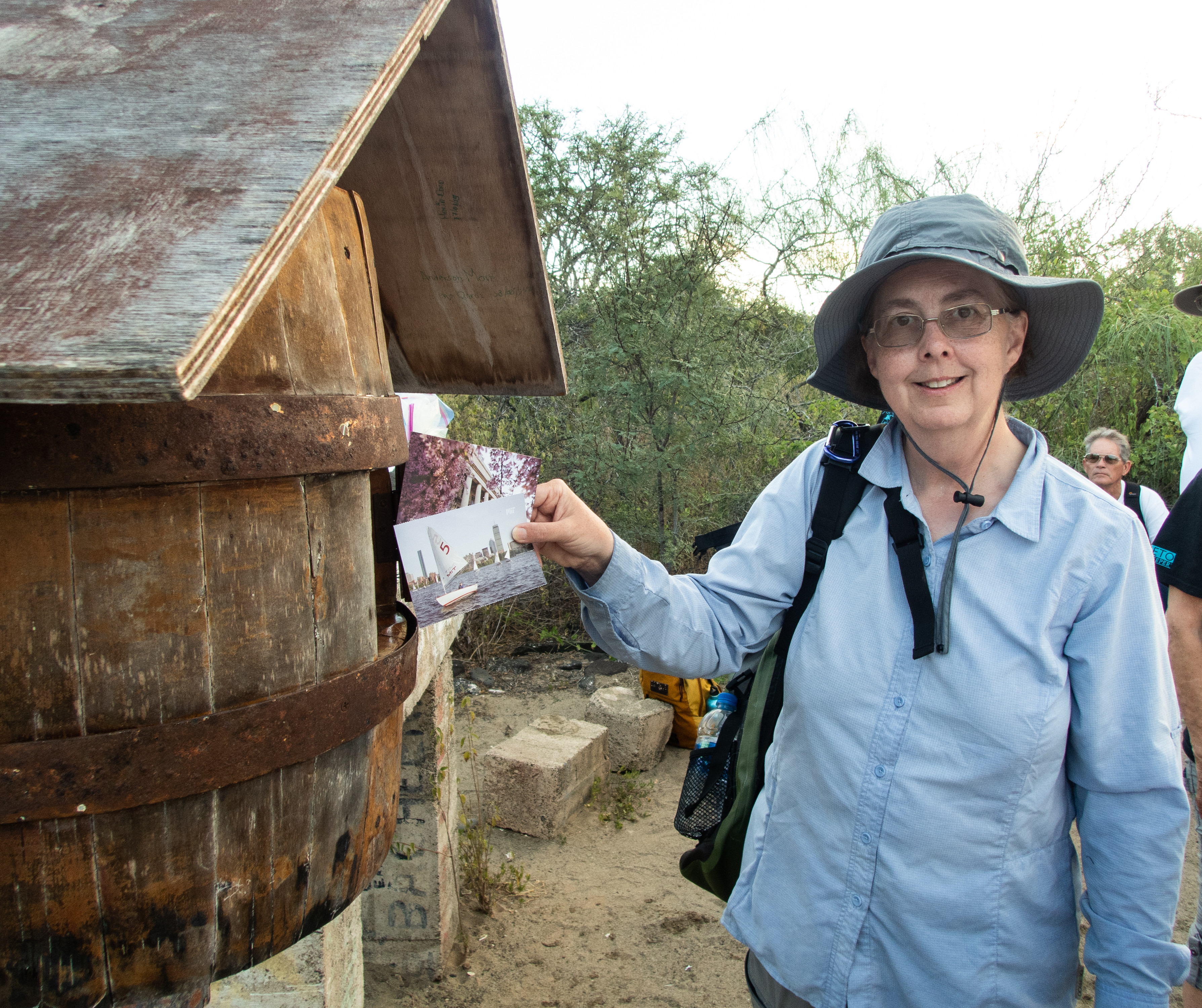 ---
It was another early morning as we headed to Punta Suarez for a 5:45am dry landing. The majority of the world's waved albatross nest here, and our dawn arrival is timed to watch pairs engage in a courting ritual that leads to a lifelong bond. We are treated to this unforgettable sight. Our walk takes us to a cliff edge where we also watch albatross taking off and coming in for a landing. We also see many Espanola mockingbirds plus more blue-footed boobies during the nearly 4 hours we spent here.
After a brief return to the boat, we were out again for a 10:30am snorkel in the clear waters. We got good looks at red starfish and blue starfish, plus a large spiny lobster. After such a full morning, our afternoon activity was a more relaxed landing with beach time at Gardner Bay.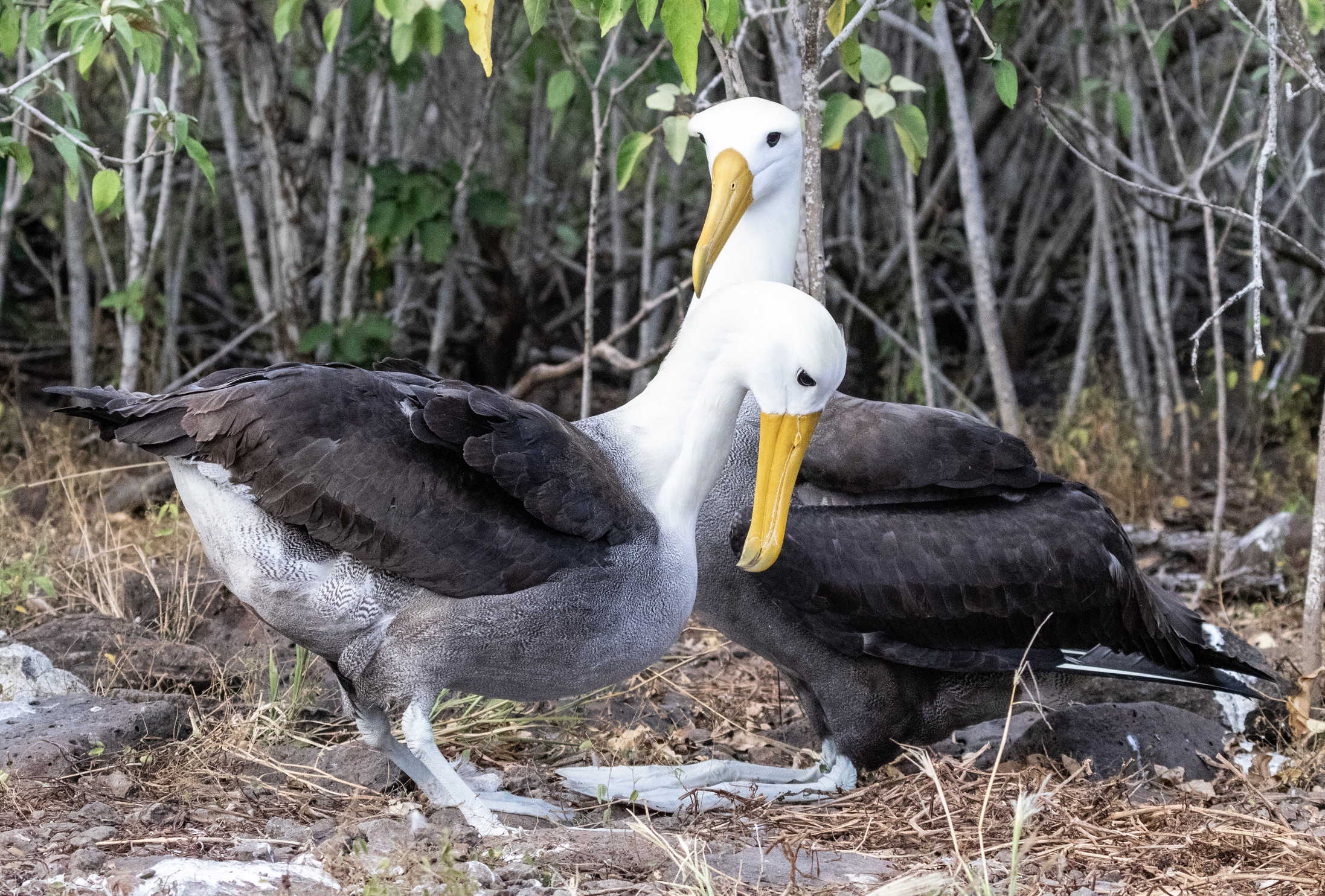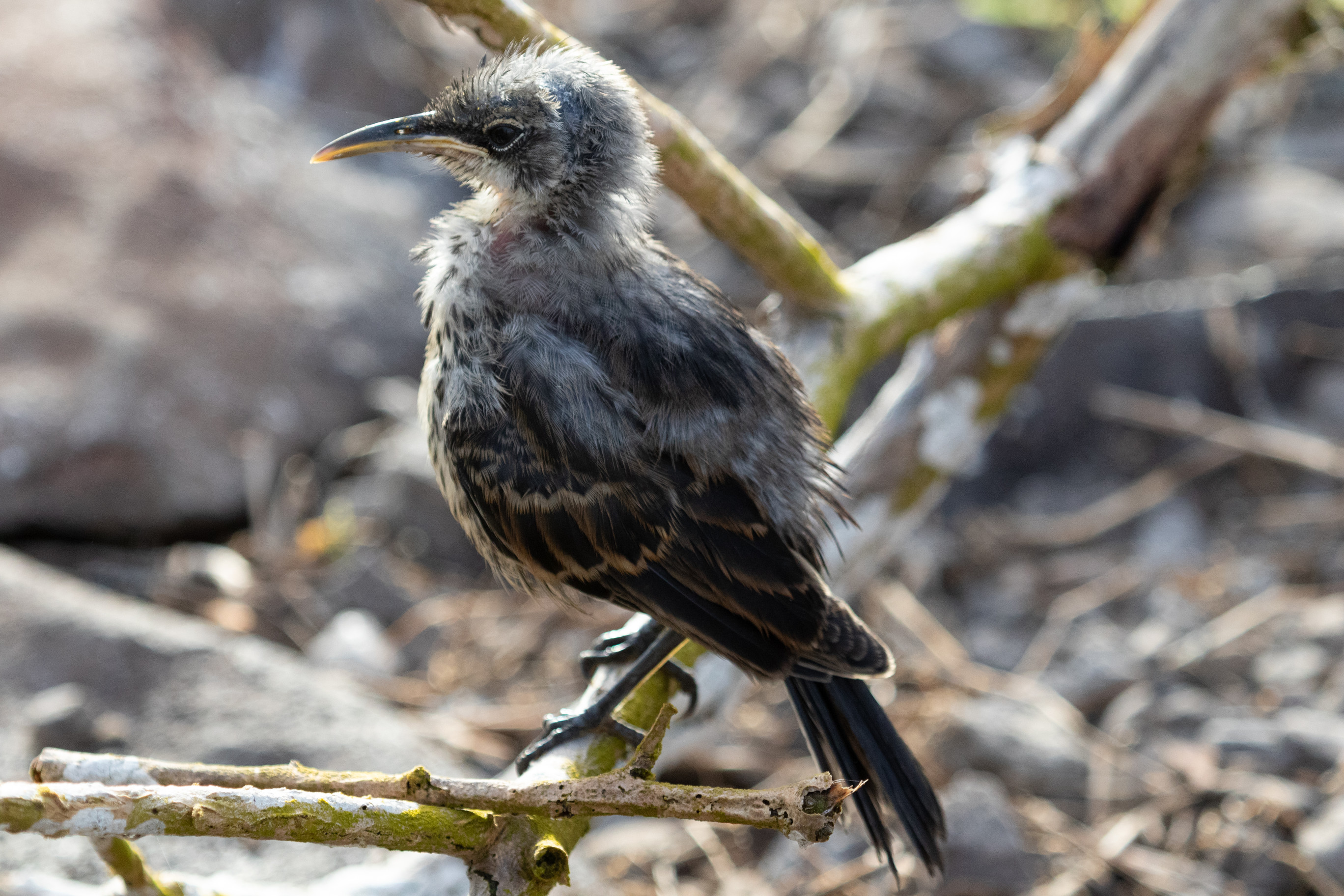 ---
Today began with a 6:30am snorkel at Kicker Rock also called the Sleeping Lion. We can imagine the resemblance to a shoe, but the sleeping lion seems a bit of a stretch. Rising 500 feet out of the water it's an impressive rock formation. This was a more difficult snorkel with the current taking us quickly through the split between the two parts of the volcanic tuff cone in one direction, and we had to fight against it to return.
After breakfast we faced a hot 2 mile uphill walk at Punta Pitt. Our efforts were rewarded with great looks at nesting boobies. We also saw San Cristobal mockingbirds, the 4th and final member of the Galapagos mockingbird collection.
After lunch we did some ocean kayaking around a nearby bird island. We'll sleep well tonight after all the exercise today.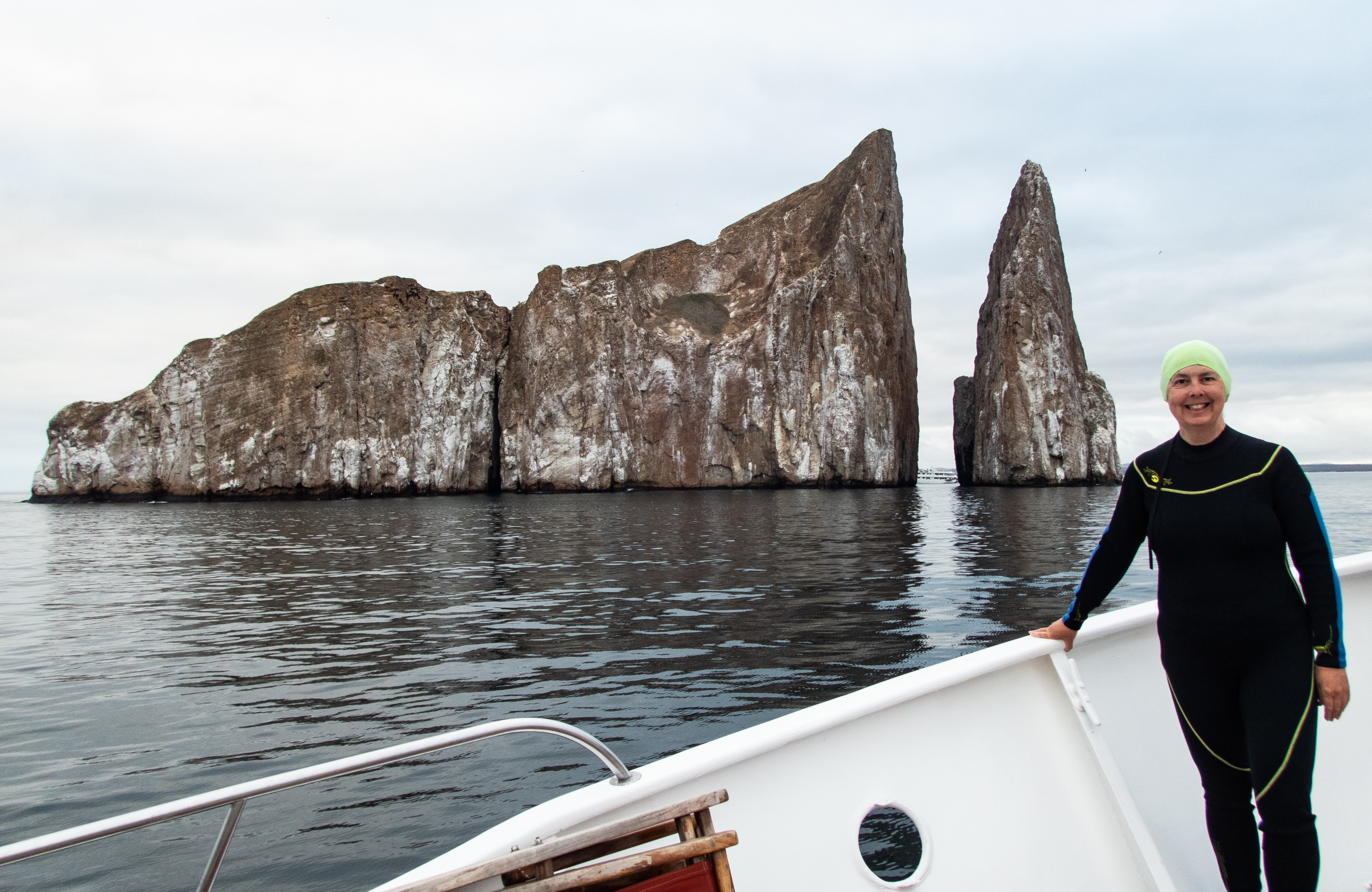 ---
There was a morning wet landing at Barrington Bay where a large forest of prickly pear cactus that grow with substantial trunks. Here we were treated to many Santa Fe Land iguanas, a separate species from the other land iguanas in the rest of the Galapagos. We did some late morning kayaking with sharks in the same area before lunch.
The afternoon took us to a dry landing on the small island of South Plaza. We added the common cactus finch to our bird list and got very good looks at red-billed tropicbirds.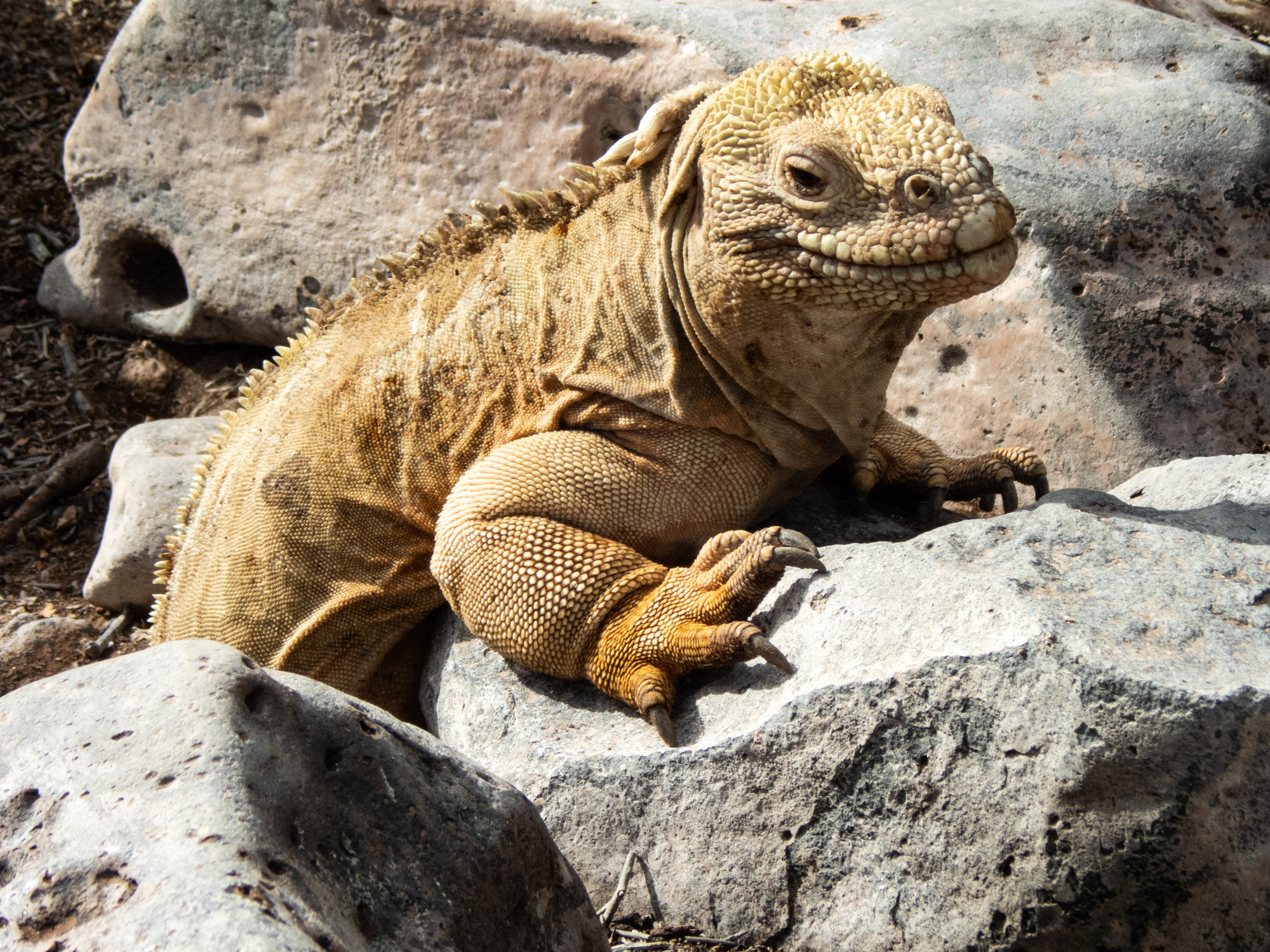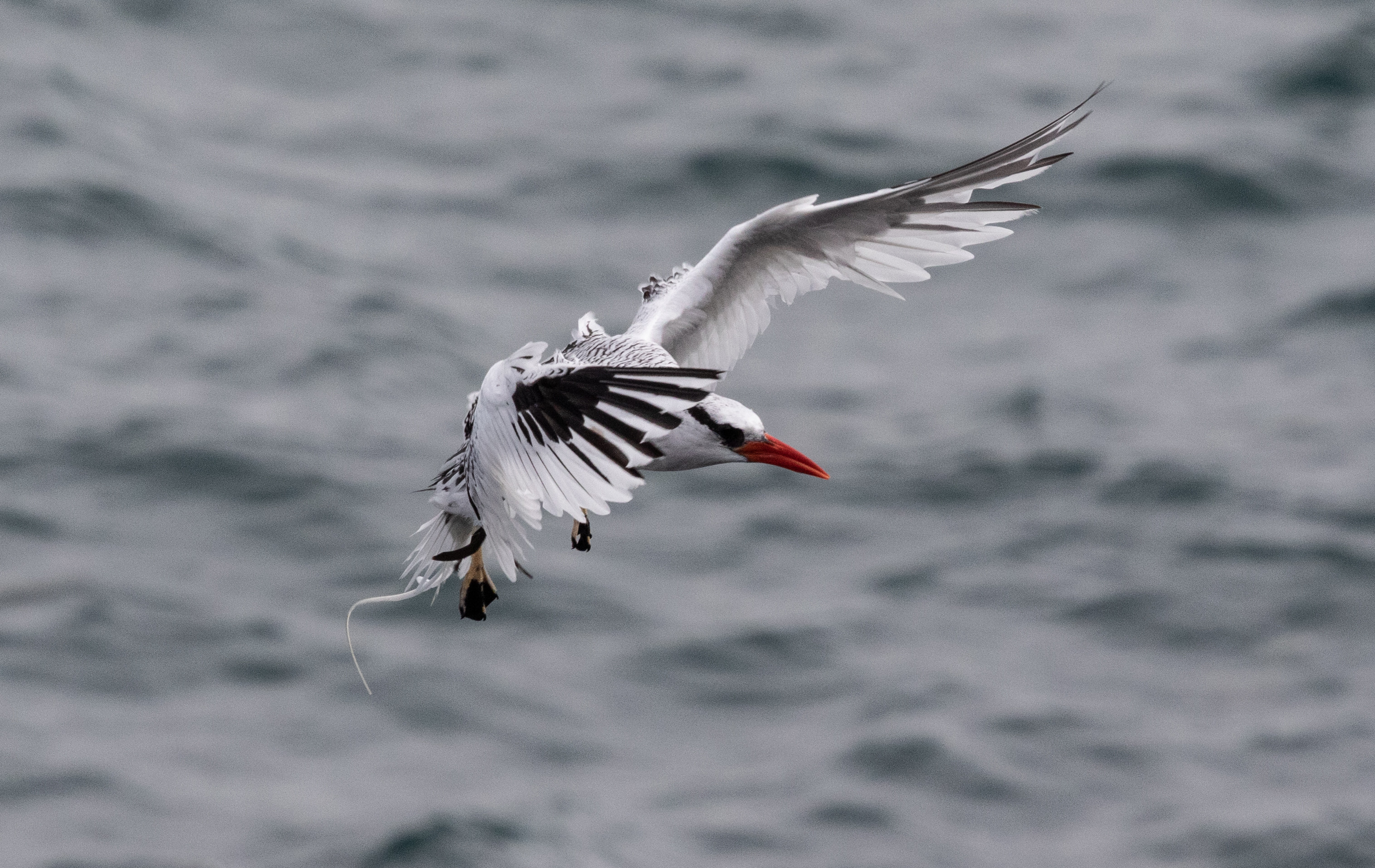 ---
We had an early breakfast followed by a wet landing and hike at Chinese Hat, a small islet formed by a symmetrical cinder cone that resembles a large hat. Very near the trail we saw the adorable sight of a newly born baby sea lion, with fresh placenta, mewing next to its mom. Here we also caught a glimpse of a racer snake. We were back on board in time for a 9:45am snorkel with sharks and rays. We got good looks at the sharks thanks to Captain Jose.
After lunch we made a dry landing on Bartolome. We climbed up wooden stairs to the 360 foot summit for postcard views of Pinnacle Rock and the surrounding bays. Scenes from the movie, Master and Commander were filmed here.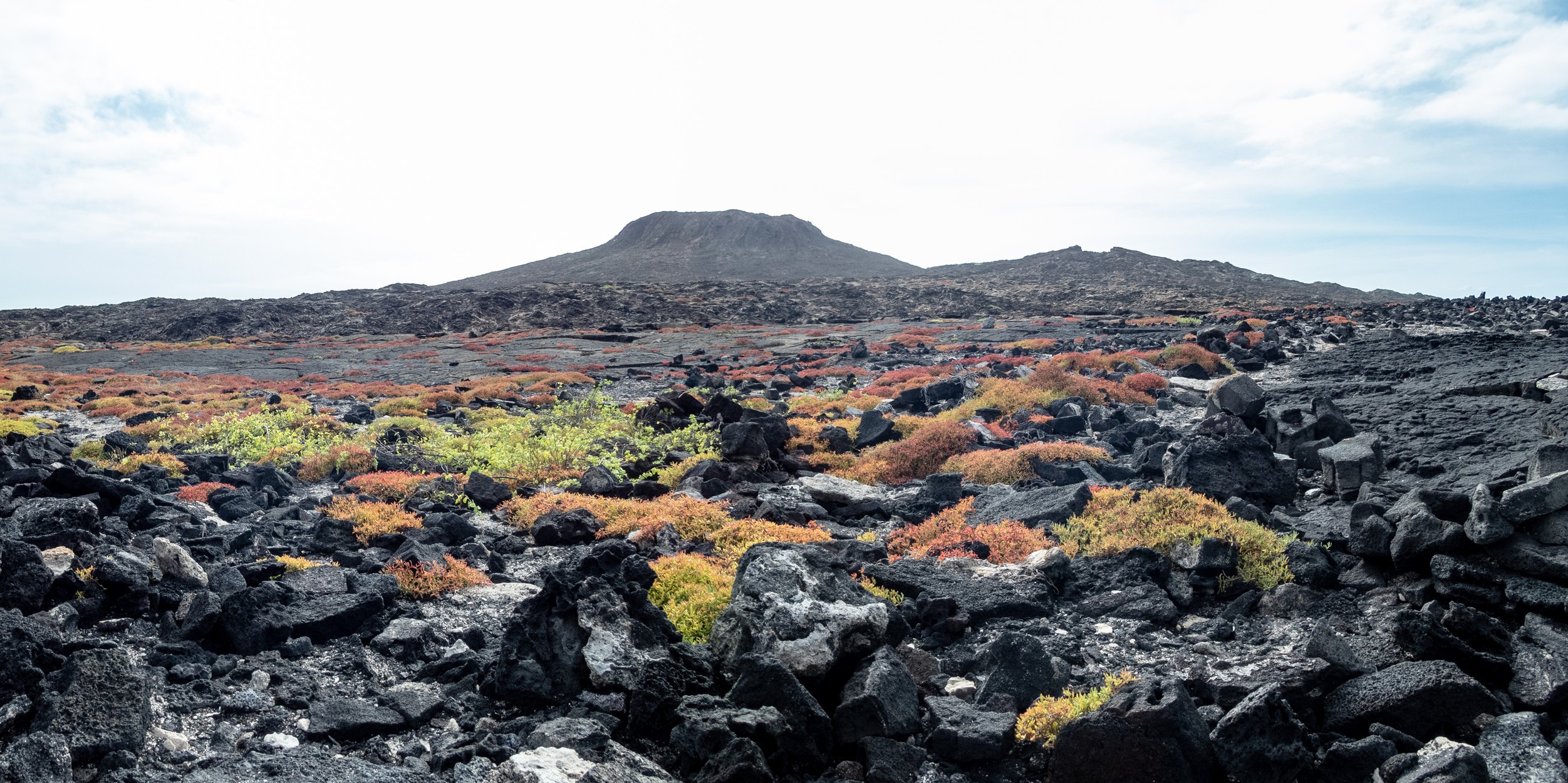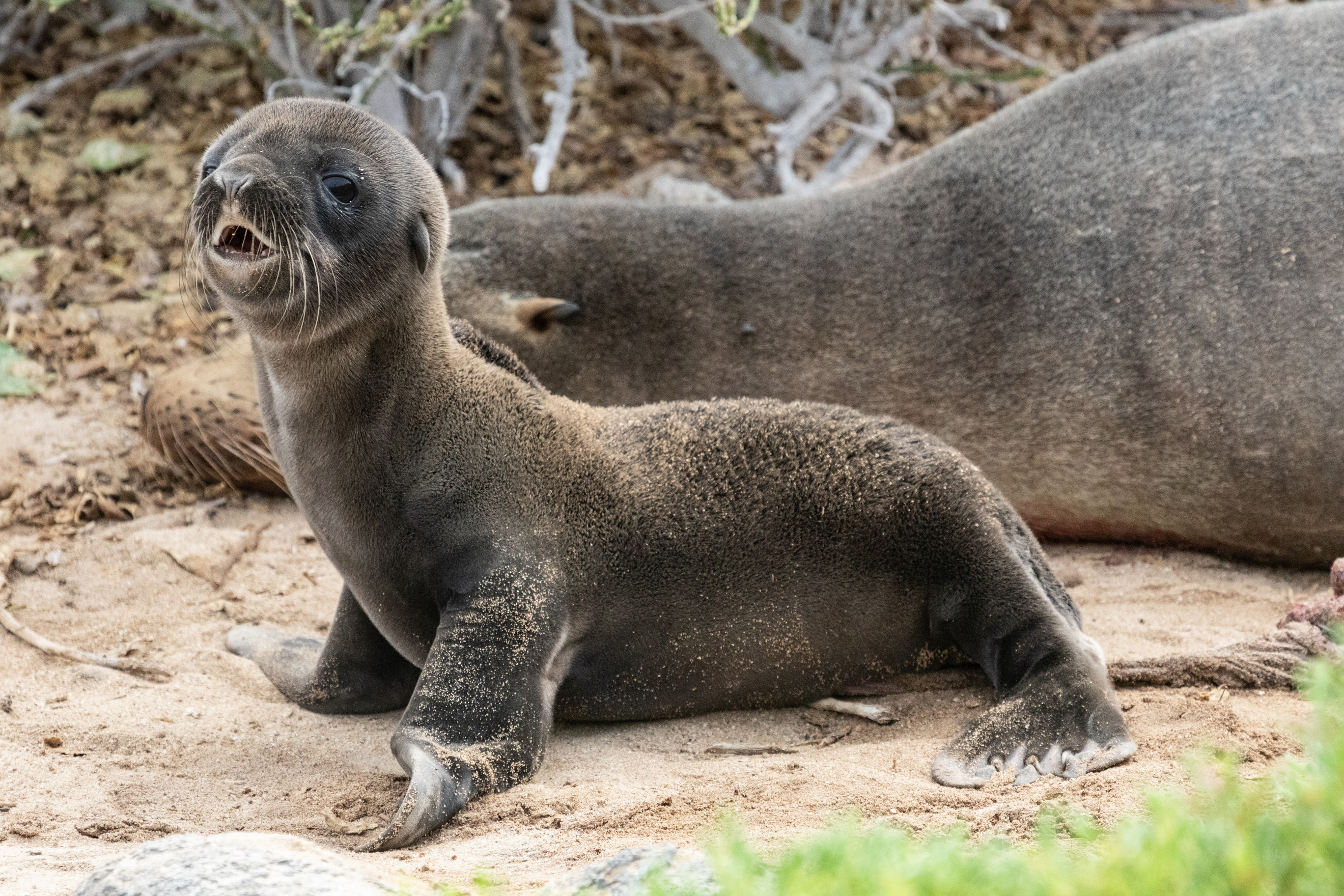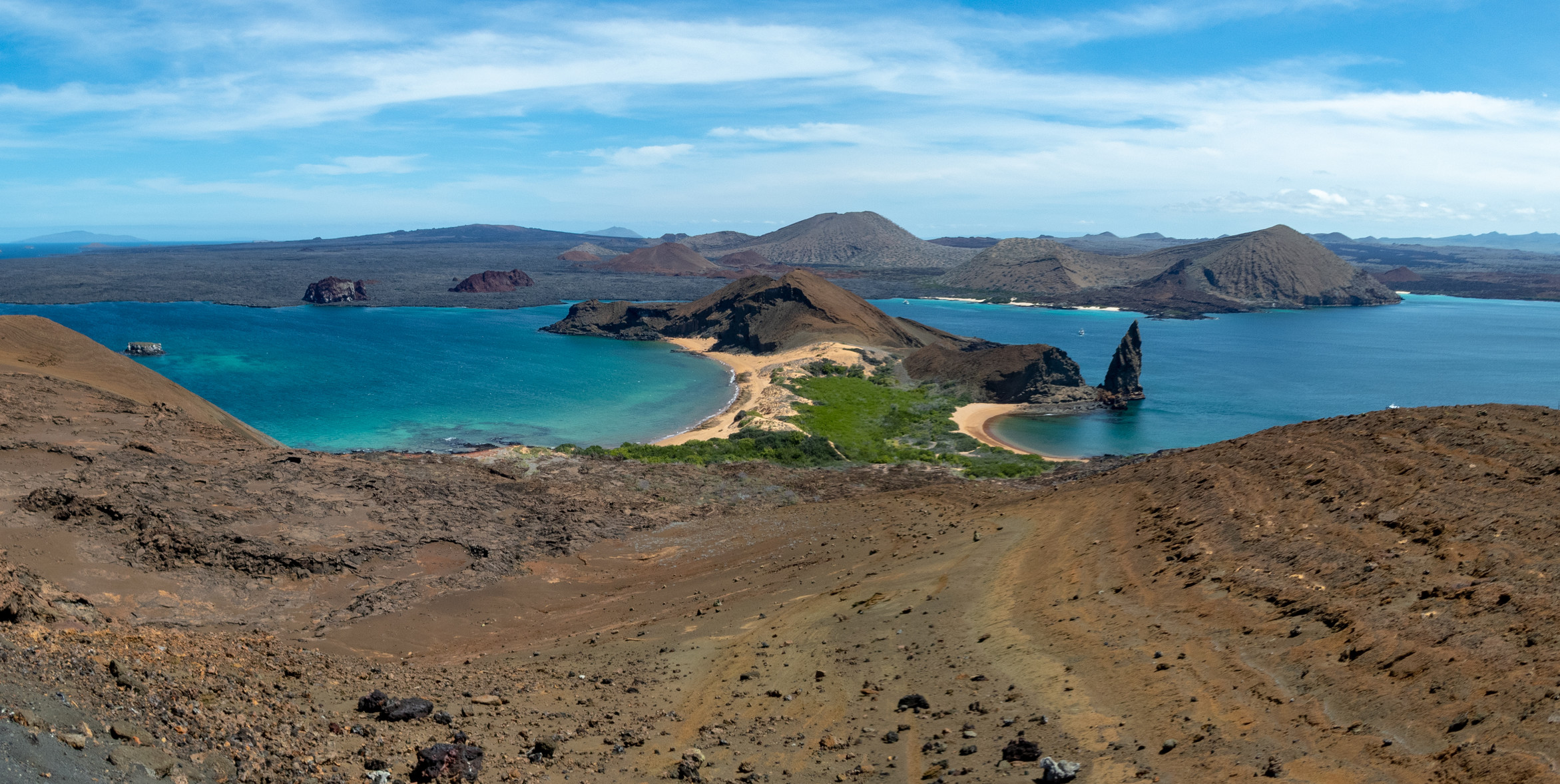 ---
We had another early breakfast followed by a 6:45am wet landing and hike at Puerto Egas. This was a very nice walk along the shore and tide pools with many shorebirds. We watched brown noddys trying to steal fish from pelicans, and got great looks at the Galapagos flycatcher.
John went for a 11am snorkel that involved chasing manta rays around.
In the afternoon we made a wet landing on the red beach of Isla Rabida. There were many ghost crabs burrowing in the red sand. Here we found the Mickey Mouse cactus that geocachers have been photo documenting since 2002.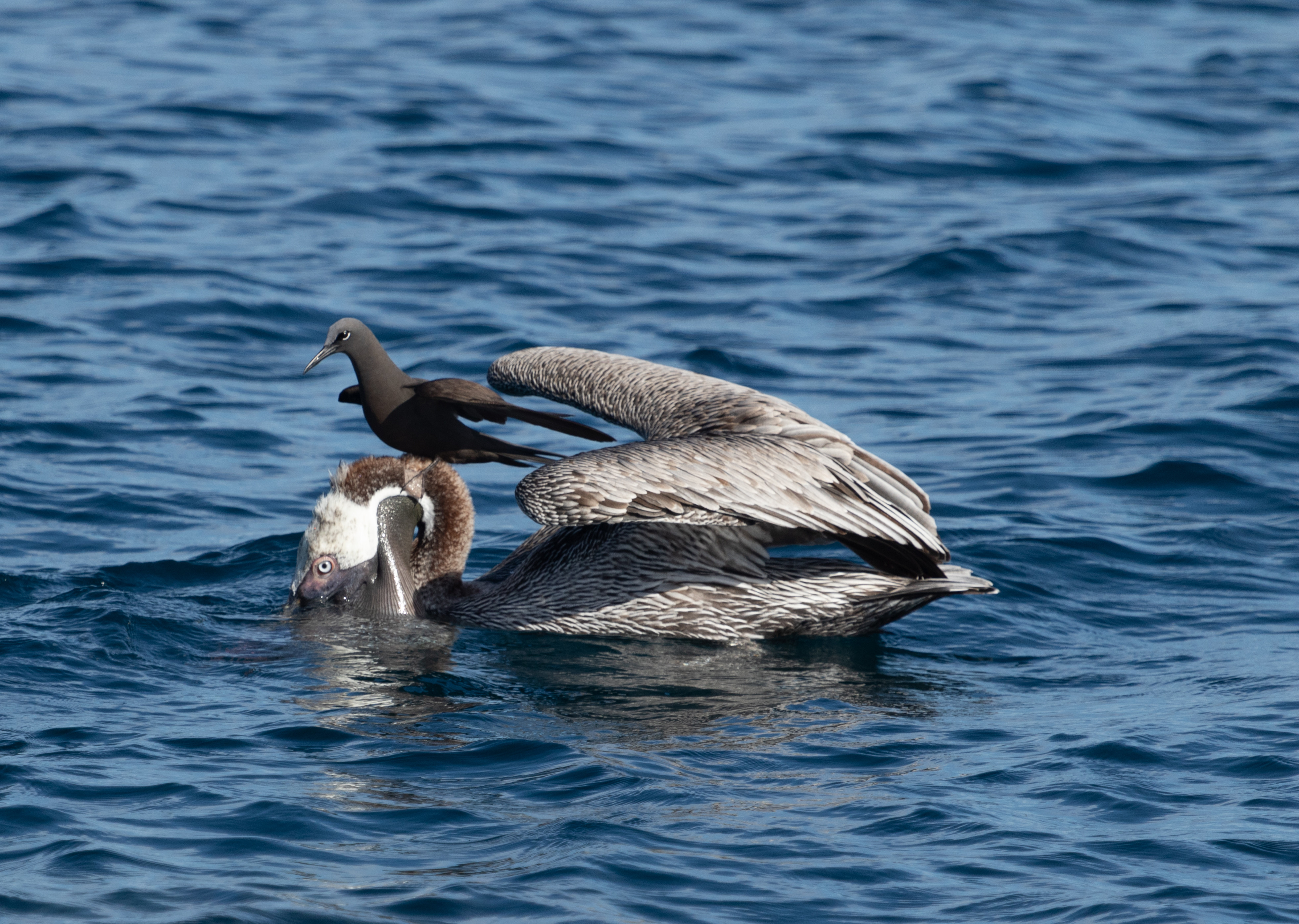 ---
This is our last morning in the Galapagos. We made it and early one, with a 5:45am dry landing and hike on North Seymour Island. This place is teeming with wildlife including a large colony of magnificent frigatebirds and many blue-footed boobies. A great stop for a final wrap-up of our adventure in the Galapagos.
After breakfast aboard the Samba, we transferred to Baltra airport and flew to Quito.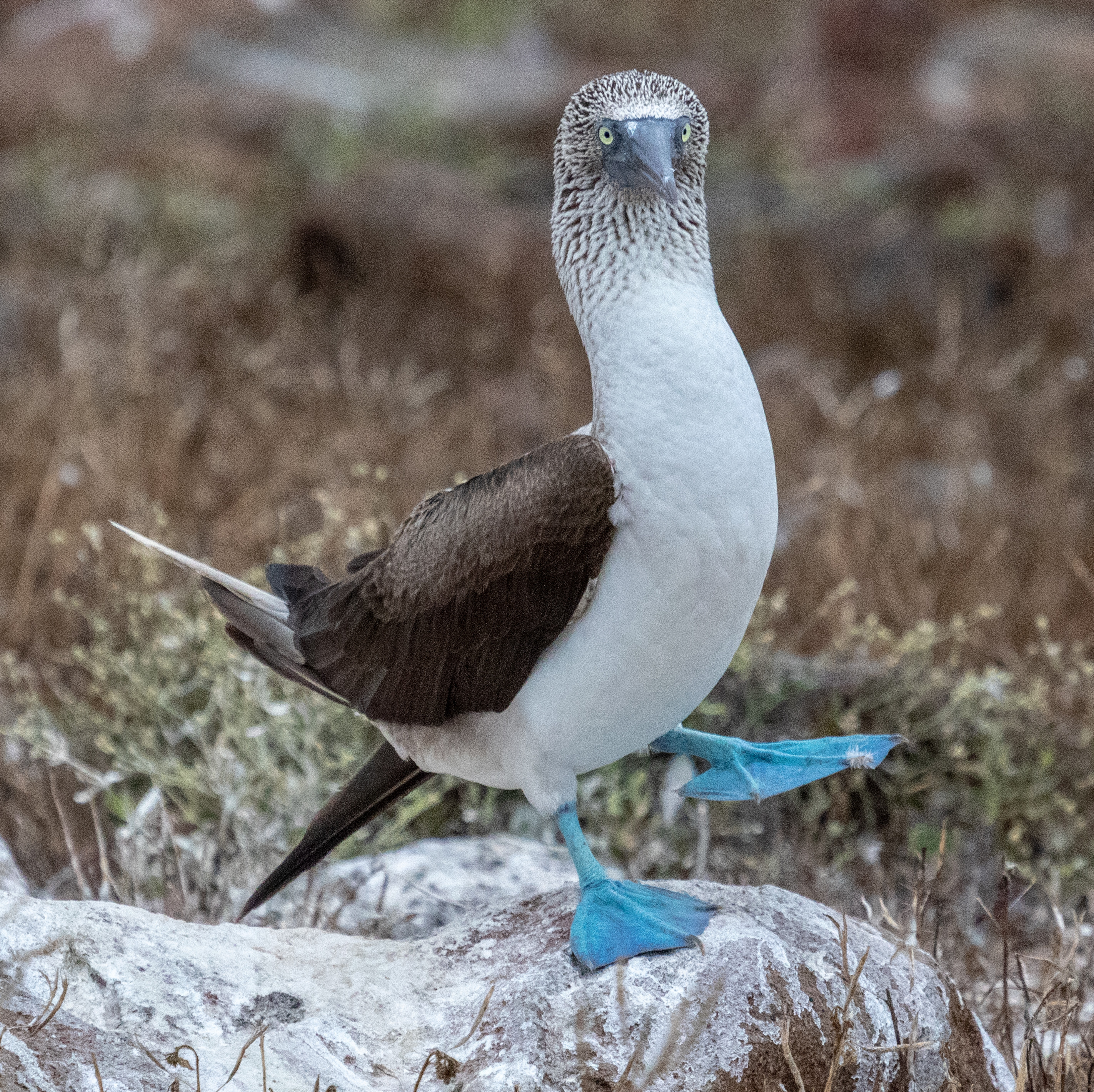 ---