Fish Tacos with Pineapple Salsa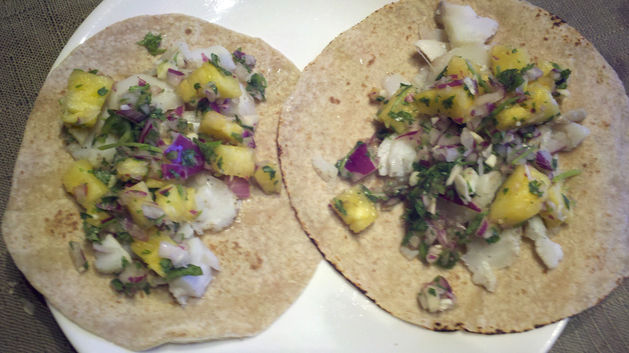 1.25 - 1.5 lb cod fillets (or halibut or tilapia)
salt + pepper to taste
3/4 cup chopped fresh pineapple or mango or both
3 garlic cloves
1 fresh lime
1/2 small red onion
1/2 cup fresh cilantro
jalapeno or other hot pepper (to taste)
6 flour tortillas
Preheat the oven to 375 degrees F (190 degrees C).
Place cod fillets on a large sheet of aluminum foil, squeeze juice from 1/4 of the lime and add salt and black pepper to taste. Fold the foil around the fish crimping edges to create a pouch and place pouch in a baking dish. Bake in the preheated oven until the fish flakes easily with a fork, about 25 minutes.
Cut pineapple into small pieces and place in a bowl.
In a food processor, add garlic, cilantro leaves, red onion, jalapeno, salt, and lime juice. Briefly pulse, until evenly chopped into small pieces. Add ingredients to pineapple and mix well.
When ready to serve, warm the tortillas by heating in the microwave for approximately 1 minute, on a plate covered with a paper towel.
Divide fish evenly among flour tortillas. Spoon pineapple salsa over fish and serve.
---
---
Lynn Salmon <>{