Asinou Church, Cyprus
(35.05 N 32.97 E)

Early 12th century church, dedicated to the Virgin Mary, with frescoes of the 12th century and later periods. It is considered to be among the finest examples of Byzantine mural painting on the island.
---
Stamps featuring Asinou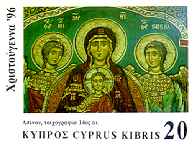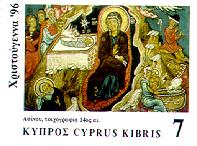 The stamps above show 14th century wall paintings from the church of Asinou.
20: Virgin Mary between the Archangels Michael and Gabriel
25: Christ bestowing blessings
7: Nativity
---
Interior painting from the church of Asinou
Additional information about the Church of Panagia Phorbiotissa of Asinou including the history of the church and details of our experiments.
The experimental results have been published: Asinou Church, Cyprus World Heritage Site Aerosol Pollutant Study
---
Lynn Garry Salmon <>{