HEAVY WEATHER IN THE SCOTIA SEA (27-30 December 2014)
After breakfast we hope for calm conditions to allow for one last South Georgia landing at Cooper Bay. The weather did not cooperate. The captain closes the outside decks to passengers shortly after breakfast. Fortunately, the bridge remains open to passengers, and we spend many hours up there over the next few days.
We have 70 knot sustained winds at Cooper Bay and gusts of 90 knots later as we near the entrance to Drygalski Fjord. We encounter the Polar Explorer just outside Drygalski Fjord, and it looks like they are going to try to cruise the fjord. They are a bit smaller than us (52 passengers), so they might make it, but our staff doesn't give them much chance.
There's a low pressure system sitting pretty much right where we want to go. We're in for high winds and high seas. It looks like our next planned stop at Elephant Island is unlikely, and we are heading for the South Orkneys instead. We have 65 knot winds 30-45 degrees off the starboard bow the whole way. For most of the day we're only making 3.5 knots. We don't get very far.
Enormous sprays occasionally crash over the bow. Every once in a while we take water through the holes for the anchor chain and it sloshes around on the bow for a while. In the afternoon, from our room on Deck 5, from time to time the horizon is blocked by waves. It's looking pretty much like a Class "A" storm. But by going only 3.5 knots, we reduce the rocking and rolling. This safety measure may keep someone from breaking a leg or a neck in a stairwell or shower.
The ship makes a fairly load "BANG" on many of the forward pitches, as it belly flops into the next wave. On many of them a secondary shuddering vibration runs through the ship,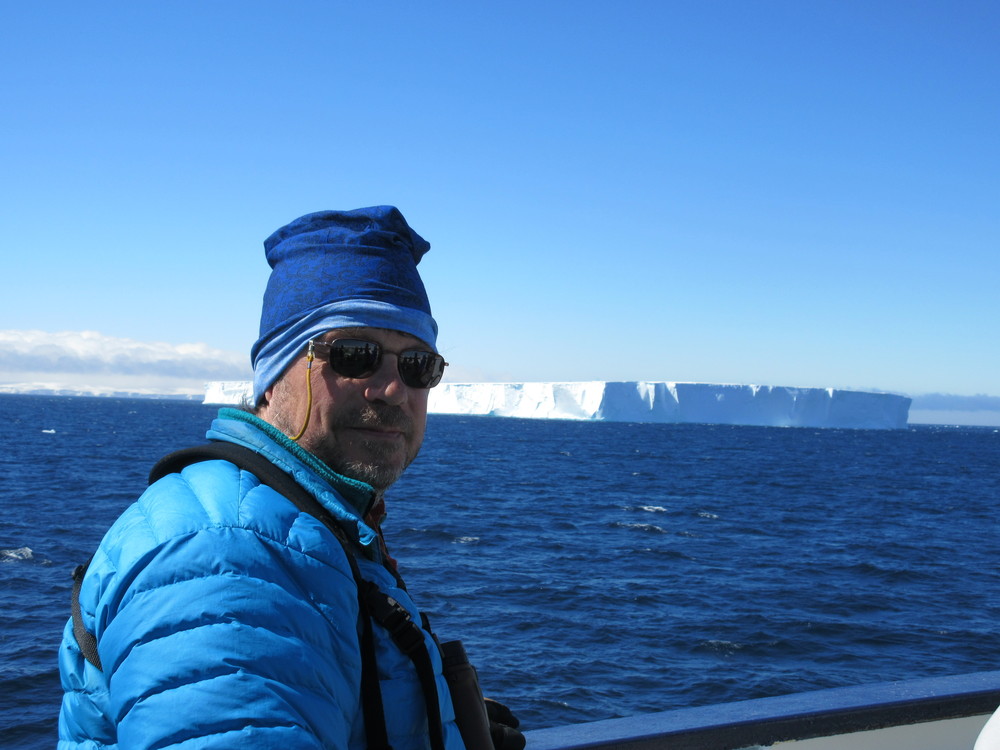 Nevertheless, the crew's body language is very relaxed. We watch the captain for a few minutes on the bridge - hands in pockets, feet shoulder-width apart, excellent posture, bending only at the angles 20-degrees forward - 20 degrees back ... After a minute or two, he reaches forward and touches the rail for support.
Pauline seems to think the ship is handling well in these seas. She says "It's nice to experience this kind of weather from behind glass". I ask if they would normally seek a safe harbor in these conditions. She says "If one's available". They sailed Curlew through something like this only once.
The daily briefing we receive on our second day of rough seas begins: "The force 11 gale that we are experiencing today with wind gusts up to 90 kts, should subside tomorrow ...." John and I are actually enjoying the roller-coaster ride from the bridge and I have to avoid loud exclamations of "WHEEEEEEEE!" as the ship goes up and down and waves crash over the front of the bridge. That could get us evicted from the bridge, but we are having a great time and not experiencing any sea-sickness. Walking, on the other hand, can be a challenge and we try to hold onto a railing when possible or make short lunges from point A to B in those places where no railing exists.
More lectures are scheduled to fill time each day. We advance to using watercolors in Marybee's drawing class. Passenger's busily edit their photos to be submitted for a group slide-show, and a second round of bio-security in preparation for our landings in Antarctica is completed.