CURLING: USCA CLUB NATIONALS 2017
We won the silver medals!!!
Team: skip - Leeza Furman, vice - Christi Freeman-Kirchner, 2nd - Alice Yeh, lead - Lynn Salmon
March 4-11, 2017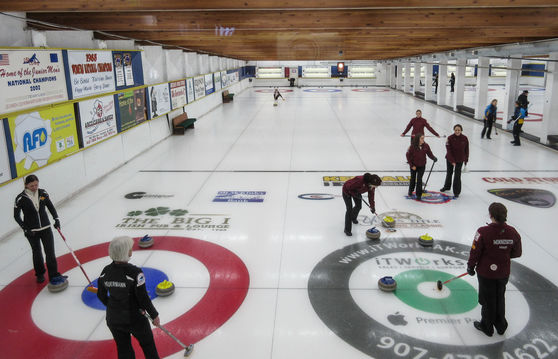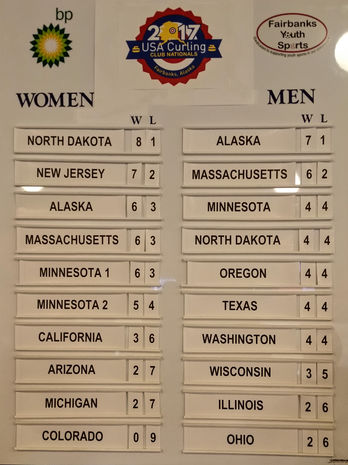 The top 10 men's and 10 women's teams competed for the club national title this year at the Fairbanks Curling Club in Alaska.
I was part of Team Furman, listed as New Jersey, the home state of our skip, on signage at the club.
We curl at the Ardsley Curling Club in New York and won the GNCC playdowns last fall to represent the east coast at this national event.
We carried the NY state flag for the opening ceremony.
---
A few "action" shots from our games:
---
Team Podoll from North Dakota won the women's gold, we won silver, and the Alaskan women took the bronze. The Alaskan men were the men's gold medalists.
And, Christi unofficially "won" the last-shot-draw contest.
---
A little team bonding while sewing the requisite patches onto our uniforms. Alice makes her "Betsy Ross" face.
---
Below, a few scenes along the Chena River. The Fairbanks curling club is located next to the Carlson Center (green building in photo). Alice makes a snowball in sub-zero weather -- note: someone else had grafittied my name on that bridge!
There was time to find one geocache hidden by National Park Service Rangers at the Morris Thompson Cultural & Visitors Center. Outside, Alice and I saw some Bohemian waxwings, adding a life bird to the Salmon Bird List.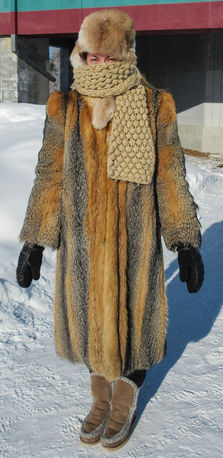 Temperatures while we were in town got down to -37 degrees Fahrenheit, requiring some bundling-up. Especially, when we were fortunate enough to be in town for the start of the Iditarod Race.
We ate a lot of good food between games. The favorite dinner place was Lemongrass Thai - we went back a second time! Other good dinner spots included Lavelle's Bistro, Wolf Run Restaurant, and Geraldo's Italian.
For breakfast or lunch, we made three visits to The Cookie Jar. We also enjoyed some sandwiches and coffee at The Fudge Pot and the Diving Duck lunch cafe & eatery.
---
CURLING: USCA CLUB NATIONALS 2018
We made another run for it at Club Nationals held in Brainerd, MN Feb 9-17, 2018.
The Brainerd FocalPoint Photography Club took awesome photos throughout the event. link 2
---
Lynn Salmon <>{