World Heritage Sites in Laos
---
Luang Prabang
(19.87 N 102.13 E) -- satellite image
A former capital of the realm, known in the 13th century as "the Kingdom of millions of elephants." It is the site of over 20 Buddhist pagodas including the Phou Si which is said to enshrine the footprint of Buddha.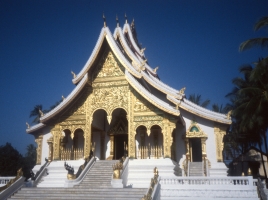 There are many temples (wats)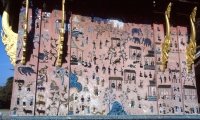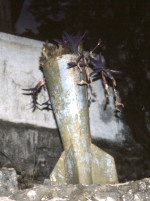 and many monks.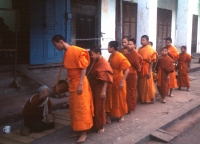 Additional Web Links
---
Vat Phou and Associated Ancient Settlements within the Champasak Cultural Landscape
(14.73 N 105.70 E) --
satellite image
Wat Phou (Vat Phu) is a ruined Khmer temple complex in southern Laos located at the base of mount Phu Kao. It was shaped to express the Hindu vision of the relationship between nature and humanity, using an axis from mountain top to river bank to lay out a geometric pattern of temples, shrines and waterworks extending over 10 km.
---
Megalithic Jar Sites in Xiengkhuang - Plain of Jars
(19.431 N 103.152 E) -- satellite image

The Plain of Jars, located on a plateau in central Laos, gets its name from more than 2,100 tubular-shaped megalithic stone jars used for funerary practices in the Iron Age.
---
---
Go back to our travelog, Up the Mekong

or

Return to the World Heritage List

Lynn Salmon <>{ Last Updated: August 13, 2021