World Heritage Sites in Czechia (The Czech Republic)
---
Historic Centre of Prague
(50.10 N 14.43 E)

This city has had great architectural and cultural influence city since the Middle Ages. Monuments include Hradcani Castle, St Vitus Cathedral, Charles Bridge and numerous churches and palaces, built mostly in the 14th century under the Holy Roman Emperor, Charles IV.
---
Historic Centre of Cesky Krumlov
(48.80 N 14.30 E)

Situated on the banks of the Vltava river, the town was built around a 13th-century castle.
---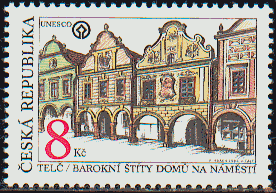 Historic Centre of Telc
(49.20 N 15.47 E)

Originally built with wood, the town was rebuilt in stone after a fire in the late 14th century.
---
Pilgrimage Church of St. John of Nipomuk at Zelena Hora in Zdar nad Sazavou
(49.57 N 15.95 E)

This is the most unusual work by architect Jan Blazej Santini.
---
Kutna Hora - the Historical Town Centre with the Church of Saint Barbara and the Cathedral of our Lady at Sedlec
(49.95 N 15.25 E)

The royal city in the 14th century, Kutna Hora developed due to the nearby silver mines.
---
Lednice-Valtice Cultural Landscape
(48.80 N 16.80 E)-(48.75 N 16.75 E)

Between the 17th and 20th centuries, the ruling dukes of Liechtenstein transformed their domains in southern Moravia into a striking artificial landscape.
---
Holasovice Historical Village Reservation
(48.95 N 14.25 E)
---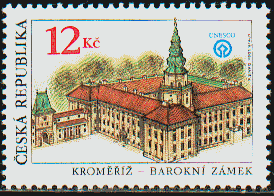 Gardens and Castle at Kromeriz
(49.30 N 17.37 E)
---
Litomysl Castle
(49.87 N 16.30 E)
---
Holy Trinity Column in Olomouc
(49.72 N 17.25 E)

The Holy Trinity Column was a unique material demonstration of religious faith in central Europe during the Baroque period. It is the work of Moravian artist Ondrej Zahner.
---
Tugendhat Villa in Brno
(49.22 N 16.67 E)
---
The Jewish Quarter and St Procopius' Basilica in Trebic
(49.22 N 15.88 E)
---
Landscape for Breeding and Training of Ceremonial Carriage Horses at Kladruby nad Labem
(50.0566 N 15.484 E)
---
Erzgebirge/Krusnohori Mining Region
(50.4065 N 12.837 E)

Joint listing with Germany.
---
The Great Spa Towns of Europe
( multiple locations)

This joint listing comprises 11 towns, located in seven European countries. All of these towns developed around natural mineral water springs.
Austria: Baden bei Wien
Belgium: Spa
Czechia: Frantiskovy Lazne, Karlovy Vary, and Marianske Lazne
France: Vichy
Germany: Bad Ems, Baden-Baden, and Bad Kissingen
Italy: Montecatini Terme
UK: City of Bath
---
Ancient and Primeval Beech Forests of the Carpathians
( multiple locations)

For more links see Joint listing with Slovakia.

Joint listing with Albania, Austria, Belgium, Bosnia and Herzegovina, Bulgaria, Croatia, Czechia, France, Germany, Italy, Macedonia, Poland, Romania, Slovakia, Slovenia, Spain, Switzerland, and Ukraine. These are the largest remaining virgin forests of the European beech (Fagus sylvatica). They also hold the largest and tallest beech specimens in the world. This site originally consisted of ten separate components along an 185 km axis from the Rakhiv Mountains and the Chornohirskyi Range in the Ukraine, west along the Polonynian Ridge, to the Bukovske Vrchy and Vihorlat Mountains in Slovakia. The listing was extended in 2011 to include 5 Ancient Beech forests in Germany, further extended in 2017 to include more forests in 10 countries, and further extended in 2021.
---
---
Back to the World Heritage List

Lynn Salmon <>{

Last updated: July 29, 2021