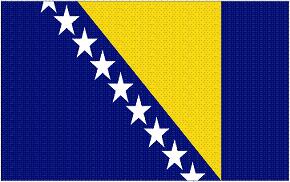 World Heritage Sites in Bosnia and Herzegovina
---
Old Bridge Area of the Old City of Mostar
(43.337 N 17.820 E) -- satellite image

The historic town of Mostar, spanning a deep valley of the Neretva River, developed in the 15th and 16th century as an Ottoman frontier town and during the Austro-Hungarian period in the 19th and 20th centuries. Mostar has long been known for its old Turkish houses and Old Bridge, Stari Most, after which it is named. In the 1990 conflict, however, most of the historic town and the Old Bridge, designed by the renowned architect, Sinan, were destroyed. The old bridge and many edifices have since been restored or rebuilt.
---
Mehmed Pasa Sokolovic Bridge in Visegrad
(43.781 N 19.288 E)

The 179.50m long bridge is the work of Mimar Koca Sinan, one of the greatest architects and engineers of the classical Ottoman period and a contemporary of the Italian Renaissance.
---
Stecci Medieval Tombstones Graveyards
(43.092 N 17.924 E)

This property combines 28 sites, located in Bosnia and Herzegovina, western Serbia, western Montenegro and central and southern Croatia with distinctive medieval tombstones, or stecci mostly carved from limestone. The cemeteries date from the 12th to 16th centuries, and are laid out in rows, as was the common custom in Europe from the Middle Ages.
---
---
Back to the
World Heritage List
Lynn Salmon <>{
Last updated: January 3, 2021