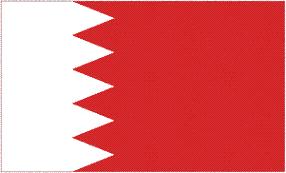 World Heritage Sites in Bahrain
---
Qal'at al-Bahrain Archaeological Site
(26.233 N 50.522 E) -- satellite image

Qal'a means fort, and the site gets its name from a Portuguese fort on top of the mound or tell. A tell is an artificial mound created by many successive layers of human occupation. The strata of this 300m by 600m tell show continuous human presence from approximately 2300 B.C. to the 16th century A.D. It was the capital of the ancient civilization of the Dilmun.
---
Pearling, Testimony of an Island Economy
(26.241 N 50.613 E)

The site consists of seventeen buildings in Muharraq City, three offshore oyster beds, part of the seashore and the Qal'at Bu Mahir fortress on the southern tip of Muharraq Island, from where boats used to set off for the oyster beds.
---
Dilmun Burial Mounds
(26.1497 N 50.513 E) -- satellite view

The Dilmun Burial Mounds are a number of necropolis areas on the main island of Bahrain built between 2050 and 1750 BC. It has been said to be one of the largest cemeteries in the ancient world. Recent studies have shown that the estimated 350,000 ancient grave mounds could have been solely produced by the local population over a number of thousands of years. The graves are not all of the same era, or of exactly the same styles, and can vary considerably in size in different areas of the moundfield.
---
---
Back to the World Heritage List

Lynn Salmon <>{

Last Updated: August 13, 2021