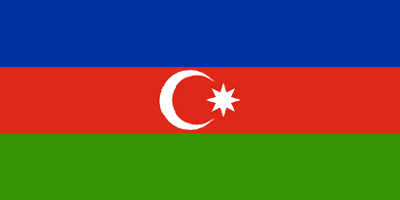 World Heritage Sites in Azerbaijan
---
The Walled City of Baku with the Shirvanshah's Palace and Maiden Tower
(40.37 N 49.83 E) -- satellite image

Architecture in the Walled City of Baku shows the influence of Zoroastrian, Sassanian, Arabic, Persian, Shirvani, Ottoman, and Russian cultures. The Maiden's Tower (Giz Galasy) was built over earlier structures dating from the 7th to 6th centuries BC. Much of the 12th-century defensive walls are preserved in the Inner City (Icheri Sheher), and the 15th-century Shirvanshahs' Palace is a fine example of Azerbaijan architecture.
---
Gobustan Rock Art Cultural Landscape
(40.125 N 49.375 E)

The stone Age petroglyphs in Gobustan, Azerbaijan were discovered by accident in the 1930s by workers at a stone quarry. In 1939, archeologist Isaak Jafarzade began the first archeological investigation of the petroglyphs. The most ancient petroglyphs have been identified as belonging to the 12-8th century B.C.
---
Historic Centre of Sheki with the Khan's Palace
(41.2046 N 47.1976 E) --
map link
Sheki was the capital of the short-lived Shaki Khanate. The Khan's palace was designed by a Persian architect in 1797.
---
Hyrcanian Forests
---
Cultural Landscape of Khinalig People and Koc Yolu Transhumance Route
(40.7059 N 48.8854 E)

The village of Khinalig is home to the semi-nomadic Khinalig people, whose culture and lifestyle are defined by the seasonal migration between summer and winter pastures, and who retain the ancient way of long-distance vertical transhumance.
---
---
Back to the World Heritage List

Lynn Salmon <>{

Last updated: September 18, 2023