After check-in at the nearby Birchwood Hotel and Conference Center, the trip's first Hadada Ibis (our guide, Dylan's favorite bird) was spotted. I also got my first look at the very pretty Southern Masked Weaver, and heard the distinctive call of the Karoo Thrush on the way to dinner.
Elevation here is 6900 feet, so it is pleasantly cool. I managed a short hike on the Linger Longer grounds before being whisked off for late afternoon birding at Dullstroom Nature Reserve. Our main target bird here was the Cape Eagle-Owl which we heard calling and caught a few brief glimpses.
We capped off the evening with dinner at the Dullstroom Inn and a quick geocache find across the street at the Dullstroom Stone Church GC2KP4V.
It was a rainy morning with a bit of fog, difficult birding conditions. I caught sight of a number of Long-tailed widowbirds flitting around, but didn't get any pictures. The group stuck close to the vans, making brief forays out into the drizzle for a few hours before returning to Linger Longer to grab our stuff and head out. Dylan's van got stuck in the mud, delaying our departure and it was nearly 11am before we got breakfast at a little cafe in Dullstroom.
After three more hours back in the van, we enter Kruger National Park through the Orpen Gate around 3:30pm. Everyone is excited as the first glimpses of elephant, gnu, lion, zebras, and hippos are seen as we make our way to Satara Rest Camp. The first Lilac-breasted Roller of the trip is sighted. This was John's favorite bird on our 2016 Tanzania Safari, and he got some nice photos of it back then. This Roller has been hanging on our wall for a few years. I try not to cry each time we pass another roller on the trip.
It takes another couple hours of driving before we reach our Satara lodgings, and I'm exhausted and starving by the time we arrive. Our round "hut" lodgings are better than anticipated and come complete with air conditioning and bathroom facilities inside. Dinner service was slow, but once it finally arrived, the Madagascar Steak was excellent.
Introduction to Kruger National Park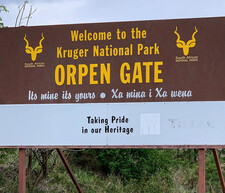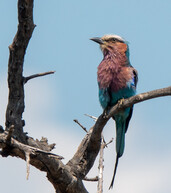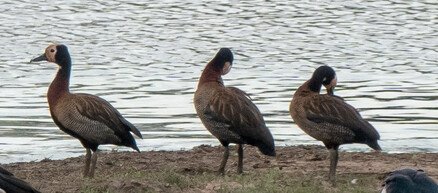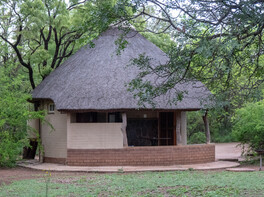 ---
Wednesday, November 9: The first early morning game drive in the open safari vehicles we used in Kruger National Park. They are not as convenient for game viewing as the pop-top style vehicles I experienced in Tanzania, but today I had a good seat in the front row next to our guide, Dylan. We split into two groups with 8 people in each vehicle plus a driver provided by the park. Anne, Debbie, and the other guide, Junior, were in the other vehicle today.
We birded for approximately 3 hours between Satara Camp and the Timbavati Picnic area where we stopped briefly for coffee. Lots of birds were seen, including common bulbuls, not to be confused with brubrus or boubous. After coffee, we continued for a couple more hours of birding, including a stop at a watering hole (Nsemani Dam) where I got good looks at some ducks and shorebirds accompanied by a Nile crocodile.
We returned to Satara for brunch and enjoyed an African Scops-Owl on the property. After a short siesta, we hit the road again for an afternoon game drive and birding along the N'wanetsi River. My personal bird count has added 97 species to the bird list at this point in the trip.
Highlights from Wednesday (Nov 9) in Kruger National Park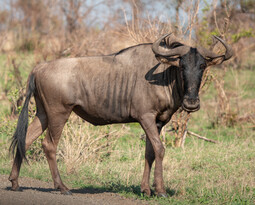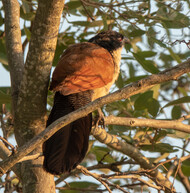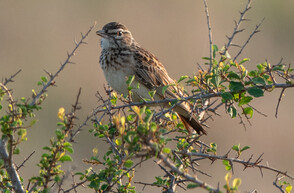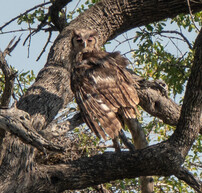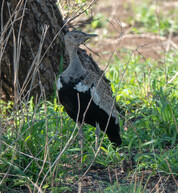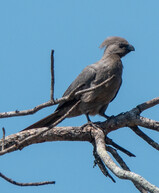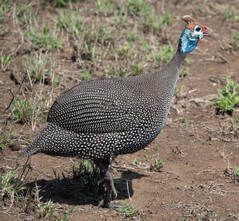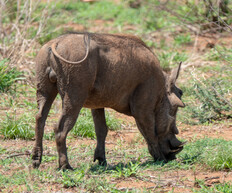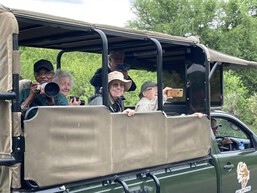 ---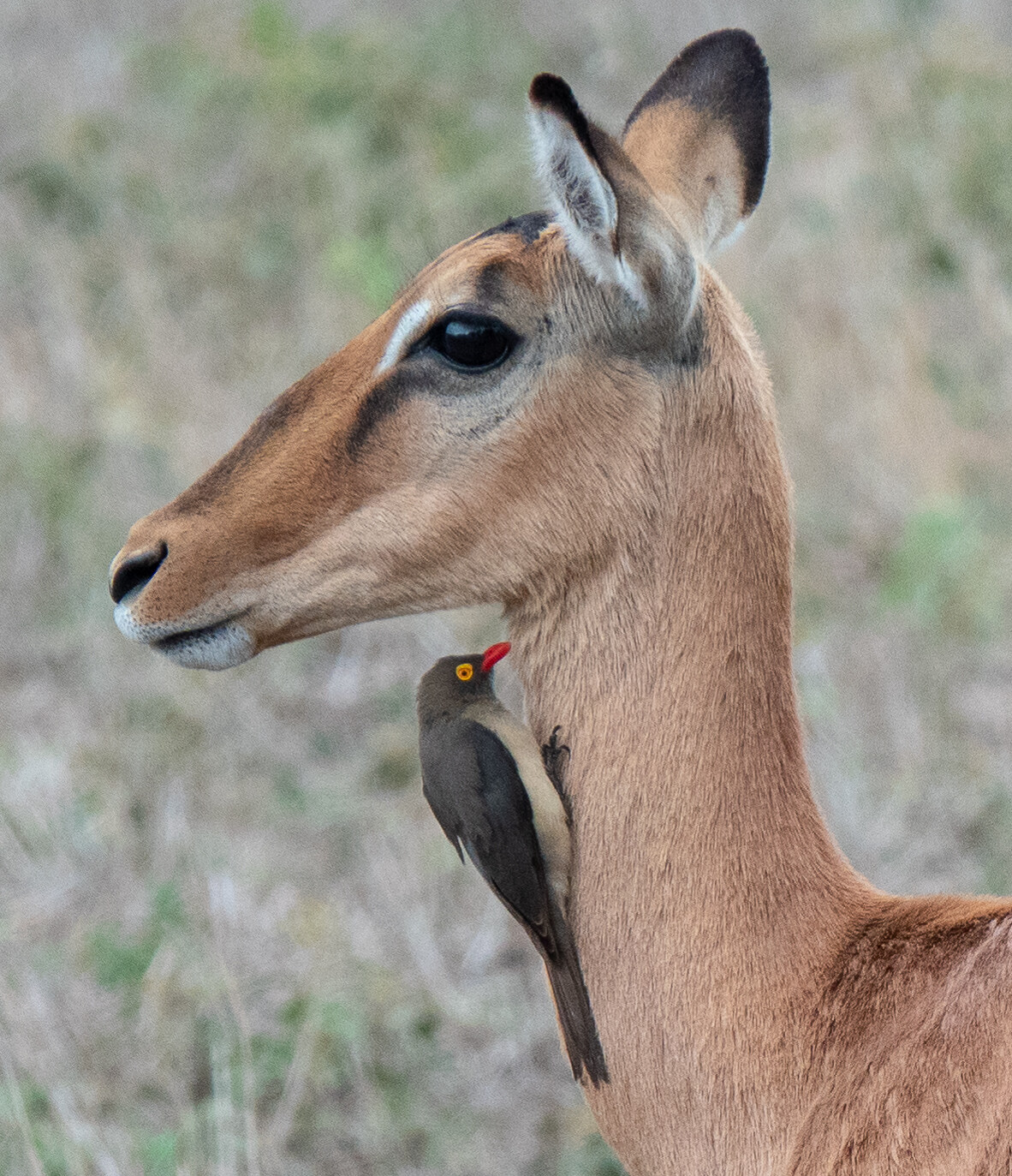 Thursday, November 10: We met at 5am for an early morning bird walk around the Satara Camp. Light drizzle kept the temperature down, but hampered photography. A Pearl-spotted Owlet perched outside our huts had been heard calling in the night. These birds may be common camp visitors, as we had one at our Ndutu Lodge in Tanzania as well.
During this walk, an Icterine Warbler became bird number 100 added to my bird list, and we fortunately saw 4 more Hadada Ibis, our guide Dylan's favorite bird. Hadadas play a significant role in the plot of Nicholas Drayson's cute fiction novel, A Guide to the Birds of East Africa. They bring back fond memories, and I always get a kick out of seeing them. A sudden rain downpour cut our walk short. A welcome outcome, as I was starving and more than ready for breakfast.
We spent the day travelling between camps, from Satara to Lower Sabie with a lunch time stop at the Tshokwane Trading Post. Guides, Dylan and Junior travelled separately to transport our luggage vans onward while the rest of us had an exciting day in the open safari vehicles.
Cary and I took up positions in the back row, Ginger and Sandra were in the middle, Anne and Tia in the front, with Farooq riding shotgun next to the driver. He later commented that with all the laughter coming from the back it felt like he was riding with a cackle of hyenas.
It was raining when we began the drive, so we started with the flaps down on the sides. Despite the closed flaps, rain was pouring in the back and Cary and I quickly became soaked. Ginger saved the day with a spare raincoat and a bandana to help dry the seats after the rain tapered off. Thanks to the fun crew and all the laughter in the vehicle, it was a fun day. Morning highlights included a Dideric Cuckoo, European Bee-eater, and an Impala with a Red-billed Oxpecker going for a ride.
I was drying out by our lunchtime stop at the Tshokwane Trading Post. I had a delicious honey chicken pineapple jaffle. Liz (birder428) was in the other safari vehicle today, but she realized there was a Virtual Geocache GC88ZHM at Tshokwane, and we got the necessary info to log it.
The afternoon drive was one of the best during our time in Kruger. I got to see a couple of my of my target species for this trip, the Bronze Mannikin and the Purple-crested Turaco. We stopped at the Kruger Tablets GC8J32R earthcache, and were able to get out of the vehicle and check out the giant rock formations. We saw a leopard in a tree, some cheetahs, and a Cape buffalo but didn't get very good looks at any of them.
The final stop on the drive was at Sunset Dam along the river near our Lower Sabie Camp. This spot had an awesome collection of active weaver nests set up like a condo development. Plus a heron was surfing on some hippos.
Highlights from Thursday (Nov 10) in Kruger National Park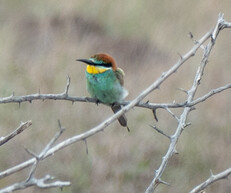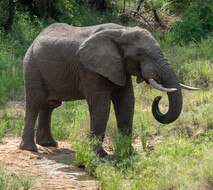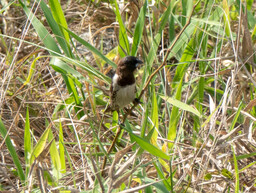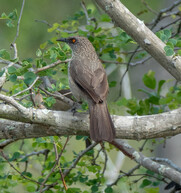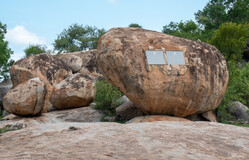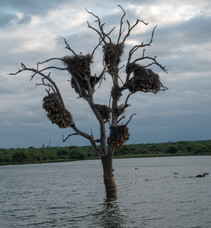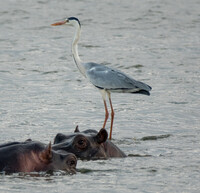 ---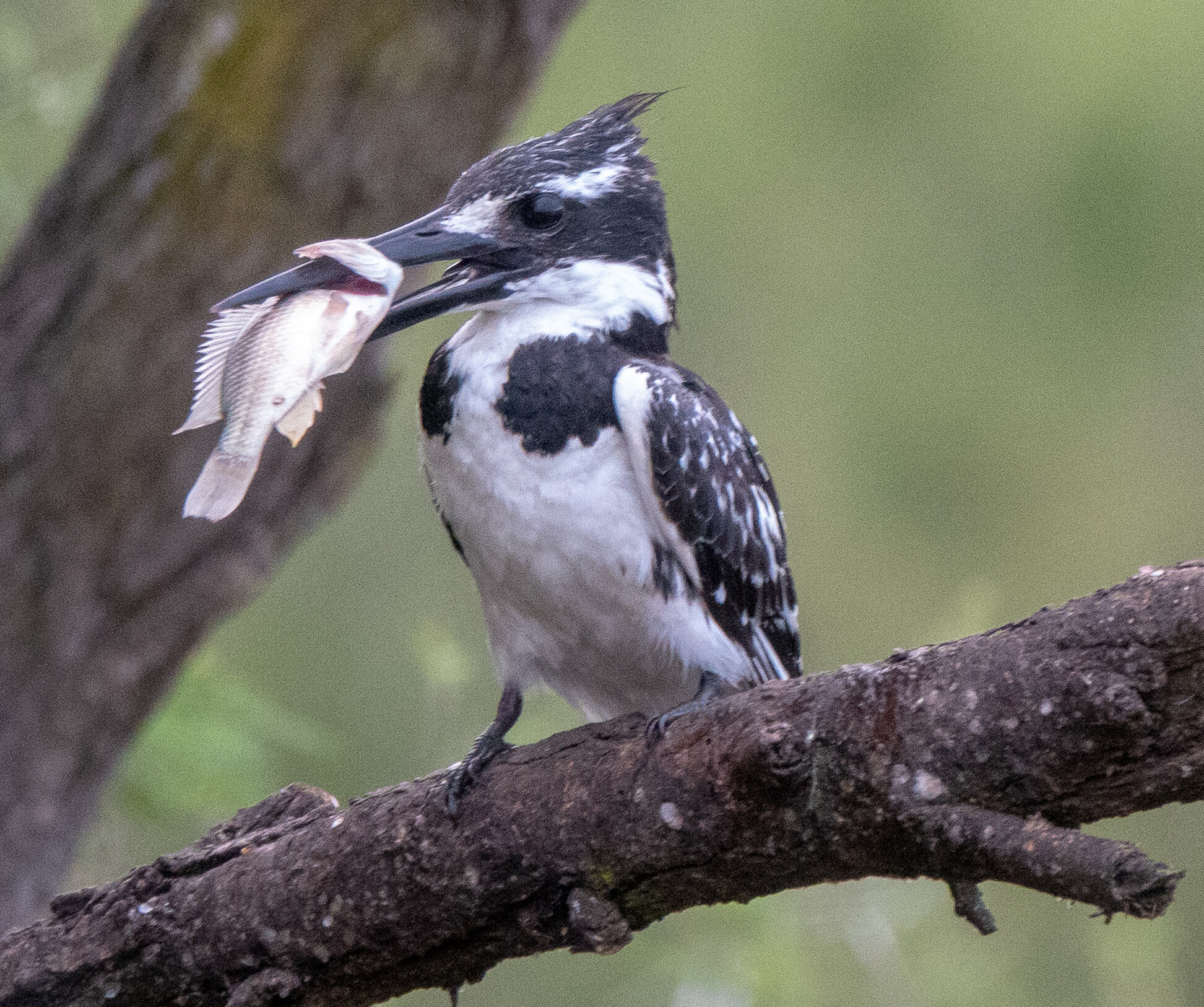 Friday, November 11: The power went out in the night, and I woke up to a pleasantly quiet room. The fan had made a little thud, thud, noise that I was able to sleep through, but it was nicer without it. It becomes light by our 5am start and we're able to have coffee and bikkies before begin our safari drive. It's overcast most of the day, so weather is ideal. And, I chose the middle row to be on the safe side ;-).
Our first stop of the morning was a return to Sunset Dam. I mostly ignored the weavers this morning and concentrated on looking at the awesome collection of shorebirds. One highlight was the Pied Kingfisher slapping a fish around before eating it!
We drove for another 5 hours, eventually arriving at the Afsaal Picnic Site around 11am. Today was better for wildlife viewing, and we got good looks at baby warthogs, a baby monkey, a lion roaring, a leopard sleeping in a tree, a cape buffalo, and a couple of white rhinos. Very happy with that later addition since I had seen a black rhino in Tanzania, but missed out on the white rhinos. I took a lot of photos today!
We finally arrived at the Afsaal Picnic site around 11am for the first meal of the day. I bought some Blesbok Biltong at one of the morning bathroom stops to ease the hunger pangs, but was more than ready for a large lunch of steak and chips. Not as tasty as yesterday's jaffle, but filling.
An earthcache, GC7JG3B: The Termitarium was located at our lunch stop. I was riding in the vehicle with fellow geocacher Liz (birder428) and we spent a little time reading the signage about this giant termite mound while waiting for lunch.
Nearly 4 more hours of driving after lunch before we returned to the lower Sabie. I took a few GPS readings during the day and noted that we were mostly travelling south and west from Sabie this day. Overwhelmed by swallows and other birds at a nice stop on a bridge on the way back to camp.
The Lower Sabie Rest Camp has a lovely setting along the Sabie River with food supplied by a chain restaurant called Mugg & Bean. The GZ for the Lower Sabie River Sandbanks earthcache: GC638FM happened to be on the restaurant patio where we enjoyed dinner.

Highlights from Friday (Nov 11) in Kruger National Park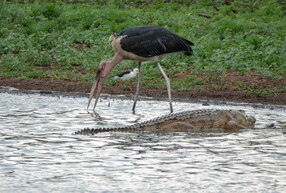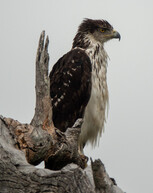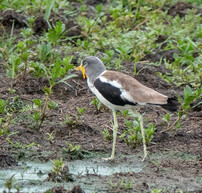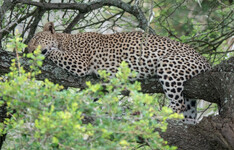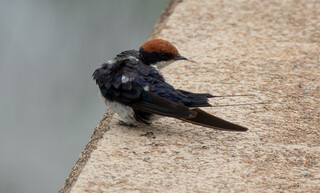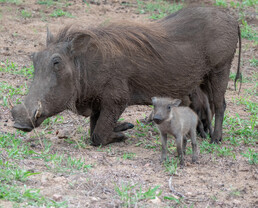 ---
Saturday, November 12: I woke to a bird sounding similar to a whippoorwill at 4:30am. We met as usual at 5am and spent a couple hours on a bird walk around the Lower Sabie Rest Camp. My ebird checklist for that period includes 66 species with about 10% being new additions to my bird list. With nice pictures of some like the Spectacled Weaver and Bearded Scrub-Robin.

Highlights from Saturday (Nov 12) in Kruger National Park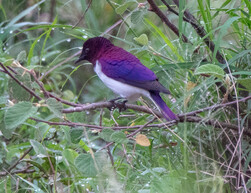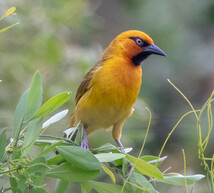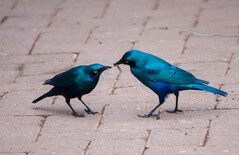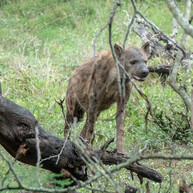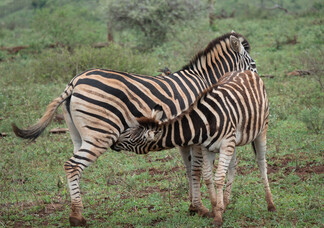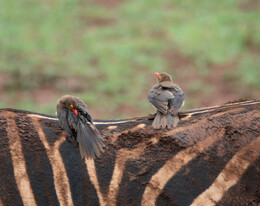 ---
---
The remainder of the day on Saturday was spent on a long drive to Rust de Winter. We start near the border with Mozambique and pass a mile long line of trucks heading there. (see video) A couple of rest stops along the way each had a geocache at them. Neither were planned, but the sim card in my phone is working and I was able to use the geocaching app to find them. Drive, drive, drive -- we eventually pull into the Zenzele Lodge as it's getting dark around 6pm. The place is beautiful and we have it all to ourselves having booked every room.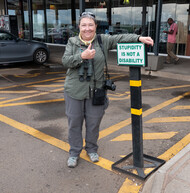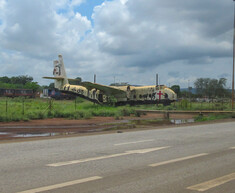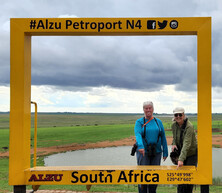 ---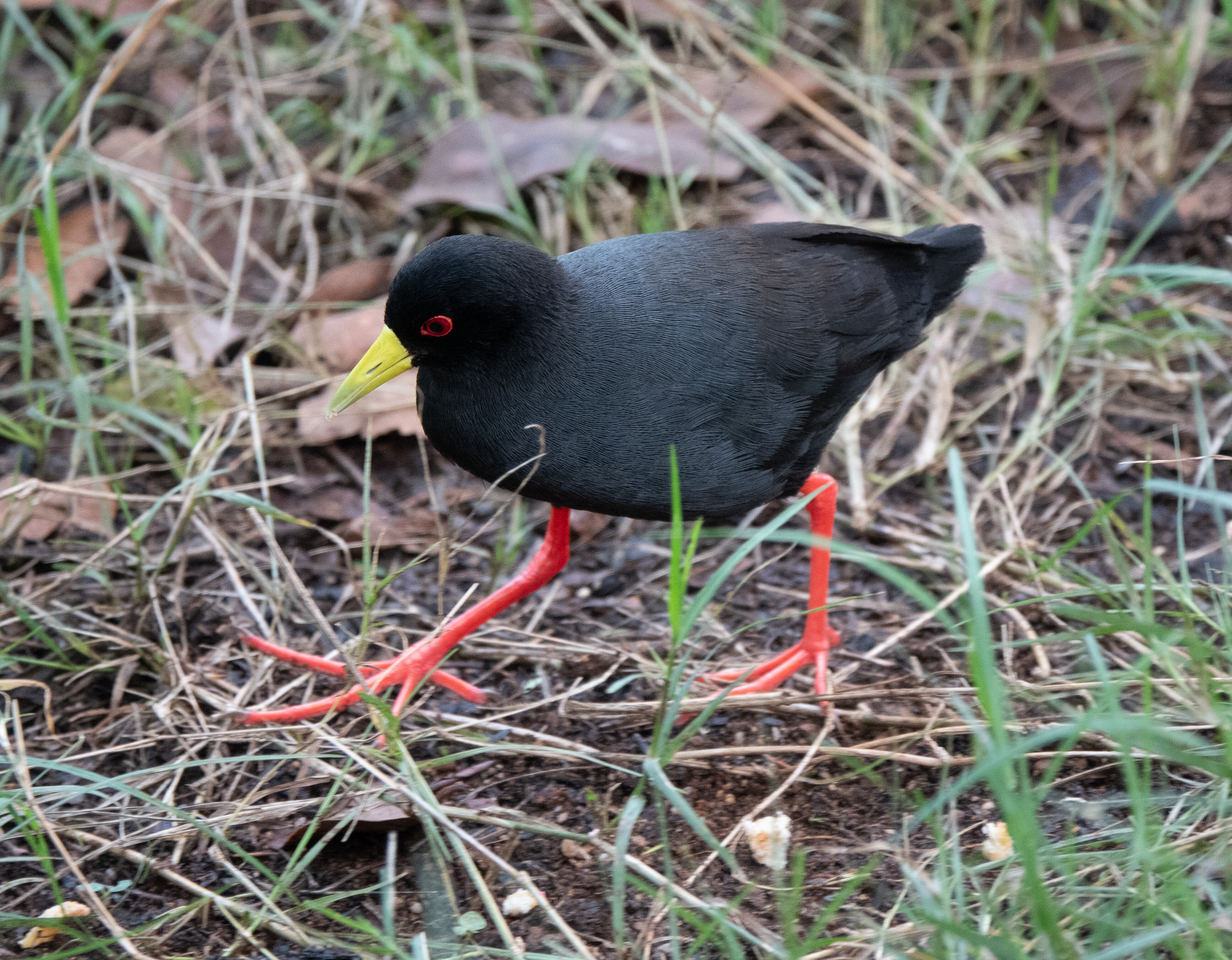 Sunday, November 13: Our usual 5am early morning routine continues and we head out along the Rust de Winter Roadside Routes for 3+ hours of birding in the vans. It's drizzling this morning. We return to the lovely setting of the Zenzele River Lodge for a great breakfast followed by an amazing 3 hours to relax.
Many birds can be seen from the deck of my private cabin including a Crested Barbet, a pair of Black Crakes, an Arrow-marked Babbler, and our favorite, the Hadada Ibis. I also hear the distinctive sound of a Tinkerbird. An afternoon bird walk around the property also nets a Little Rush Warbler and sightings of a Nyala and a Nile monitor lizard.
Highlights from Sunday (Nov 13) at Zenzele River Lodge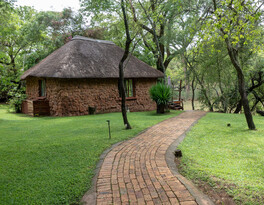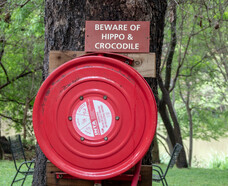 ---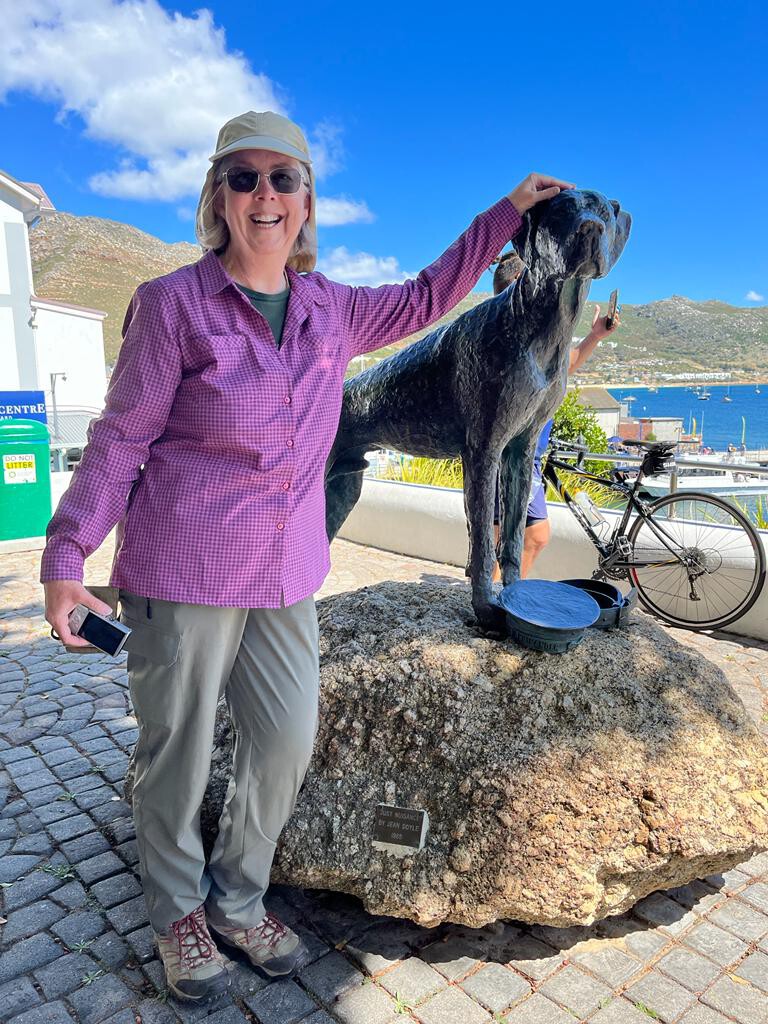 Monday, November 14: was spent mainly in transit. We had a couple hour drive to return to Jo'burg followed by an Airlink flight to Cape Town and another drive south to our guesthouses in Simon's Town.
I'm staying at the Grosvenor Guest House in a top floor room with a private balcony that looks out over the harbor. It's a wonderful room with a sitting area with a cozy sofa, a couple of desks, etc. And, we'll be here for the next 6 nights so I can fully unpack.
The group went into town for dinner at a Seafood/Italian restaurant across from Jubilee Square. The food was good, but service had some issues. We were split into two tables of 8, and the other table got served and finished their meals before our table got any food!
After dinner, Ginger, Liz and I grabbed most of the necessary info for the virtual geocache GC7B96X: Jubilee Square. This virtual cache required us to find several interesting pieces of naval history on plaques in the square near where we parked for dinner. This had me, Liz, and Ginger running around in the dark with flashlights and a little help from a local police woman trying to gather all the required info. We forgot to take a picture of the famous dog, Able Seaman Just Nuisance, but I returned for this crucial shot on our way to the airport on our last day in town.
---
This great day continued with our next stop at the Cape of Good Hope, the most South-western point of the African Continent. Very much a must visit spot for me! I waited in line for a photo opp at the sign. A nice couple waiting in front of me in the line asked me to take their picture and returned the favor for me. The woman had me move back and forth a few times, but in the end she got a great shot! I hope I did as well for them. While the rest of the SMRA group looked for birds and took their own photos, I had time to look for the Good Hope geocache a short distance away.
On the way back to Simon's Town we stopped briefly for birds at Olifantsbos Beach. Then headed back to our guesthouses followed by dinner at the Saveur Restaurant.
Our group spent the day out on the Ocean for a birding pelagic trip which was awesome! We were split into two groups on two small boats. Fortunately, I was on the "good" boat which stayed out all day. The other boat had some sea sick people on it and voted to turn back early. They're loss.
My main goal for this outing was to see a couple of new albatrosses, my second or third favorite bird. Penguins are obviously first, and it's a close call between ducks and albatross for 2nd place. I love albatrosses, and was pleased to get great looks (and a few good photos) of the Shy Albatross (aka White-capped Albatross). There were also a few of my favorite Black-browed Albatross that I once got to spend an entire day with on Steeple Jason Island in the Falklands. There was also a quick look at a lone Yellow-nosed Albatross.
Other birds spotted while we were 40 miles offshore in Hout Bay included some Northern and Southern Giant Petrels, aka, Angry Birds. Plus a few other petrels, including approximately 4000 White-chinned petrels. Many of these birds were spotted as we followed fishing trawlers pulling up their nets.
On our way back into the harbour we saw numerous fur seals, and one lone elephant seal sleeping on the rocks. These fur seals didn't seem nearly as mean as the fur seals on South Georgia. Of course, I didn't try to run through these guys like we did there.
We had a super early breakfast followed by a long drive around False Bay to visit Roois El (pronounced something like "Royal") and Betty's Bay. The main goal for the morning was to see the endemic Cape Rockjumper. This bird is featured on the cover of our itinerary and was a prime target on our trip.
The landscape around Roois El reminded me of coastline areas in California. The rockjumper was expected to be an "easy" find in known habitat, but after 3 hours in the hot sun we never spotted the bird. A few males were heard calling, and one of our guides glimpsed a female, but in the end I noted the bird as a "heard only" species. We did see 21 other species in Roois El and I got some nice pictures of Cape Sugarbird, Cape Siskin, Familiar Chat, Cape Rock-thrush, and Red-headed Cisticola before returning to the vehicles for some very welcome tea and shortbread.
Onward to Betty's Bay and lovely chicken and mushroom quiche for lunch at a place called Coffee on Clarence. My kind of place, and next door to our afternoon birding stop at Harold Porter National Botanical Gardens. We had a very productive birding walk in the gardens that netted 49 species with nice photos of some of them. The gardens also had King Proteas, the national flower of South Africa.
Friday, November 18: World Heritage Kirstenbosch
We've been experiencing daily power shedding since arriving in Cape Town, and another one hit this morning at 6am. Fortunately, our guest house is prepared for these things and we were able to have a scrumptious breakfast cooked on the gas stove. Extra bacon for me.
Today's birding was at the Kirstenbosch Botanical Garden which is included in the Cape Floral Region World Heritage Site. This is the only World Heritage Site I visited on this trip. The Cape Floral Region is known for its diverse flora and has nearly 20% of the African continent's flora in an area that is less than 0.5% of the whole. It is home to 8996 plant species. I didn't count the plant species seen today, but we saw 36 species of birds during 3 hours in Kirstenbosch.
Highlights from Kirstenbosch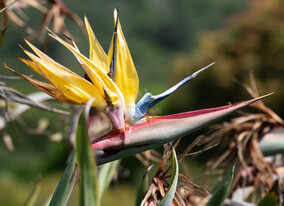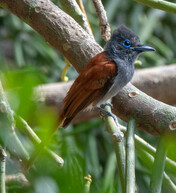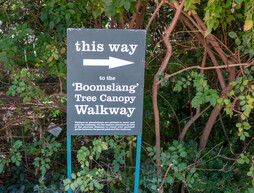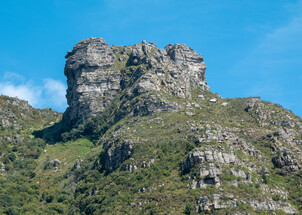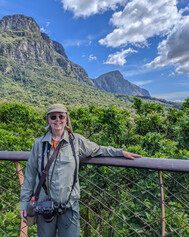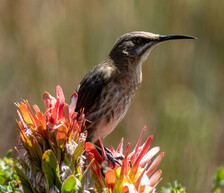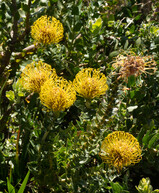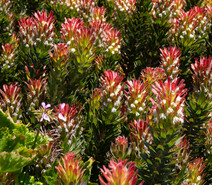 After lunching at Kirstenbosch, we had time to spend a couple more birding hours at the Strandfontein Wastewater Treatment Plant. Yes, you read that right, birding at the wastewater treatment plant. Here we saw 47 species, 11 more than seen at the lovely botanical garden. Strandfontein was great birding, the type I like with scanning for ducks and shorebirds. I got some nice photos of Southern Pochards and Cape Shovelers that will likely feature as a future "duck of the month".
Highlights from Strandfontein WTP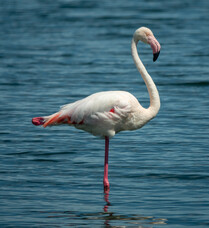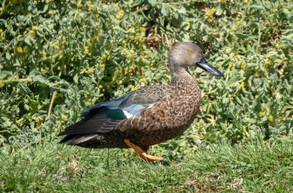 ---
Saturday, November 19: West Coast National Park
It's our last full day in South Africa. I awoke at 4:30am to the sound of pounding rain on my skylight, but it fortunately cleared by the time of our 6am pickup. We drove about 2 hours north to the Western Cape section and spent the day visiting a variety of bird hides (we call them blinds in the US). Along the way we spotted a pair of Blue Cranes in a not quite Monet field of hay.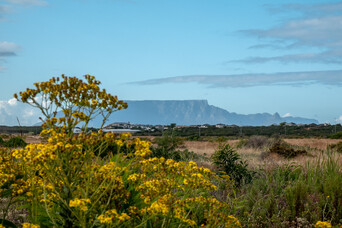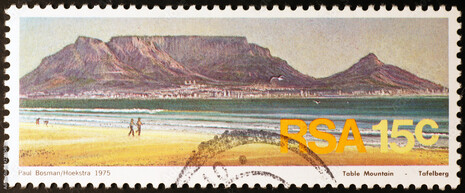 The first bird blind visited was the Geelbek Hide. There were lots and lots of peeps. A curlew sandpipers I spotted had a couple of white spots on its bill, leucistic, not a new species. There were plenty of others including plovers and sandpipers. I took a lot of photos. There was also a geocache located behind the sign inside this blind, but Liz and I couldn't find it.
Highlights from Geelbek Hide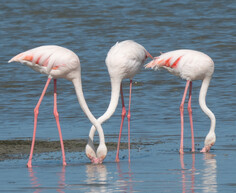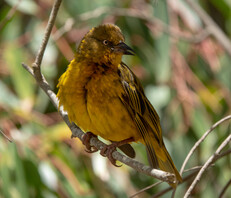 Our lunch stop was at the park office for the West Coast National Park where a replica of Eve's Footprint is on display. Eve's footprint is the popular name for a set of fossilized footprints discovered on the shore of Langebaan Lagoon, South Africa in 1995 near Kraalbaai. The footprints are believed to have been made by an early Homo sapiens approximately 130,000 years ago. I was happy to learn more about eve with a conveniently placed earthcache: GC6WGA4: Eve's Footprint
Outside there was also a physical geocache: GC663EN: Natures gate. I initially visited that with Liz and subsequently we revisited with Anne and Ginger. Ginger now has more geocache finds in South Africa than back home in New York.
After lunch we visited the Abrahamskraal Hide, the Seeberg Hide, and the lookout point for Langebaan Lagoon. At that last stop there were a group of rock hyrax appropriately frolicking in the rocks. Also an earthcache: GC6383E Langebaan Lagoon. I also managed to find a physical cache at the two story Seeberg Hide: GC579VZ.
More of the day's highlights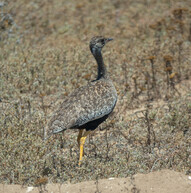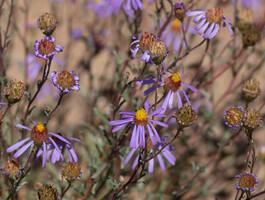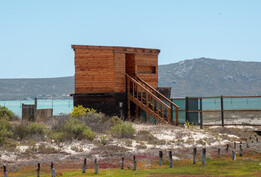 I added 13 new species to my bird list on this last day of birding including the Blue Cranes spotted in the early morning and ending the day with a Karoo Scrub-Robin and a Black Bustard at our last birding stop of the day. I also thoroughly enjoyed sitting still at the Abrahamskraal Hide as a white-throated Swallow checked me out.
Well that about wraps it up. We had one more hour of birding on Sunday morning before heading to the airport and the long trip (3 flights) home. The last bird added to the trip list was a Long-crested Eagle spotted by Deb from the plane window as we landed in Jo'burg on the flight from Cape Town. I had seen this species previously in Tanzania, but it was a new bird for this trip.
---
---
Links to more photos and maps:
Lynn Salmon <>{