ARRIVAL in BOZEMAN (Saturday, May 11)
We barely had time to turn around after our recent trip to Iceland and now we're off again to Montana and its neighbors. We're going for a mixed bag of touring with a Saw Mill River Audubon Group for a week in Yellowstone, followed by a couple of weeks of driving around on our own and getting in adventures - like Caine in Kung Fu.
After an early morning departure from White Plains Airport with just enough time for pizza during our plane change in Chicago we arrive very tired in Bozeman around 1pm. The friendly woman working at the Hertz counter recommended her favorite eating place, and we head into downtown Bozeman for lunch. The Western Cafe looks to be closing up as we arrive (they're only open till 2pm) so we eat next door at The Garage. The place is absolutely packed with diners. It has a comfortable outdoor patio and cute menus sandwiched between automobile license plates. The burgers weren't bad either.
After lunch, we find a geocache, our first one in Montana, then head to our hotel for a nap. Travel logistics dictated that we arrive a day before our Audubon trip started, and we're happy to take it easy for a day. Later that evening, we take a walk around the area near our hotel, get some food, find a couple more geocaches, and see our first new bird of the trip, a Black-billed Magpie, Pica hudsonia. We see plenty more magpies during the rest of the trip, and ultimately add 63 new species to our bird list.
BOZEMAN (Sunday, May 12)
We woke up early feeling refreshed and decided to do a 2.4 mile loop hike on Drinking Horse Mountain Trail (trail map) located only 5 miles from downtown Bozeman. The walk begins under the shade of cottonwood and dogwood trees along Bridger Creek and heads up to rocky outcrops with good views of the surrounding Gallatin Valley. We can see the big "M" for Montana State University on the side of the neighboring mountain. The Bozeman Fish Technology Center and Hatchery is in the same area, but was not open on Sunday.
There were heaps of other people out enjoying the trail, most of them with a dog or two. The weather was perfect, and it was also mother's day, which may have increased the numbers. We met a nice family near the picnic table at the summit who invited us to sit. They identified a bird singing on an overhead branch as a Townsend's Solitaire, Myadestes townsendi, another new bird for our list. We also saw a lot more black-billed magpies, some chickadees, and plenty of robins. The Thirsty Horses geocache was a few steps away from the summit, and I made a quick detour for it before we continued down and around the loop.
Today, we stopped at the Western Cafe for lunch and then headed back to the Bozeman Airport for the start of the trip we signed up for last August. The trip offered by the Saw Mill River Audubon is called, "Yellowstone Wolves & More." For some time we have wanted to go to Yellowstone, a World Heritage Site, visit our friend Tom who lives in Montana, and the trip dates included our 30th wedding anniversary, so how could we say no.
At the airport, we met our group of 11 other people with varying ties to the Saw Mill River Audubon and were joined for the afternoon by local guide, John Parker, from the Sacajawea Audubon and headed off 30 min north of BZN in 3 rental cars for some afternoon birding.
Our first stop was at the Central Park Pond near Manhattan, MT, an amusingly named spot for this group of New Yorkers. The binoculars were out and within minutes we had seen Forster's terns, yellow-headed blackbirds, mallards, Canada geese, American white pelicans, cinnamon teals, scaups, shovelers, yellow rumped warblers, prairie falcons, a red tail hawk, and swallows galore. Many of these were new birds for us, not hard to accomplish since we are pretty amateur birders. We also got much clearer looks at many other species that we have seen on previous occasions.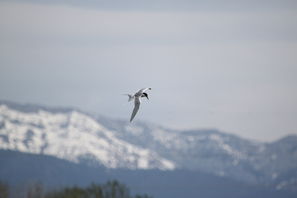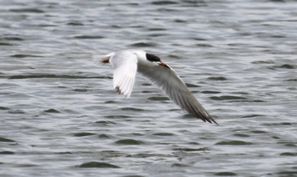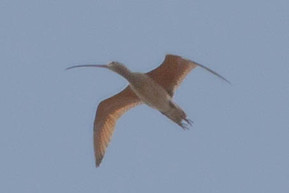 Our next stop was at Missouri River Headwaters State Park. This is where the Gallatin, Madison, and Jefferson rivers meet to form the Missouri River. In addition to some more birding we learn a little bit of history. By comparison, our journey here was much easier than the tortuous overland journey made by Lewis and Clark who reached the headwaters in July, 1805. We learned that Lewis' dog, named Seaman, accompanied the expedition from Pennsylvania. It was also at the headwaters that John Colter made his legendary naked run to escape a Blackfeet war party.
While we enjoyed looking at the large Sandhill cranes the most, another high point was seeing a burrowing owl in a field. The owl was something we would never spot on our own without an expert to point it out to us.
Our day continued late into the evening as we covered a lot of ground, saw more birds, had dinner in Livingston, and eventually reached the Yellowstone River Lodge in Gardiner where we practically fell into bed. (See trip map)