Guats Up: Birding in Guatemala
February, 2023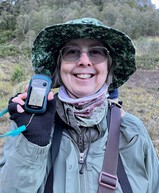 by Lynn Salmon <>{
---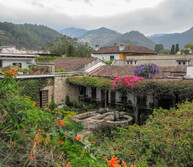 Day 1 in Antigua Guatemala (Feb 18)
After arrival in Guatemala City around midnight, I was met by our awesome guide, Ana Paula Oxom and driver, Hugo, who whisked me off to Antigua Guatemala. One advantage of the super late arrival is we avoided the normal snarl of traffic usually encountered on this trip.
I spent a comfortable night and enjoyed breakfast in the pretty courtyard of the Hotel Posada de don Rodrigo. A woman was making fresh tortillas in the corner, and I enjoyed a great breakfast with eggs, sausage, black beans, cheese, plantains, juice, and coffee. Spotted my first bird of the trip, a great-tailed grackle during breakfast. There were also some sparrows and doves, but no new species for me in Antigua Guatemala.


This trip ultimately netted:
3928 photos,
292 species of birds with 180 new additions to my personal bird list,
8 geocache finds, and
2 world heritage sites visited.
Arriving a day early, I had the opportunity to explore World Heritage Antigua Guatemala before joining my birding friends later in the afternoon. The Geocaching Adventure Lab for Antigua Guatemala proved to be a great guide for a walking tour of the town and took me to the following spots:
La Merced Church: The Baroque Church of our Lady of Mercy was originally built in 1548, destroyed twice by earthquakes, and rebuilt in the 1700s.
Parque Central: Also called Plaza Mayor, this pleasant square is full of fountains, street vendors, pigeons, and a memorial to Avocados.
Santa Catalina Arch: This iconic yellow arch was located a few steps from my hotel. It was originally built to allow cloistered nuns living on one side of the street, secluded passage to reach their other buildings without contact with the outside world.
Antiguo Colegio: This Jesuit monastery and college was established in 1626 and left in ruins by the great earthquake in 1773. It has been rescued from the rubble and converted into a cultural center.
Antigua Guatemala Cathedral: Built originally in 1545, demolished and rebuilt in 1680, this building is another casualty of earthquake destruction. The current roofless remains of the two front towers have been partially rebuilt and are open to visitors.
I visited the ruins of the Cathedral at 10am, I think it had just opened, and I had the place mostly to myself. The colegio was not yet open and I wandered a bit through the courtyard and snapped some photos. The plaza on the other hand, was hopping with people, mostly street vendors.
I joined the McCluskey clan (Christine, Cathy and Matt) plus Charlie, Steve, Larry and Donna Lee for lunch back at the hotel. We hit the road and made our way to the "official" start of the trip at Hotel Las Americas in Guatemala City. With afternoon traffic, this trip took about twice as long as my original post midnight drive.
Before dinner at La Barra de Don Paco, there was time for a little birding with Charlie. We explored the green Parque Las Americas strip next to the hotel which netted 9 species with 3 new to me including the Gray Silky-flycatcher that would be seen most days on the rest of the trip. I also found Geocache GC9N5K4 in the Plaza Costa Rica.
The erupting Fuego Volcano, can be seen in the distance from our hotel rooms. This volcano, located 22 miles to the west, became active again a couple months ago and briefly caused the airport to close. Small puffs of smoke can still be seen coming out during our time in the country.


---
Day 2 - Travel to Sibinal and the Highlands (February 19)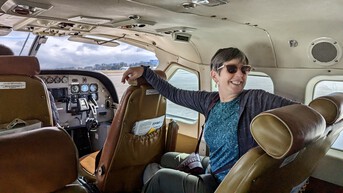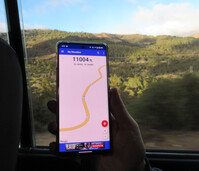 Most of day 2 was spent in transit from Guatemala City to Sibinal in the highlands on the western edge of Guatemala near the Mexican border. We sent our bus and driver ahead with the bags and boarded a small propeller plane for the 35min hop to Quetzaltenango. It was fortunate that our group arrived early at the airport, as Charlie accidentally packed his passport in a bag that had left two hours earlier on the bus. After multiple phone calls, and three supervisors, our guide Ana worked a miracle and passportless Charlie was allowed onto our flight. The plane had only our group of 9, plus pilot and co-pilot on board.
Quetzaltenango is Guatemala's second largest city set at 8,000 feet. We still had 4-6 hours of driving and a few thousand feet of additional elevation to gain before ultimately arriving at the Hotel Estrella Dorada in Sibinal. Sibinal is at 9,000 feet, but we went over some passes higher than 11,000 feet along the way.
We made one 2-hour birding stop at Chikua Camp. My highlight bird for the day was the lovely pink-headed warbler. I also saw a Hammond's flycatcher and may have snapped a lovely photo of the branch after it flew. "Se fue" was a common refrain on this trip.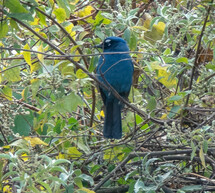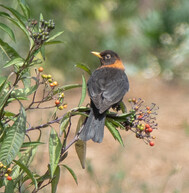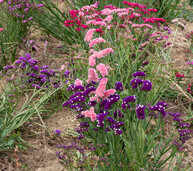 ---
Day 3 - Trek to find the Horned Guan (February 20)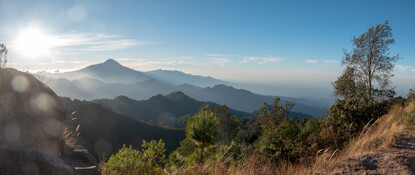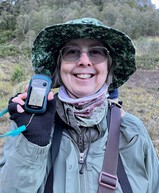 Our lodging, the Hotel Estrella Dorada in Sibinal had no power when we arrived last night due to an area-wide outage from a recent windstorm. Rooms are very basic. We're each given a candle, matches, towel, and roll of toilet paper, and I'm glad I have a charging brick to recharge camera batteries in the night. It's very cold overnight, and the local rooster crowed regularly beginning around 10:30pm, making sleep difficult.
I got up after the 4:15am rooster call, we needed to be up early anyway. We headed through the dark, quiet early morning streets of Sibinal to a small restaurant where we had all our meals in Sibinal. Breakfast burrito with eggs and beef accompanied by french fries.
On the bus for a very long time up a winding road to the start of our Guan adventure. I marked the coords at N15 9.023 W92 4.916, elevation 9132ft. We're searching for the endemic Horned Guan which our guide knows to be near this family farm. It's cold and windy and we have a bit of a hike in search of our guan.
Our guide, who I believe is the local property owner eventually spots the Guan after the group hikes up and back down, and we all have to hike up again for better views. It's not really that long a hike, but lack of sleep and elevation is taking its toll.
We celebrate with lunch at the farm, a simple chicken and corn vegetable soup, and head back out for a little more birding before heading back to Sibinal. Other highlights for me, besides the guan include a Crescent-chested Warbler, Rose-throated Becard, the Elegant euphonia and a white-eared hummingbird. Fortunately, Steve Rappaport is on this trip and sharing some of his awesome photos with us.
Day 3 highlights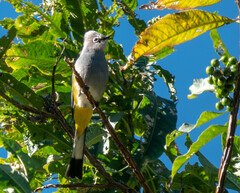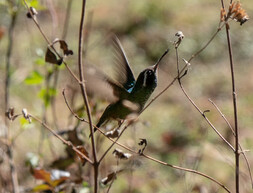 ---
Day 4 - More highland birding (February 21)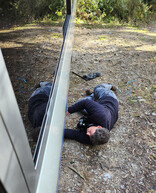 Breakfast wasn't scheduled until 8:30am today, but sleeping in proved difficult with the rooster waking me regularly at 1:19am, 2:19am, and 4:19. I gave up trying to sleep and made myself some coffee in the room and scavenged for leftover snacks. I joined Charlie around 6:30am for a short birding outing in a patch of woods behind the hotel. Saw my first yellow-eyed juncos.
We drove to a small nearby town called Union Reforma for today's first birding adventure. We started with a great breakfast of eggs, sausage, black beans, avocados, plantains, and fresh tortillas and then birded nearby until about noon.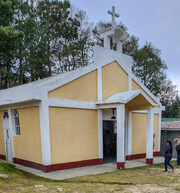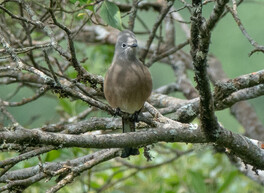 One highlight for me was the mountain thrush that charlie took a picture of. I spotted a toucanet and a motmot but didn't manage a photo of either, though I did snap one of a Mountain Trogon. There were some new warblers including the Townsend's Warbler. There was also a South Mexican Hairy Woodpecker that looks different than the ones back home.
Following lunch in a private house at Union Reforma, we headed back toward Sibinal. We had some down time at the hotel before heading out to Parque Municipal Canjula for an evening of owling.
ebird list for Parque Municipal Canjula
We heard Mexican Whip-poor-wills before having dinner at the park building. Dinner was stew, tasty but served cold.
We went in search of owls after dinner. Unfortunately, we struck out on the unspotted saw whet found a duo of Fulvous Owls that seemed to follow us around the park and kept calling, potentially scaring away any other owls.
---
Day 5 - Ash Wednesday (February 22)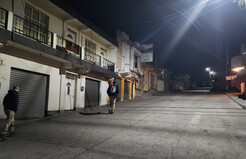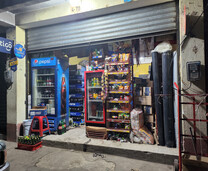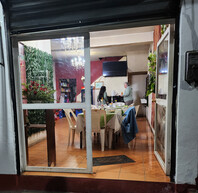 Up pre-dawn once again for a last breakfast at the little place around the corner from our hotel in Sibinal. We've had some simple, but tasty burritos the past couple of days, but this morning they decided to make stacks of pancakes. They actually tasted good, but I try to avoid sugar, especially in the morning. Fortunately I have some jerky to tide me over till lunch.
Today is spent in transit (multiple hours on the bus) to Los Tarrales with one birding stop along the way. I took a GPS coordinate: ( N14 57.997 W91 49.702) at 8383 feet elevation. We walked up a path to Astillero Park. There were men on horseback passing by, some at high speed, must be the morning commute.
ebird list for Astillero De San Marcos
Approximately two hours of birding. I manage to snap a decent picture of the Mountain Trogon we saw, and also got a blurry pic of a Blue-throated Motmot. Otherwise we mostly saw warblers and other little flitty birds among the leaves.
Morning Highlights (Feb 22)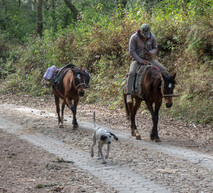 Our lunch stop was at Giardino Ristorante Pizzeria (map link). Surprisingly good for a pizza place. We still had another 3+ hours of driving before reaching Los Tarrales Natural Reserve after 5pm. Brief birding around the grounds before dinner yields some exciting finds including my fav, Lesson's Motmot.
Evening ebird list at Los Tarrales
We are staying in cabins at Los Tarrales. A few days earlier, a giant Kapok tree was toppled in a storm and it took out two rooms on the edge of my cabin. I'm in a set of three (previously 5) rooms connected by a porch with Donna Lee and Charlie, that narrowly escaped destruction. The room is very nice, a big step up from the Sibinal accommodation. We've come down several thousand feet and are now at 2404 ft elevation. ( N14 31.4 W91 8.186) It's a bit hot and humid with a short rain shower during dinner.
Evening at Los Tarrales (Feb 22)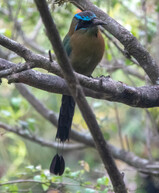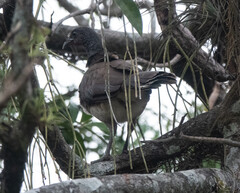 ---
Day 6 - Los Tarrales (February 23)
After breakfast around 5:30am, we piled into a couple of land cruisers and headed up into the hills for a long morning of birding at the Reserva Natural el Vesubio Conap. Although we had a long uphill walk, it wasn't that difficult.
We saw a lot of birds, and I added both Crested Guan and Highland Guan to my list. There were a lot of coffee plants growing in the area where we birded. I tried a couple of the ripe raw beans and they were quite tasty.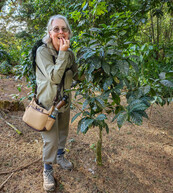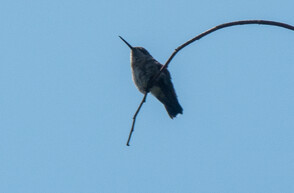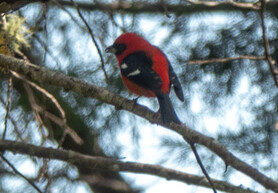 We returned to our Los Tarrales lodgings in time to grab lunch and take a welcome two hour siesta before setting out on an exploration of the grounds at 3pm. After a couple of hours of birding, the sky suddenly opened up with a downpour of rain. (movie)
I donned the plastic poncho Cary gifted me after our South African drenching, surprised to be the only one prepared for rain. The group huddled under some trees for a short time until the squall passed.
Afternoon ebird list at Los Tarrales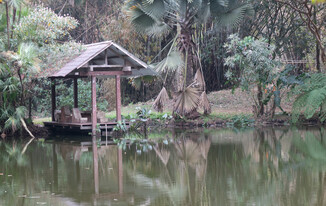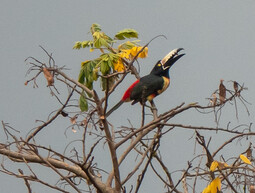 At roughly the half-way point in the trip, I have added just over 100 species to my Bird List.
---
Day 7 - Los Tarrales (February 24)
We were up super early for a pre-dawn walk through the grounds of Los Tarrales with Ana and an addional guide, Freddy. There were some bats and dark silouetted birds that are difficult to see in the dim light. But, the nice thing about being out super early in the morning is it is still cool out. It would have been nice to see the sunrise, but by the time it came up we were somewhere deep in the jungle.
We eventually ended up at a bird blind made of a black gauzy fabric with a few holes cut into it. We waited there for a long time hoping to glimpse a Tinamou. Communication was in confused whispered tones, and at one point when my turn to look came, I couldn't find the Tinamou. There was an agouti and a small bird with it that the group was looking at as a consulation prize. No tinamou for us this morning.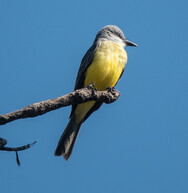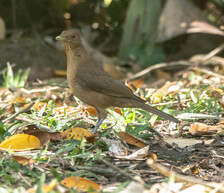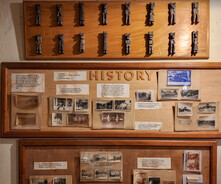 Freddy led the group back using a short-cut up a steep hill. We were rewarded with a Painted Bunting and a Long-tailed Manakin, one of my target species, yay! It was a cool looking bird with a tail that looked like a couple of strings.
We returned for a late breakfast at dining place in Los Tarrales. Fried eggs, two kinds of delicious beans and some fresh bread. Guatemalan breakfasts have been A-okay in my book. I have a little free time to enjoy the grounds before we check out and head to Lake Atitlan in the afternoon.
Lake Atitlan

After lunch, we moved from Los Tarrales to the Hotel Bambu on Lake Atitlan stopping along the way at a lovely birding spot on the lake called Sendero de Aves. Finally some duckage! There were also some Galinules with cute baby chicks and a Sora. And, one target bird for the group that we successfully found here was the Slender Sheartail.
Afternoon ebird checklist from Sendero de Aves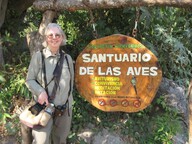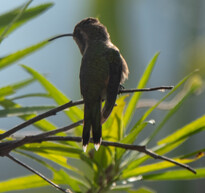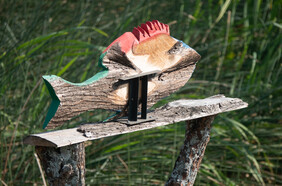 Lake Atitlan is a highland lake lying in a crater surrounded by three volcanoes: Atitlan, Toliman, and San Pedro. Atitlan is the youngest and most active of the three volcanoes. All three are stratovolcanoes. See: Earthcache GC7G29A. This setting is likely the inspiration behind the fictional volcanoes in the childrens story, The Little Prince.
---
Day 8 - Quetzal Quest (February 25)
Our day begins at 5:15am with bagged breakfasts, egg sandwich, an avocado, and some chips followed by a 45 minute bus ride to the start of our Quetzal Quest. Coords: ( N14 35.362 W91 13.667) elevation 5881 feet.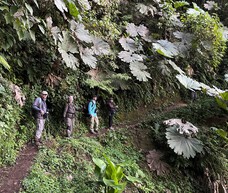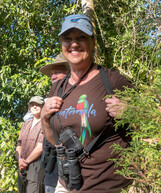 Ana and a local guide lead us up a narrow path to a spot to sit and have our bagged breakfasts. I had almost finished eating my egg sandwich when Ana announced our guide had found the Resplendent Quetzal. We drop everything and race to a nearby viewpoint, but the bird was not visible.
And so goes the next couple of hours. Stand around, wait hopefully, hear the bird is calling down below. Race down. No bird. Wait there. Hear that the bird is somewhere higher up where we just were. Race to that spot. Back and forth. Other groups and their guides show up and join us for brief spells, but we are the hardy seekers who remain. I do get a glimpse of the bird flying away at one point, as does Matt, but I don't think anyone else in the group got on the bird. Hardly satisfying, but so goes birding on some days.
I did get a good look at a Northern Emerald Toucanet, a Blue Crowned Chlorophonia, a Common Chlorospingus, and a Scaly-throated Foliage-gleaner. What great bird names!
ebird list for Quetzal Quest at Mirador Rey Tepepul
In the afternoon we all piled into the back of a Toyota pick-up for a fun truck drive. Safety first. I marked the coordinates for the path where we did some birding at La Playa. (14.615326 -91.158702). There were numerous people walking down the trail with heavy sacks on their back. I believe some had been harvesting coffee beans, others were carrying wood. Charlie also became excited about a special butterly marked with the number "88".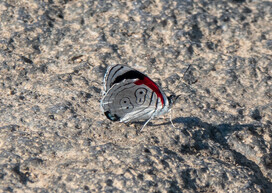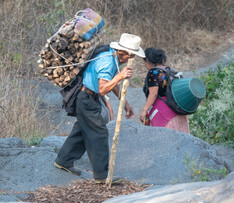 ---
Day 9 - Lake Atitlan (February 26)
It was a very long day, but we seemed to do very little. Our bags were collected from our rooms promptly at 6am, but we then needed to wait around for another hour before taking a boat ride across Lake Atitlan. The trip on El Quetzal was enjoyable. I went outside in the front to enjoy the light breeze and 360 degree views.
By 8am we arrived at the lovely Hotel Atitlan where we could explore the gardens before settling in for a long overdue buffet breakfast. The exact plan for birding around Hotel Atitlan was a bit vague. Everyone seemed to just wander off on their own and there was no organized birding with our guide. I tried to practice shooting pics of hummingbirds with the camera until it was eventually time to get on the bus.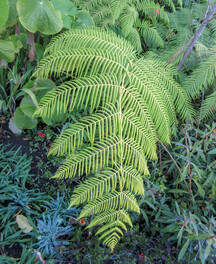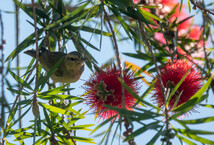 I sat behind driver for the first time of the trip and enjoyed the view out the front window. After a couple hours of driving we reached our birding and lunch spot at Rincon Suizo. Unfortunately, I was feeling slightly dizzy (possibly low blood sugar) and didn't get much out of the walk before lunch. Fortunately, this was the only day of the trip where I felt under the weather.
I ate a large platter of Tacos Adobada for lunch at the restaurant. Afterwords, the group headed out for another hour of birding with the main goal of finding a Chestnut-sided Shrike-Vireo that had proved elusive before lunch.
Rincon Suizo 14.797751 -90.982538 // ebird check list for Rincon Suizo
The remainder of the afternoon was spent driving back to Guatemala City with afternoon traffic. Arrivial at Hotel Las Americas at 6:15pm followed by a non-special dinner at 6:30pm.
---
Day 10 - Finca El Talpetate (February 27)
Up super duper early this morning to avoid traffic getting out of Guatemala City. I think the bus left around 4am for our 2+ hour drive to Finca El Talpetate to find a Lesser Roadrunner. Coords: (N14 54.156 W90 10.238)
We all transfer from the bus into the back of a pickup truck and head down a steep rutted road. The trip going down seems relatively easy, but coming back up at the end of the day I had to hang on for dear life.
The area we birded in today is very hot and dry in stark contrast to our first few days up in the highlands. Fortunately, I feel well today and the heat didn't really bother me very much. The place we birded at has a number of out buildings. Some are labelled as a museum, others include fireworks manufacturing and a still for making rum. An eclectic collection of stuff, for sure.
We're served a very nice breakfast from the outdoor kitchen before setting off into the scrub brush in search of birds for a few hours. Some highlights for me include the Russet-crowned Motmot, a Groove-billed Ani, and a Yellow Grosbeak. The Lesser Roadrunner is mostly a no show. It is heard and briefly glimpsed while we are all in the truck, but no one got a good look at the bird.
ebird list from Finca El Talpetate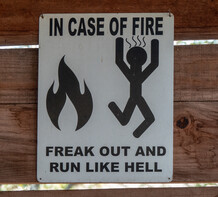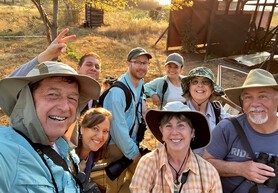 ---
Day 11 - Onward to Tikal (February 28)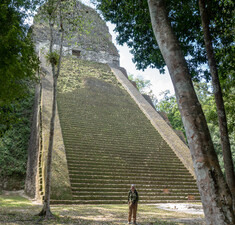 The group portion of my trip ended and I'm off to the World Heritage Site of Tikal today. Larry is also extending his trip, and with his urging we changed our original flight planned to depart at noon to a 9am departure to allow for more time in Tikal.
The morning goes smoothly. We get breakfast at the hotel when the buffet opens at 6am. I book an Uber to the airport which comes to collect us in under 3min for the 15min ride to the airport (cost is only 22Q). We check our bags and head through security to the gate only to learn that our flight is delayed and won't be leaving until 11am. Sigh.
After finally boarding the hour flight to Flores, arrival and transport to the Jungle Lodge in Tikal, the day is magical!
My room at the Jungle Lodge is the nicest yet on the trip. The lodge is located within the World Heritage Site of Tikal. The oldest geocache in Guatemala, GC2A86 Hot Jungle, is in the park. I note that it is approximately 1 miles (as the grackle flies) from my room and decide to head out to look for it now since tomorrow we're scheduled to have an all day tour with a guide.
I set off into the jungles of Guatemala alone around 3pm. On the initial road from the lodge to the ruins I pass a lot of people, both tourists and workers heading out. There's no signage about hours, but I believe visitors are allowed until dusk, and I have about 2 hours of daylight left. It's a short trek to the ruins, and although I'm on a mission, I stop to take in the wonder. There are practically no other people around, and once I leave the main complex area on the jungle path to the cache, I'm totally alone.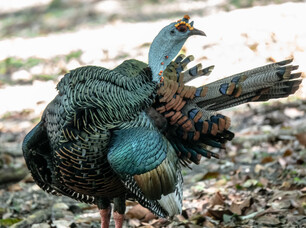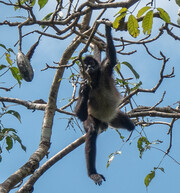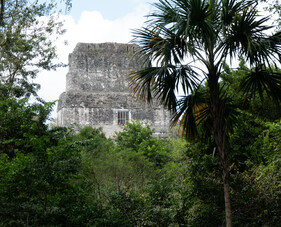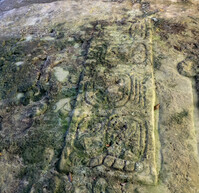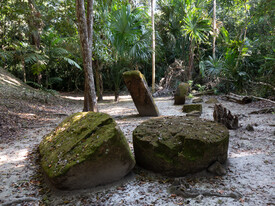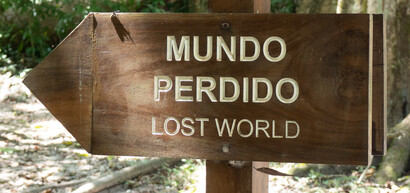 Then the monkeys start coming out. There are both spider monkeys and howler monkeys. They mostly stay in the tree tops, but a couple come down a bit lower. I'm reminded of the ending of the movie, Aquirre Wrath of God. Monkeys in the jungle, never a good sign :-).
I find the geocache and leave one of my fish tokens. Take photos, listen to the monkeys, and then head back exploring the ruins briefly on my return journey. I don't see any other people for over an hour, but eventually run into a Belgian couple climbing on one of the Mayan temples. I hear they were later escorted out after they tried to wait and watch sunset in the park, so there are some park workers that will round you up if you stay too late. That didn't happen to me. I made it back to the Jungle Lodge, showered and went to dinner around 6pm.
---
Day 12 - Tikal (March 1)

My last day of vacation. It's nice to save the best for last, and today was a great day with a tour through the World Heritage Tikal ruins with a private birding guide. I walked 7.37 miles and saw 72 species, and even managed to take photos of some of them.
Today's visit included some time in the Grand Plaza and a sighting of not one, but two orange-breasted falcons, the second rarest falcon in the world. Plus my old favorite, the "kill bill" Toucan. There was a nest with some baby Tiger Herons, and I also got a good look at a red-capped manakin.
After a late lunch and brief siesta, Larry and I visited a nearby lake recommended by our morning's guide. Tikal Lake (N17 13.739 W89 36.132) His directions were to walk down the road until you saw the "Peligro Crocodiles" sign and then turn to go toward where the crocodiles are. There was one small crocodile at the opposite edge of the lake along with some good birds: Boat-billed herons, kingfishers, and others.
Highlights from Tikal (Mar 1)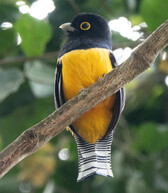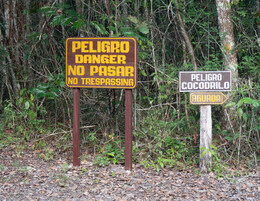 ---
Links to photos and maps:
---
Lynn Salmon <>{