Route 66 - Roadside Attractions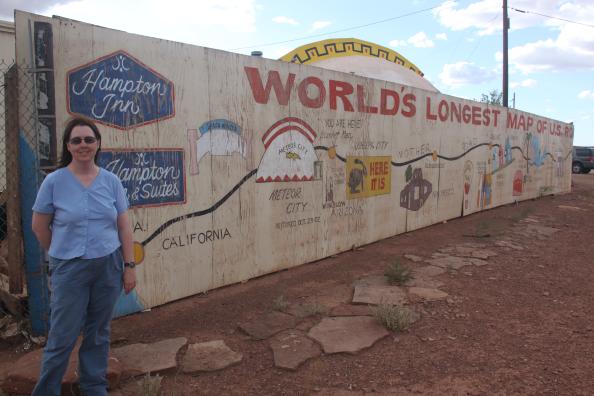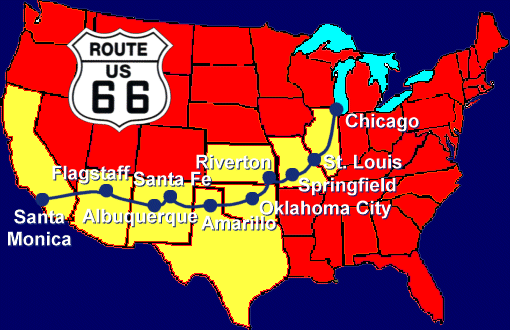 by
John and Lynn Salmon -- September 2009
Portion of our California to Colorado drive travelled along sections of historic Route 66. This route was designated U.S. Highway 66 on November 11, 1926 when a bill was signed in Washington creating the American Highway System. The 2,400-mile route winds from Jackson Boulevard and Michigan Avenue in Chicago to Los Angeles, through romantic and celebrated portions of the American West and has become the most celebrated and famous of these two-lanes. See The Route 66 Primer for a great history.
Having lived in Pasadena for years, we took these familiar sites for granted. But we started to take notice while travelling eastward along I-40 between Flagstaff and Holbrook. Not to missed is a stop in Meteor City for the longest map of Route 66 painted on a wall. Though there is another map painted on a wall in Holbrook with the same claim to fame.
---
Standin' on a Corner in Winslow Arizona
The lyrics from the song "Take It Easy", written by Jackson Browne and Glenn Frey, were made famous by "The Eagles". The corner of fame is located along historic Route 66 in Winslow Arizona. Winslow has named the little park "Standin' on THE corner park" rather than be faithful to the song lyric "Standin' on A corner". More info from roadside america.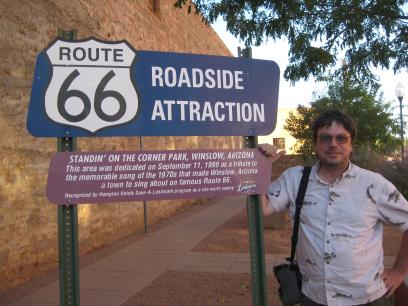 ---
Wigwam Motel #6
811 West Hopi Drive, Holbrook, AZ
Who wouldn't want to sleep in a concrete replica of an Indian teepee. The Wigwam Motel in Holbrook.
---
We don't know where these folks were going on Route 66, but it looks like they got stuck in the desert near the Petrified forest.
Lynn Salmon <>{