IDITAROD 2017 - "The Last Great Race" 1049 miles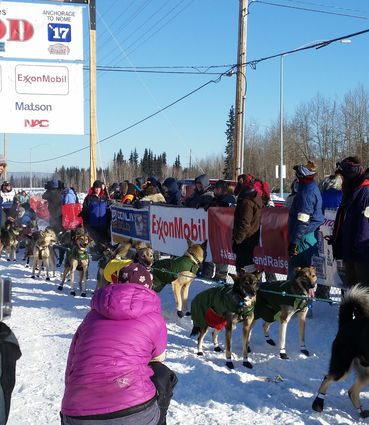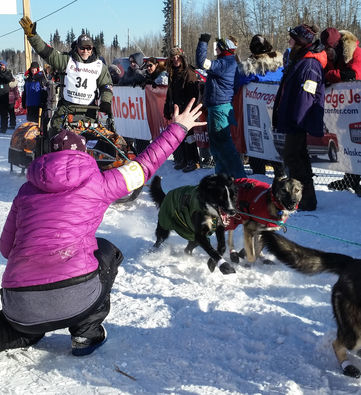 Above, Jeff King wearing bib #34 is at the start of this year's Iditarod in Fairbanks Alaska on a brisk -30 degree morning. Jeff finished in 11th place.
Below, Mats Pettersson, wearing bib #33 starts with 12 dogs, he finished 25th.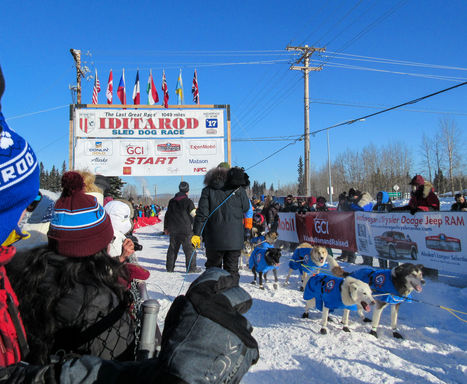 ---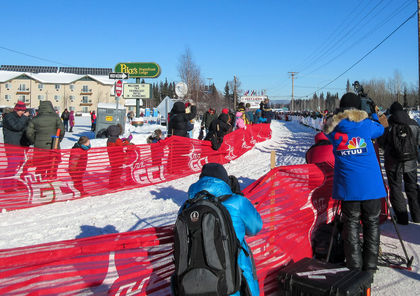 Since KTUU-2 seems to think this is a good viewing vantage point, I stop here and get nice shots of Thomas Rosenbloom, bib #40 and Aliy Zirkle, bib #41 coming down the path.
Ally came in 8th place, and we saw the starts of a couple of other racers among the top 10 finishers (71 teams started).
Below, Ellen Halverson, bib #30 off to a good start, but scratched after 553 miles.
---
We saw a sled parked in the entrance of our hotel the night before.
Christi is well dressed for Iditarod viewing.
---
One more movie taken at the starting line of Rick Casillo, bib #27, he finished 28th.
---
My team was in Fairbanks for the USCA curling club nationals. Pictures of us and our silver medals can be found on my Curling 2017 Nationals page.
---
Lynn Salmon <>{