Urban Challenge - Los Angeles (7/10/04)
TRIVIA QUIZ
The race begins with a trivia quiz. There were a few questions we "should have known" but we got lucky on a couple of the others getting 6 wrong in the first 20 and 4 more wrong in the last 10. So it is with some surprise that we see our number listed among the first group of "high scorers" to be released. Only the first 20 questions count toward your initial score, and the last 10 are used as a tiebreaker, so we were very lucky with the placement of our wrong answers.
The Start
We are released and receive the clue sheet at 9:00am. We begin with Checkpoint #3.

On to the race:
---
CHECKPOINT 3:
Coulda been:
This great actor claimed, "I hate acting. I only did it for the money." He once had a young woman in beaded doeskin refuse his Oscar. Within a mile or race HQ, find a star-studded mural along Hollywood Blvd., and get this deceased genius (with Elvis right above him) in the picture with you and your teammate.
ANSWER: Marlon Brando
In the You Are the Star Mural at Wilcox & Hollywood Blvd.
We got off to a slow start on this one. Lynn knew there was a big mural at the opposite end of the strip (part of a geocache), but there are a lot of other murals all along the strip. We passed a smaller one with both Marlon and Elvis in it. This painting had them separated horizontally by several other stars, so it clearly didn't match the clue description. We proceeded on foot and found the checkpoint just after spotting the skip woman.
DISTANCE: about .7 miles on foot.
---
CHECKPOINT 4:
Stairmasters:
Find Temple II by Gene Flores in the Barnsdall Art Park. Please don't cut through the construction.
ANSWER: A sculpture in Barnsdall Park, 4800 Hollywood Blvd.
We walked a short distance after checkpoint 3 and then waited for a bus at 6200 Hollywood Blvd. This gave us time to dictate most of the rest of the clues to our crack research team.
This checkpoint was a real stumbling block. Barnsdall Park is located on a hill overlooking Hollywood. Getting up there wasn't difficult, but it was a large place, and we had no idea of where the sculpture was located. It turns out that we passed it on our way up the hill, but at that time we were looking for a temple, not a sculpture. No one who worked at the gallery or the administration building had ever heard of it. Several other teams were also wandering the grounds with no luck. We circled the entire construction area and criss crossed the park a couple of times before heading back down the hill and finally finding the sculpture called Temple II.
DISTANCE: 2.2 miles (about 2 miles by bus), plus 0.5 miles additional aimless wandering in the park.
---
CHECKPOINT 5:
Not Mrs. Picasso:
In the early 1900s, this Fauvist painted a few portraits of his wife. The portraits (and the wife) share the name of checkpoint 5. Find it within one half mile of Sunset Junction.
ANSWER: Madame Matisse, 3536 W. Sunset
We got on a bus heading in the right direction, Hollywood Blvd. curves south and becomes Sunset Blvd. We ran into an old Caltech colleague, Bruce Sears, who was participating in the race. His team decided to join us for the rest of the race. They had better maps than we did, but we had a crack research team, and by this point most of the clues were probably solved so it was just a matter of getting from point A to point B.
We got off the bus too soon, and ended up running to the next stop and getting back on the same bus. When we got out the second time, we were right in front of the Madame Matisse establishment.
DISTANCE: 1.3 miles by bus, 0.1 miles by foot
---
CHECKPOINT 6: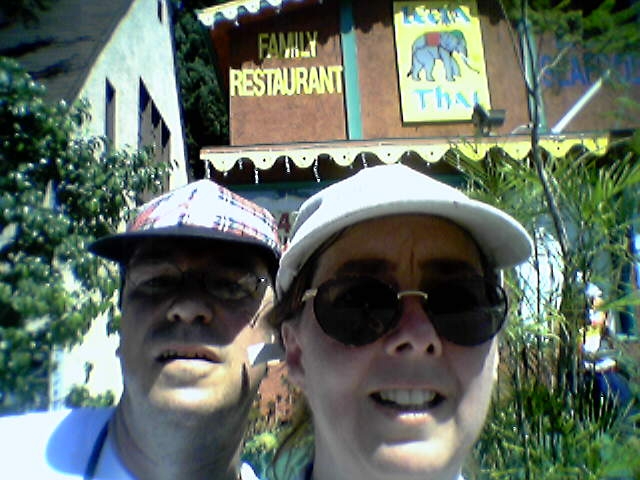 Find the Shortcut!
Unscramble the letters below to find the two-word name of this establishment within a half-mile of Silver Lake Reservoir.

             ELATE HAIL

ANSWER: Leela Thai, 1737 Silverlake Blvd.
The shortcut for this would involve traversing the neighborhood near Silverlake with some pretty steep streets. On the drive to race headquarters this morning Lynn had commented about how hard it would be if we had to go up and down in this neighborhood. We opted to go the longer, flatter way and a bus happened along for the first half of the leg, then we walked up Silverlake Blvd. to the Thai restaurant.
DISTANCE: 0.3 miles by bus, 0.75 miles by foot
---
CHECKPOINT 7: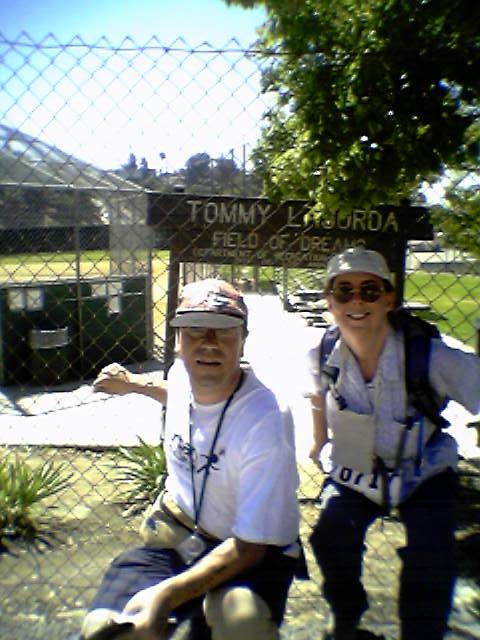 7th checkpoint stretch:
Solve the Patented Wacky Equation to find this fun place within a half-mile of Silver Lake Reservoir.

              Rolaids-spokesperson & 20-year manager
                               PLUS
                  Costner movie of Kinsella book
                              EQUALS
                           Checkpoint 7

ANSWER: Tommy Lasorda Field of Dreams, 2215 Fargo St
Everywhere in Silverlake is uphill, and the segment of Fargo Street ( geocache) on the other side of the freeway is the steepest street in LA! We went up Duane St (a modest 16% grade) and then came back down the 21% grade on the other side. A guy watering his yard points out that everyone else is going that way (the way we were going) so we know we're nearby, and we find a sign on the near corner of the field 2 blocks short of Fargo Street.
After the field we wait at a bus stop on Glendale Blvd. right in front of one of the earliest film studios in LA. and notice the brightly emblazoned jerseys of the LA triathletes club. We've seen them at many of our stops and realize that we've been making the right choice to wait for the bus! Of course, with our extensive athletic training we probably would have kept pace with the LA triathletes anyway :-). A large pack of other teams show up just as the bus pulls up.
Distance: 0.45 miles on foot.
---
CHECKPOINT 8: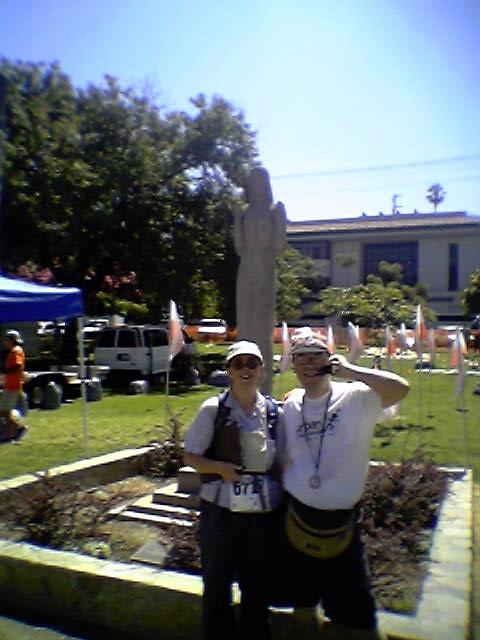 HELLO, Hello, hello!
Find the Lady of the Lake within a mile of Angelus Temple (geocache).
ANSWER: Statue in Echo Park.
Angelus Temple is at 1100 Glendale Blvd. The Lady statue is on the opposite side of the Lake from where the bus stopped. Most of the other teams seem to go to the right, while we are directed to go to the left. Left is the shorter route. No one else follows us as we head to the next checkpoint.
Unfortunately, the camera didn't time stamp our photos so we don't have an accurate record of when we were at each point. Our memory is that we completed half of the checkpoints somewhere around the 2-hour mark, so we were on track to finish after 4 hours. We expected the front runners were finishing around now, and we would be nowhere near the top ten.
Distance: 0.9 miles by bus, 0.5 miles on foot
---
CHECKPOINT 9: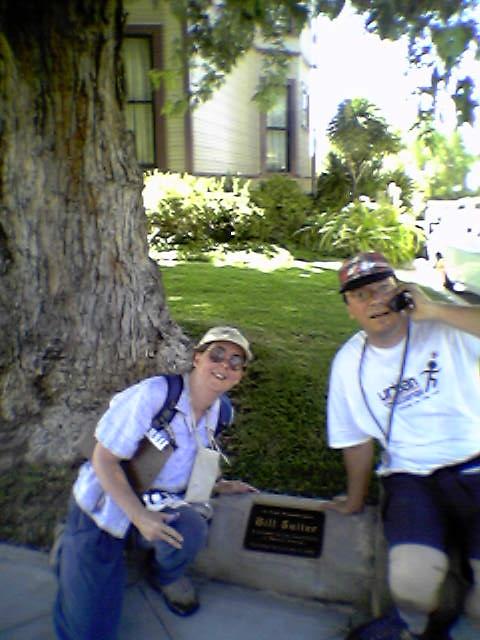 Stop, relax, have a drink ...
Get your photo with what appears to be a Memorial Dog Dish "In fond remembrance of Bill Suiter." You'll find it in beautiful Angelino Heights, on an avenue that shares its name with an "All in the Family" star.
ANSWER: Purple house, 1300 block of Carroll Avenue
Carroll Avenue is a street lined with beautiful Victorian homes. It is, of course, uphill all the way from Echo Lake. Lynn is sitting in the dog bowl in the picture above.
Distance: 0.6 miles on foot
---
CHECKPOINT 10: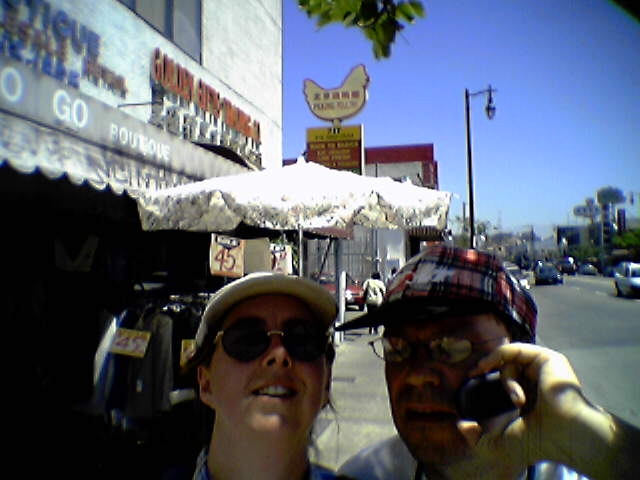 Won't you take me to ... Chinatown!
Head to one of the last places in town where you can choose your own live chicken and have it dispatched, plucked, drawn, and cut up. Without entering the "biosecure area," snap a photo visibly showing the white and red chicken on top of the building. It's in Chinatown.
ANSWER: Peking Poultry, 717 N. Broadway
We got on an MTA bus that took us downtown, then transferred to a DASH bus to get over to Broadway and ran up a few blocks until we saw the chicken. It's a hot day and we were running out of water around this point.
We waited in the sun at a bus stop next to the spot and saw a couple of other teams run past the chicken without stopping. The chicken isn't that noticeable, so running around Chinatown looking for chicken could easily fail. Lynn saw it, a minute later Bruce saw it, it's not clear John ever saw it until we reviewed the photos.
Distance: 0.55 miles by foot, 1 mile by bus
---
CHECKPOINT 11: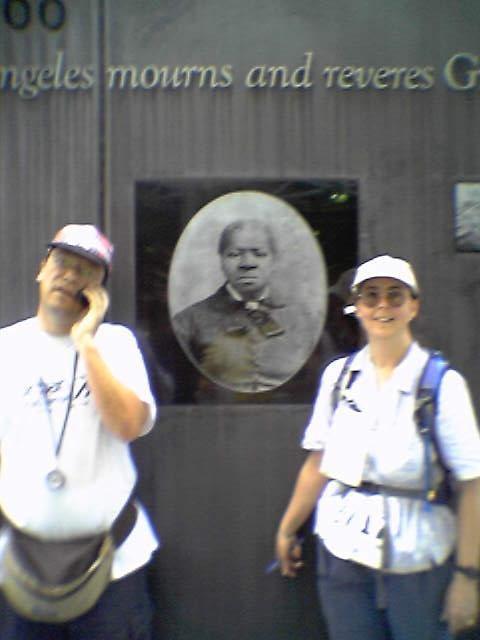 Los Angeles mourns and reveres:
Born a slave in the 1810s, this woman walked from Mississippi to California. Among her many acts of charity and kindness, she delivered hundreds of babies, nursed the sick, comforted prisoners, fed all the families made homeless by seasonal floods, and generously donated money made from her wise real estate transactions to both black and white churches and numerous charities. Get your photo with a public art portrait of this Grandma located within a mile of Pershing Square.
ANSWER: Biddy Mason Park, 331 Spring Street
We took the bus down Broadway to 3rd St, walked over to Spring St and wandered around a bit before finding the park which is inside a building courtyard. Once inside, Grandma's portrait was easy to spot.
Distance: 0.85 miles by bus, 0.25 miles by foot
---
CHECKPOINT 12:
What's in a Name?
How did the Dodgers get their name? If because:
back in the day, anyone from Brooklyn was a "trolley dodger," due to the streetcar lines crisscrossing Brooklyn, then CLEAR.
the team was known for their ability to avoid getting beaned by the pitcher (still unpunished in the early century), then LUCID.
from the scrappy baseball-playing character "Rodger Dodger" by Harper's Weekly cartoonist Mark Fenderson, then BRIGHT.
Within five blocks of the Bunker Hill Steps, get your picture with the fountain inscribed with the word associated with the correct answer.
ANSWER: CLEAR, a fountain in Maguire Gardens, LA Public Library, 630 W. Fifth Street.
John knew the answer to this and the research team confirmed it. The Library was down a couple blocks and over a few more.
Since we found the skip woman, we have only one more checkpoint to go. It's past the 3 hour mark. We're confident we will finish well before the 5-hour cutoff point, and we're "sure" we're not in the running for top ten any more so we aren't really hurrying. We walked there and paused for a while to fill up our water at a drinking fountain and strategize about which of the remaining clues to skip.
Distance: about 0.55 miles by foot
---
CHECKPOINT 1:
Mountain Palace:
The Reagan's Bel-Air residence is 668 Saint Cloud. Don't go there! Instead, discover the former street number of the place before Nancy and Ronnie had it changed. And substitute it for A in the following equation:
(A*3) + 1
The answer provides the address of a North Sycamore Avenue location (within a mile of race HQ), which serves sushi with a view.
ANSWER: Yamashiro, 1999 North Sycamore Avenue
This was a good choice for the skip, since it was straight up a steep hill to the restaurant ( geocache).
---
FINAL CHECKPOINT #2
Raised by the demons, trained to reign as the one.
On the Walk of Fame, find the star honoring Chaim Witz (and his band).
ANSWER: Kiss Star - 7080 Hollywood Blvd.
We took the subway from downtown to Hollywood/Highland stop and walked the 3 blocks down to the Kiss star which was only about a block from race HQ.
DISTANCE: 8.0 miles by subway + .7 miles on foot
TIME: Approx. 12:35p
---
FINISH LINE
Back to race headquarters:
We had to cross the street and then managed a final "sprint" to the finish line. As we approach the Fluffy Bunny teams yells, "hurry you could still be in the top 10!" What kind of cruel joke is this? We can't possibly be contenders at this late hour.
DISTANCE: 0.15 miles on foot
We crossed the finish line and were told that we were 11th, but there had been at least one team disqualified. TENTH??!! We can't really believe it. Our total time was 3:40. First and 2nd places came in around 2:08, followed by a 40 minute gap before other teams began finishing.
So we are now the third Team Mumu/DESCO team eligible to go on to the national finals in Miami on November 20, 2004. Mark your calendars. You'll be hearing from us.
TOTAL DISTANCE on foot: 6.0 miles, by public transport: 14.35
Other links:
---
Official Entrants
Research Team

John Salmon

Lynn Salmon

Leo Shklovskii
Cliff Young
Jason Crawford
Dave Fullagar
Tracey Parrish
Dave Pfitzner