Hudson River School of Painting
The Hudson River School of Painting was a mid-19th century artistic movement with a romantic vision that humanity and nature can exist together peacefully. The American landscape was the predominant subject, and their paintings reflect themes of discovery, exploration, and settlement of the time. n
Thomas Cole is generally acknowledged as the founder of the movement. Notable artists who painted scenes in our neck of the woods include Samuel Colman, Sanford Robinson Gifford, Julie Hart Beers, and Robert Havell. The latter is perhaps best known as the principal engraver of Audubon's Birds of America, and he used to live at 41 Havell Street in Ossining, NY.
View of the Hudson from Horton's Road by Robert Havell
The Robert Havell painting above was likely made a stone's throw from our current house on Quaker Bridge Rd. We live where the 3 triangle points come together at the intersection of the towns of Ossining, New Castle, and Cortlandt. There was a C. Horton living on what is today known as Quaker Ridge Road a short distance uphill from us. (1851 Map of Westchester)
Below is a current photo taken from the Old Croton Aqueduct Trail at N 41 11.995 W 73 52.224. Imagine yourself here prior to 1849 when the first section of the railroad bridge was completed. And, there weren't so many trees blocking the view!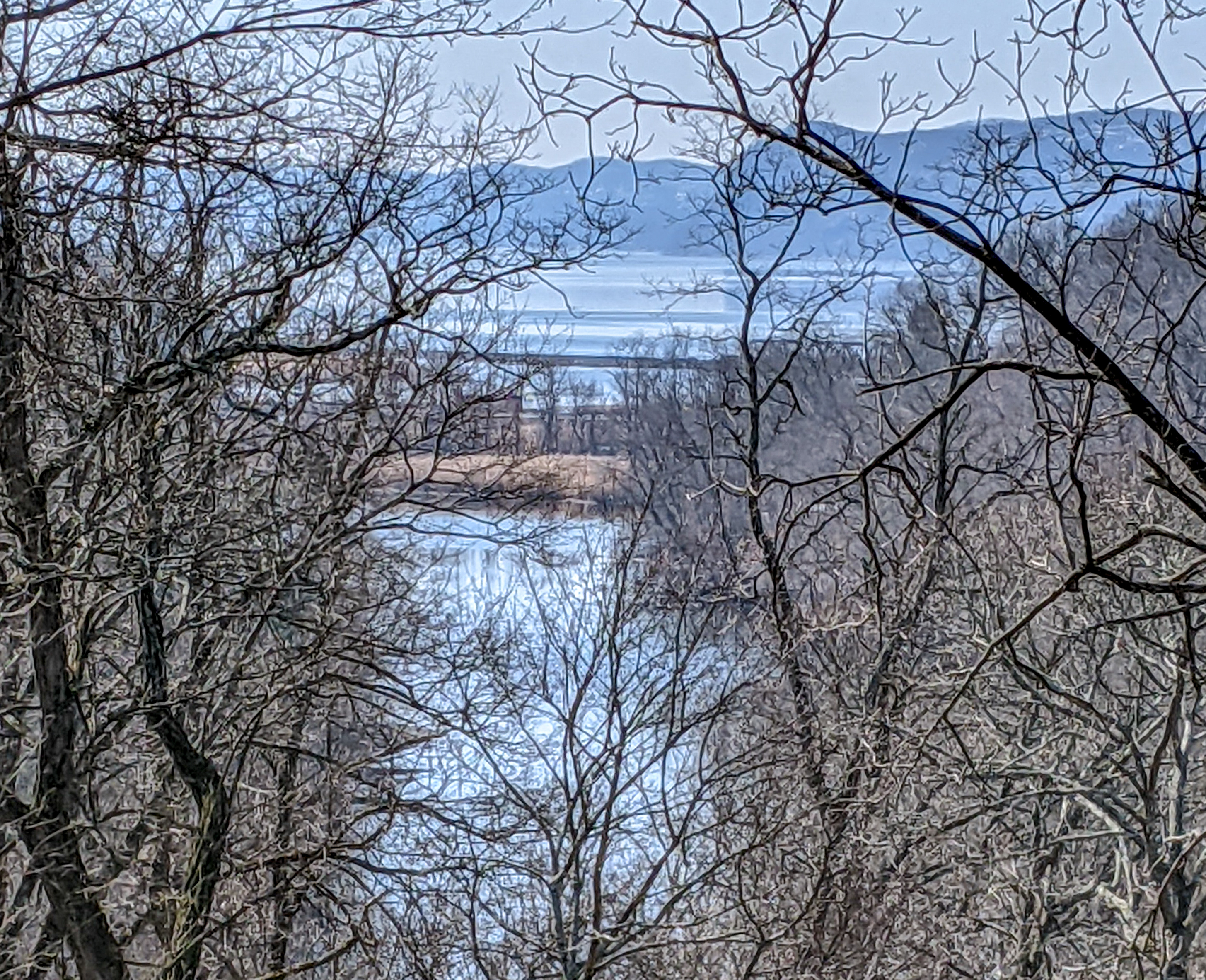 ---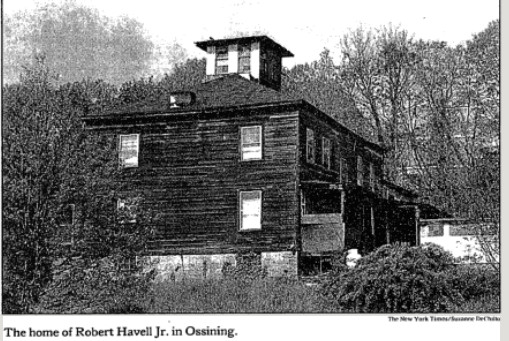 Robert Havell, Jr. dropped the Jr. from his name after his father's death in 1832, causing some confusion among art historians. Robert Havell, Sr. was also an engraver, but it is the son who was the principal engraver for Audubon's Birds of America and the Robert Havell who moved to Ossining in 1842 and lived in the house known as Rocky Mount. Alas, the house was torn down in the 1990s.
---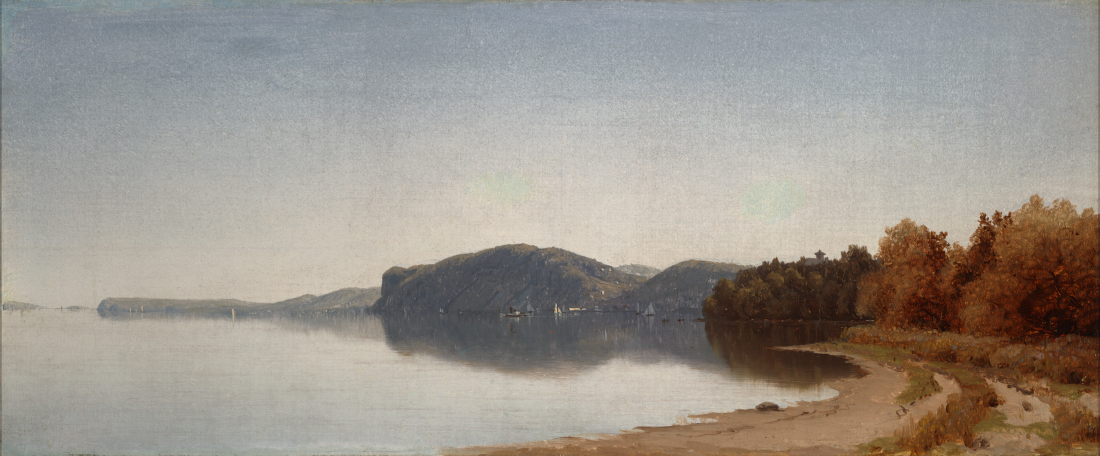 Hook Mountain, Near Nyack, on the Hudson by Sanford Robinson Gifford
Gifford's 1866 painting of Hook Mountain on the Hudson shows the view looking west from the beach on the edge of Croton Point Park. ( N 41 10.501 W 73 53.673) It's one of our favorite spots to visit, best done at low tide when you can take a nice stroll along the beach. Easy access to the beach can be found near the Underhill wine cellars at N41 10.465 W73 53.825.
Sanford Robinson Gifford was one of the leading members of the Hudson River School, and among the founders of the Metropolitan Museum of Art in New York City.
---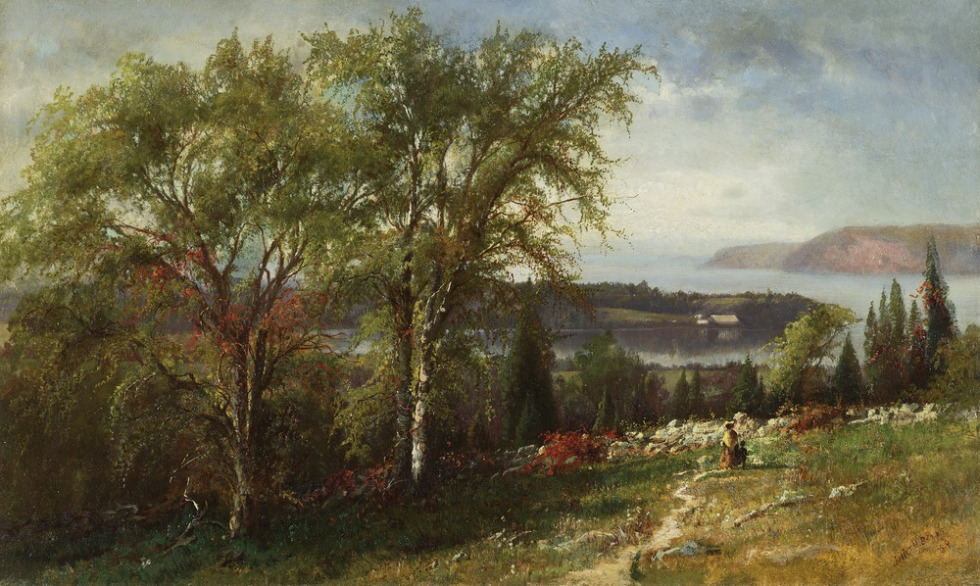 Hudson River at Croton Point by Julie Hart Beers
Julie Hart Beers is one of the most successful female painters associated with the Hudson River School. She sometimes worked alongside her brothers William and James Hart, who were also Hudson River School painters. More info from Croton History and Mysteries
Her painting above of Croton Point was likely done from somewhere uphill in Croton in the vicinity of the Hudson National Golf Course. We took the modern day photo at ( N 41 13.482 W 73 53.402) on the Highland Trail in Jane Lytle Memorial Croton Arboretum.
---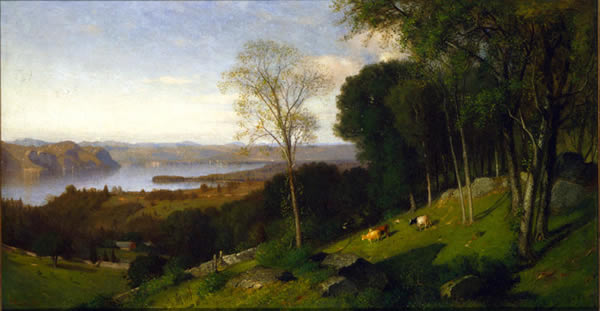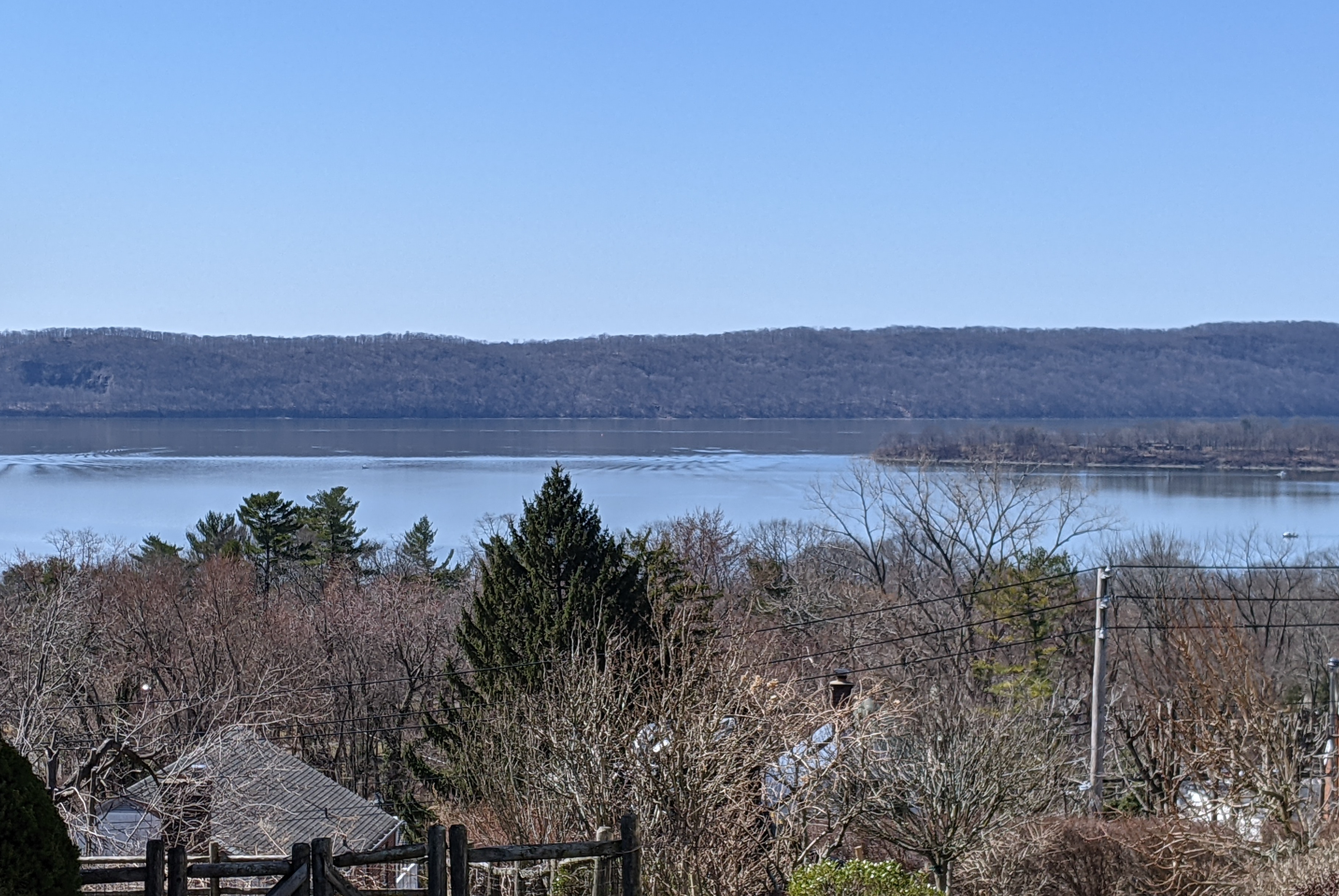 View looking north from Ossining by Samuel Colman
In addition to being part of the Hudson River School, Colman also helped found the American Society of Painters in Water Colors and was its first president in 1866. His painting above is of a view looking north toward Croton Point from somewhere in Ossining.
There is a similar view painted by Robert Havell from his hilltop home in Ossining, so we assume that Samuel Colman was painting from a similar vantage point. Most of the area today has been built up with homes, but we found a view spot on peeking between some houses on Murry Lane ( N 41 10.352 W 73 51.831).
---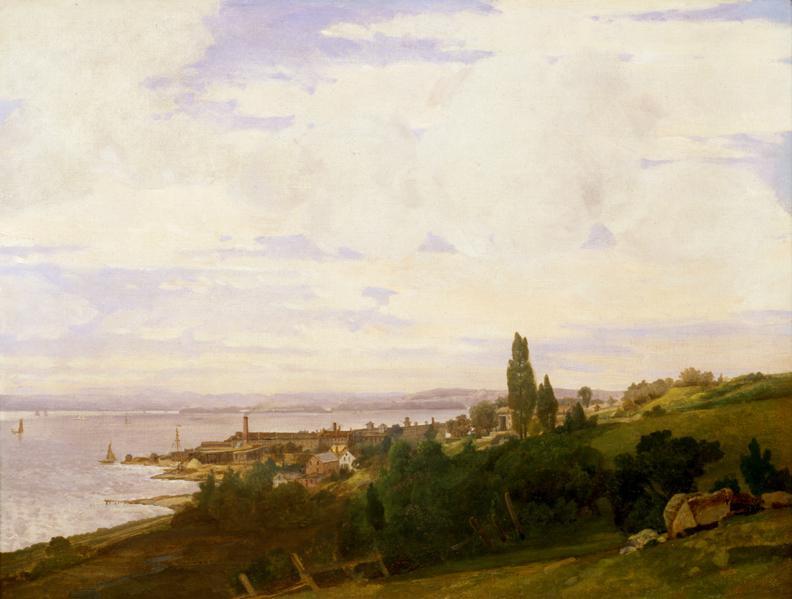 View on the Hudson near Sing Sing by Joseph Vollmering
The view above looks north from the hillside above Sing Sing Prison. More info.
Good views along the Hudson can be had near Louis Engel Waterfront Park near the "Eye of Sauron" at ( N41 09.423 W73 52.251).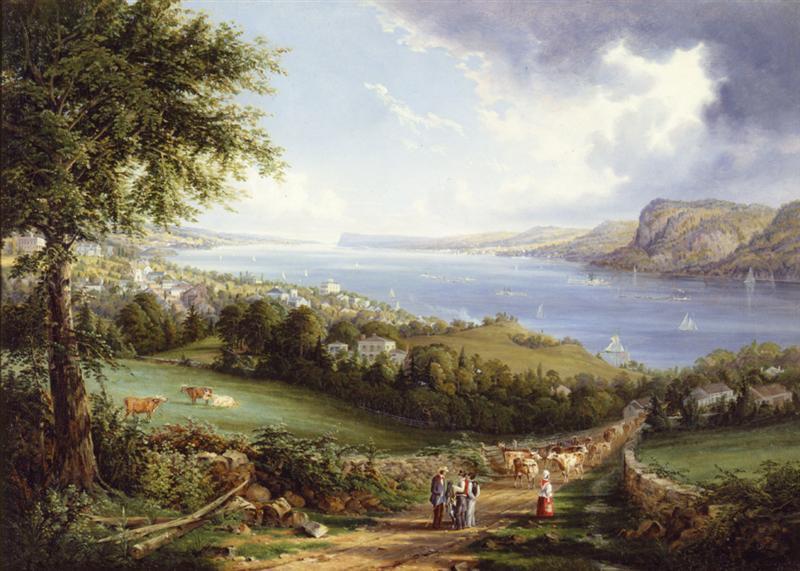 View of the Hudson Near Sing Sing by Robert Havell
---
A few more links about the Hudson River School