SALMON with BROOMS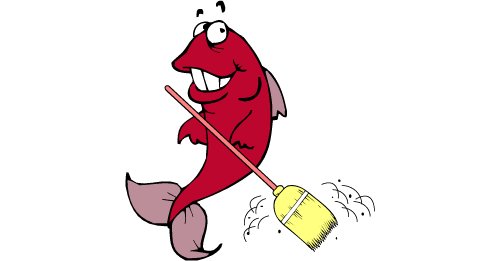 We took up curling at the beginning of 2008. It's a game of grace and skill, played on ice, perfectly suited for us :-). See the Wikipedia article for a detailed description of the rules of the game. Or go straight to our movies to see us in action on day 1.
Curling originated in Scotland in the 1500's. We had a taste of what that was like at The Pondspiel.
Curling in a Nutshell
What is curling? Lots of people like to call it "chess on ice" which to me doesn't fit well at all. It's more a "billiards on ice" with 44 lb stones for balls and you are the pool cue. I suppose it is similar to shuffleboard, except that while curling you get to wear a teflon-bottomed shoe and slide along the ice on one foot -- way more fun than shuffleboard.
Some questions we curlers are routinely asked include:
Do you sweep or throw the stone?

Yes. In fact, everyone on the team (there are 4 players) does a bit of both. Everyone throws two of the eight stones for their team during each end (an end is like an inning in baseball). When it's not your turn to throw a stone, you are either one of the two people running along side sweeping the stone or the one person standing at the other end of sheet yelling SWEEP at the top your lungs. This person, the skip, also does a little sweeping at the end of the sheet including trying to sweep opponents stones farther out of house.

How far do you throw the stone?

About 126 feet. The center of the target "house" on the opposite end of the curling sheet is 126 feet away from the place you start your slide, called "the hack". You are required to let go of the stone before the stone crosses the hog line 33 feet from where you started in the hack. Some people slide most of the way, while others only go a few feet before releasing the stone.

Do you wear ice skates?

No. We have special curling shoes. One foot has a slippery sole, typically teflon that allows you to slide on one foot. The other shoe has a gripper sole that helps you run on the ice without slipping too much. A removable gripper shoe cover also comes on and off to cover the teflon sole when you are not trying to slide.

Why do curling stones curl?

There are lots of theories floating around. Here's our collection of science friction theories. Being scientists and engineers, we're also collecting data with our home-made curlometer. Details on the workings of the curlometer are not quite ready for prime time.
Useful Curling Links
Salmon with Brooms
---
CURLING: USCA CLUB NATIONALS 2017
We won the silver medals!!!
Team: skip - Leeza Furman, vice - Christi Freeman-Kirchner, 2nd - Alice Yeh, lead - Lynn Salmon
---
News 12 Visits Ardsley Curling Club
News 12's Greg Thompson went looking for the answer of what exactly is curling and found some local experts at ACC on February 8, 2022.
I'm standing around during part of the interview and they cut to me delivering a stone at 1:42. See the link to video clip // (link 2)
---
Lynn Salmon <>{
Last update: September 16, 2022